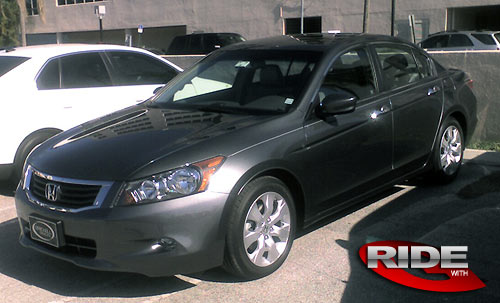 Name: Allan P.
Location: Miami Beach, Florida
What He's Got: 2009 Honda Accord 4 door, EX-L Six cylinder, Polished Gun Metal/Gray Leather Interior.
What It Cost: 36 months, 12,000 miles per year, total cash out of pocket $ 595.00 includes 1st month plus other fees, total payment including 7% sales tax $ 343.00/month.
My Take: $595 at drive-off?? NICE! Top of the line Accord EX-L V6 is nearly $30k MSRP! For those looking at the Acura TSX. I think this deal seems to be better. Less money upfront, more or less the same amount per month. Plus you get a V6 too boot! Well done Allan!
UPDATE: Got the pics from Allan today and I have to say, this car looks pretty sweet in polished gun metal. I always liked the dark great look. Sweet ride Allan.
Want your ride featured on RIDE with G? Head over to THE WALL for more information.