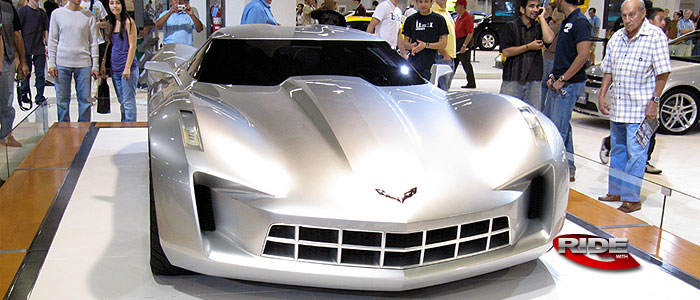 I was on hand at the OC Auto Show this weekend browsing through the latest and greatest from a handful of manufacturers. It was somewhat disappointing to see that some big name brands didn't show up, but then again I can't really blame them. Come November, the Los Angeles Auto Show should be in town, so there isn't much of a spending that kind of money to promote your vehicles twice in the same market. Nevertheless, the OC Auto Show was solid because it was not too crowded and I got to hope into practically every single car. Hopefully, you took advantage of the free ticket I posted on the previous OC Auto Show post. I ended up realizing that the ticket was only FREE for Thursday and Friday. For Saturday and Sunday, it gives you a 50% discount for up to 4 tickets; still a pretty good deal.
For those who have never been to the OC Auto Show, this is a much smaller venue compared to the LA Auto Show. The most notable absentee was Mercedes Benz. I found that to be somewhat strange considering BMW, Audi, Infiniti and Lexus put up some seriously strong showings there. Now the highlight of the show was probably Saturday's Hawaiian Tropic Bikini contest. Unfortunately, by the time I got there, the crowd had gotten pretty big and it was hard to see much of anything. I also happened to be with my wife, which pretty much explains why I didn't get to see anything as well. Nevertheless, I did bump into some rather attractive booth girls and there were a few bikini models did roam around the show taking pictures with attendees.
Now lets go back to the cars shall we! 🙂
Acura: The fellows from Japan had the usual lineup, TSX, TL, RL, RDX and the MDX. They also brought in the production ready model of the ZDX, which looks looks like an oversizedd futuristic sports car with 4 doors and a big trunk. My biggest complaint? The color. Why on earth would you debut a production ready vehicle in a crappy brown color?! Great car, crap color.
Audi: Audi brought in all of their cars in glossy white and left the LED lights on to add to the COOL factor. Too bad they put the price tag on these cars too. Talk about sticker shock! One of the most surprising things about the A5 is the trunk space, its freaking HUGE for a coupe.
BMW: The BMW section was a bit bland. I didn't spend much time there, but I did get the wife into a M3 and she loved the supple leather seats. Her direct words "wow, the leather feels nice".
Buick: Buick showed off the new Lacrosse and that's about it. It looks very Lexus-like. Why not just buy a Lexus?
Cadillac: They showed up the CTS trims and their new concept coupe, the Converj. They had this lady presenting the vehicle and talking about design philosophy, etc…then she asks "Do you have any questions? Like when its coming out or how much it will cost? Well it's not coming out, so there's no price for it".
Chevy: Chevy brought out the big guns by displaying a full-sized version of Bumblebee of the Transformers. They even brought in an Autobot-branded Camaro to post next to it. Then my wife and I stood next to them and posted with them. LOL. It was quite entertaining. GM also brought out some of their high-end Corvettes and Camaros and displayed the Stingray Concept; VERY awesome looking as you can see.
Chrysler: Yawn…
Dodge: Double Yawn…
Ford: Probably the biggest disappointment for me was 2010 the Ford Taurus. That center console is freaking MASSIVE! I felt claustrophobic in there and that's a pretty big car. Not only that, the plastic interior panels reminded me of BouncewithB's company car, the Dodge Nitro. I could literally PUSH some panels in exposing huge gaps between them. You won't see that in an Audi A6.  I spent about 5 minutes sitting next to this British guy inside the Taurus and all we did was whine about how Ford has disappointed us yet again.
GMC: Nothing too exciting, just the usual suspects.
Honda: The only  "exciting thing" was their hydrogen powered car that I've seen three times already.
Hyundai: Wife really liked the Genesis Coupe and proceeded to diss my G37 as having a "BIG BUTT" compared to the Genesis. How RUDE!
Infiniti: Wife, again tried to make me feel good by telling me the Moonlight White on the EX35 is much better looking than the Ivory Pearl on my G37. Gotta love her. 🙂
Lexus: New HS looks like a bigger more expensive high-tech Prius. Sat in the IS-F and I have to say that that car feels way too cheap inside for a Lexus.
Mazda: I noticed all 2010 model have the massive fish-lip that the 2009-2010 Mazda3 and Mazda6  came out with; yup, that includes the RX8.
Mercedes Benz: A no-show. Lame.
MINI: Sat inside the Clubman with the wife at the wheel. She proceeded to feel claustrophobic (like I was in the Taurus) and jumped out. Looks like we're not getting a MINI after the TSX.
Nissan: I don't think I made it there.
Subaru: Took a few pics of the STi. Good looking hatchback if I do say so myself.
VW: The new Golf / GTI are out and they look much better in my opinion. I would probably consider a 4-door GTI as my weekend car since its compact yet has more cargo room than my G37.  I spent some time looking at the Tiguan as well. My folks recently picked one up so I wanted to see what it was like. Its not the most luxurious car out there, but its well-built and has a nice interior.
Volvo: The new S60 and the C30 looked better in person. Their new crossover SUV XC60 looks wicked with dark tinted glass. I still wouldn't lease one yet since I still remember my sister's horror stories about her S70 back in the day.
Anyway, I would go on and on about the show, but I'm sure you guys want to see the pictures, so here you go!