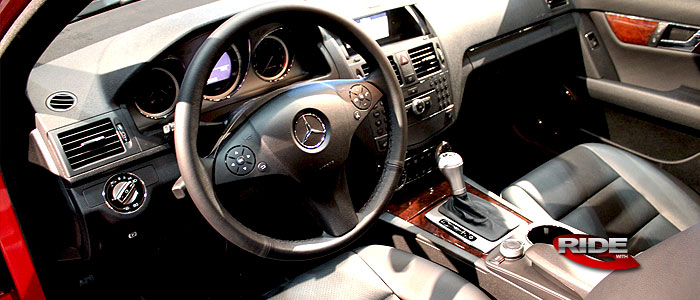 My Take: Well that didn't last very long…MBFS decided to bump the money factor up this month. Talk about short-lived! Not sure what the 27-month lease terms look like on the C300 Sport, but if the MF is anything like we see right now, your payments will be more expensive. Not all is lost however. The ML and CLS still have very good lease numbers right now so it is certainly a worth a look if they fall within your budget.  With that said, here's a shocker for ya….
2011 GLK350 4matic on a 48mo/15k term.
MSRP – $39575
Sale – $35966
Monthly – $480+tax
2011 ML350 4matic on a 48mo/15k term.
MSRP – $50883
Sale – $45036
Monthly – $498+ tax
Sick huh? Here you have a ride that costs $10,000 more leasing for only $18 more than the cheaper model!!! That's the magic of leasing folks, more car for the money. If you are looking to get into a GLK this month, I would recommend the ML instead.
FIND A MERCEDEZ-BENZ DEALER NEAR YOU
2011 Mercedes C300 Luxury
24-month | 15k miles | residual 68% | .00116 base money factor
36-month | 15k miles | residual 57% | .00116 base money factor
48-month | 15k miles | residual 52% | .00116 base money factor
60-month | 15k miles | residual 45% | .00240 base money factor
2011 Mercedes C300 Luxury 4matic
24-month | 15k miles | residual 68% | .00114 base money factor
36-month | 15k miles | residual 57% | .00114 base money factor
48-month | 15k miles | residual 52% | .00114 base money factor
60-month | 15k miles | residual 45% | .00240 base money factor
2011 Mercedes C300 Sport
24-month | 15k miles | residual 68% | .00116 base money factor
36-month | 15k miles | residual 57% | .00116 base money factor
48-month | 15k miles | residual 52% | .00116 base money factor
60-month | 15k miles | residual 45% | .00240 base money factor
2011 Mercedes C300 Sport 4matic
24-month | 15k miles | residual 68% | .00114 base money factor
36-month | 15k miles | residual 57% | .00114 base money factor
48-month | 15k miles | residual 52% | .00114 base money factor
60-month | 15k miles | residual 45% | .00240 base money factor
2011 Mercedes C350 Sport
24-month | 15k miles | residual 66% | .00200 base money factor
36-month | 15k miles | residual 56% | .00200 base money factor
48-month | 15k miles | residual 50% | .00200 base money factor
60-month | 15k miles | residual 44% | .00240 base money factor
2011 Mercedes C63 AMG
24-month | 15k miles | residual 63% | .00240 base money factor
36-month | 15k miles | residual 55% | .00240 base money factor
48-month | 15k miles | residual 48% | .00240 base money factor
60-month | 15k miles | residual 42% | .00240 base money factor
FIND A MERCEDEZ-BENZ DEALER NEAR YOU
2011 Mercedes CL550 4matic
24-month | 15k miles | residual 54% | .00240 base money factor
36-month | 15k miles | residual 48% | .00240 base money factor
48-month | 15k miles | residual 42% | .00240 base money factor
60-month | 15k miles | residual 37% | .00240 base money factor
2011 Mercedes CL600
24-month | 15k miles | residual 46% | .00240 base money factor
36-month | 15k miles | residual 41% | .00240 base money factor
48-month | 15k miles | residual 35% | .00240 base money factor
60-month | 15k miles | residual 32% | .00240 base money factor
2011 Mercedes CL63 AMG
24-month | 15k miles | residual 49% | .00240 base money factor
36-month | 15k miles | residual 43% | .00240 base money factor
48-month | 15k miles | residual 38% | .00240 base money factor
60-month | 15k miles | residual 34% | .00240 base money factor
2011 Mercedes CL65 AMG
24-month | 15k miles | residual 46% | .00240 base money factor
36-month | 15k miles | residual 41% | .00240 base money factor
48-month | 15k miles | residual 36% | .00240 base money factor
60-month | 15k miles | residual 31% | .00240 base money factor
2011 Mercedes CLS550
24-month | 15k miles | residual 61% | .00021 base money factor
36-month | 15k miles | residual 52% | .00021 base money factor
48-month | 15k miles | residual 46% | .00021 base money factor
60-month | 15k miles | residual 40% | .00240 base money factor
2011 Mercedes CLS63 AMG
24-month | 15k miles | residual 61% | .00240 base money factor
36-month | 15k miles | residual 52% | .00240 base money factor
48-month | 15k miles | residual 46% | .00240 base money factor
60-month | 15k miles | residual 40% | .00240 base money factor
2011 Mercedes E350 Coupe
24-month | 15k miles | residual 67% | .00240 base money factor
36-month | 15k miles | residual 57% | .00240 base money factor
48-month | 15k miles | residual 50% | .00240 base money factor
60-month | 15k miles | residual 44% | .00240 base money factor
2011 Mercedes E350 BlueTec Diesel Sedan
24-month | 15k miles | residual 76% | .00240 base money factor
36-month | 15k miles | residual 63% | .00240 base money factor
48-month | 15k miles | residual 56% | .00240 base money factor
60-month | 15k miles | residual 49% | .00240 base money factor
2011 Mercedes E350 Luxury Sedan
24-month | 15k miles | residual 70% | .00219 base money factor
36-month | 15k miles | residual 58% | .00219 base money factor
48-month | 15k miles | residual 52% | .00219 base money factor
60-month | 15k miles | residual 45% | .00240 base money factor
2011 Mercedes E350 Luxury 4MATIC Sedan
24-month | 15k miles | residual 70% | .00220 base money factor
36-month | 15k miles | residual 58% | .00220 base money factor
48-month | 15k miles | residual 52% | .00220 base money factor
60-month | 15k miles | residual 45% | .00240 base money factor
2011 Mercedes E350 Sport Sedan
24-month | 15k miles | residual 70% | .00219 base money factor
36-month | 15k miles | residual 58% | .00219 base money factor
48-month | 15k miles | residual 52% | .00219 base money factor
60-month | 15k miles | residual 45% | .00240 base money factor
2011 Mercedes E350 Sport 4MATIC Sedan
24-month | 15k miles | residual 70% | .00220 base money factor
36-month | 15k miles | residual 58% | .00220 base money factor
48-month | 15k miles | residual 52% | .00220 base money factor
60-month | 15k miles | residual 45% | .00240 base money factor
2011 Mercedes E350 Luxury 4MATIC Wagon
24-month | 15k miles | residual 63% | .00240 base money factor
36-month | 15k miles | residual 58% | .00240 base money factor
48-month | 15k miles | residual 47% | .00240 base money factor
60-month | 15k miles | residual 39% | .00240 base money factor
2011 Mercedes E350 Sport 4MATIC Wagon
24-month | 15k miles | residual 63% | .00240 base money factor
36-month | 15k miles | residual 58% | .00240 base money factor
48-month | 15k miles | residual 47% | .00240 base money factor
60-month | 15k miles | residual 39% | .00240 base money factor
2011 Mercedes E350 Convertible
24-month | 15k miles | residual 62% | .00240 base money factor
36-month | 15k miles | residual 57% | .00240 base money factor
48-month | 15k miles | residual 48% | .00240 base money factor
60-month | 15k miles | residual 40% | .00240 base money factor
2011 Mercedes E550 Coupe
24-month | 15k miles | residual 65% | .00240 base money factor
36-month | 15k miles | residual 55% | .00240 base money factor
48-month | 15k miles | residual 48% | .00240 base money factor
60-month | 15k miles | residual 42% | .00240 base money factor
2011 Mercedes E550 Luxury Sedan
24-month | 15k miles | residual 64% | .00219 base money factor
36-month | 15k miles | residual 55% | .00219 base money factor
48-month | 15k miles | residual 48% | .00219 base money factor
60-month | 15k miles | residual 41% | .00240 base money factor
2011 Mercedes E550 Luxury 4MATIC Sedan
24-month | 15k miles | residual 64% | .00220 base money factor
36-month | 15k miles | residual 55% | .00220 base money factor
48-month | 15k miles | residual 48% | .00220 base money factor
60-month | 15k miles | residual 41% | .00240 base money factor
2011 Mercedes E550 Sport Sedan
24-month | 15k miles | residual 64% | .00219 base money factor
36-month | 15k miles | residual 55% | .00219 base money factor
48-month | 15k miles | residual 48% | .00219 base money factor
60-month | 15k miles | residual 41% | .00240 base money factor
2011 Mercedes E550 Sport 4MATIC Sedan
24-month | 15k miles | residual 64% | .00220 base money factor
36-month | 15k miles | residual 55% | .00220 base money factor
48-month | 15k miles | residual 48% | .00220 base money factor
60-month | 15k miles | residual 41% | .00240 base money factor
2011 Mercedes E550 Convertible
24-month | 15k miles | residual 60% | .00240 base money factor
36-month | 15k miles | residual 55% | .00240 base money factor
48-month | 15k miles | residual 46% | .00240 base money factor
60-month | 15k miles | residual 38% | .00240 base money factor
2011 Mercedes E63 AMG Sedan
24-month | 15k miles | residual 61% | .00240 base money factor
36-month | 15k miles | residual 58% | .00240 base money factor
48-month | 15k miles | residual 45% | .00240 base money factor
60-month | 15k miles | residual 39% | .00240 base money factor
FIND A MERCEDEZ-BENZ DEALER NEAR YOU
2011 Mercedes G550
24-month | 15k miles | residual 59% | .00240 base money factor
36-month | 15k miles | residual 49% | .00240 base money factor
48-month | 15k miles | residual 43% | .00240 base money factor
60-month | 15k miles | residual 38% | .00240 base money factor
2011 Mercedes G55 AMG
24-month | 15k miles | residual 57% | .00240 base money factor
36-month | 15k miles | residual 47% | .00240 base money factor
48-month | 15k miles | residual 42% | .00240 base money factor
60-month | 15k miles | residual 37% | .00240 base money factor
2011 Mercedes GL350 BlueTec Diesel
24-month | 15k miles | residual 67% | .00240 base money factor
36-month | 15k miles | residual 56% | .00240 base money factor
48-month | 15k miles | residual 50% | .00240 base money factor
60-month | 15k miles | residual 44% | .00240 base money factor
2011 Mercedes GL450
24-month | 15k miles | residual 63% | .00194 base money factor
36-month | 15k miles | residual 58% | .00194 base money factor
48-month | 15k miles | residual 47% | .00194 base money factor
60-month | 15k miles | residual 42% | .00240 base money factor
2011 Mercedes GL550
24-month | 15k miles | residual 60% | .00240 base money factor
36-month | 15k miles | residual 50% | .00240 base money factor
48-month | 15k miles | residual 45% | .00240 base money factor
60-month | 15k miles | residual 40% | .00240 base money factor
2011 Mercedes GLK350
24-month | 15k miles | residual 66% | .00215 base money factor
36-month | 15k miles | residual 55% | .00215 base money factor
48-month | 15k miles | residual 47% | .00215 base money factor
60-month | 15k miles | residual 40% | .00240 base money factor
2011 Mercedes GLK350 4matic
24-month | 15k miles | residual 66% | .00217 base money factor
36-month | 15k miles | residual 57% | .00217 base money factor
48-month | 15k miles | residual 47% | .00217 base money factor
60-month | 15k miles | residual 40% | .00240 base money factor
FIND A MERCEDEZ-BENZ DEALER NEAR YOU
2011 Mercedes ML350 BlueTec Diesel
24-month | 15k miles | residual 68% | .00240 base money factor
36-month | 15k miles | residual 58% | .00240 base money factor
48-month | 15k miles | residual 50% | .00240 base money factor
60-month | 15k miles | residual 43% | .00240 base money factor
2011 Mercedes ML350
24-month | 15k miles | residual 62% | .00034 base money factor
36-month | 15k miles | residual 53% | .00034 base money factor
48-month | 15k miles | residual 47% | .00034 base money factor
60-month | 15k miles | residual 41% | .00240 base money factor
2011 Mercedes ML350 4matic
24-month | 15k miles | residual 62% | .00020 base money factor
36-month | 15k miles | residual 53% | .00020 base money factor
48-month | 15k miles | residual 47% | .00020 base money factor
60-month | 15k miles | residual 41% | .00240 base money factor
2011 Mercedes ML550 4WD
24-month | 15k miles | residual 56% | .00240 base money factor
36-month | 15k miles | residual 48% | .00240 base money factor
48-month | 15k miles | residual 44% | .00240 base money factor
60-month | 15k miles | residual 38% | .00240 base money factor
2011 Mercedes ML63 AMG 4WD
24-month | 15k miles | residual 59% | .00240 base money factor
36-month | 15k miles | residual 51% | .00240 base money factor
48-month | 15k miles | residual 46% | .00240 base money factor
60-month | 15k miles | residual 41% | .00240 base money factor
2011 Mercedes R320 BlueTec Diesel
24-month | 15k miles | residual 62% | .00240 base money factor
36-month | 15k miles | residual 55% | .00240 base money factor
48-month | 15k miles | residual 47% | .00240 base money factor
60-month | 15k miles | residual 42% | .00240 base money factor
2011 Mercedes R350 4matic
24-month | 15k miles | residual 56% | .00165 base money factor
36-month | 15k miles | residual 53% | .00165 base money factor
48-month | 15k miles | residual 42% | .00165 base money factor
60-month | 15k miles | residual 37% | .00240 base money factor
2011 Mercedes SL550
24-month | 15k miles | residual 60% | .00059 base money factor
36-month | 15k miles | residual 50% | .00059 base money factor
48-month | 15k miles | residual 45% | .00059 base money factor
60-month | 15k miles | residual 39% | .00240 base money factor
2011 Mercedes SL63 AMG
24-month | 15k miles | residual 54% | .00240 base money factor
36-month | 15k miles | residual 45% | .00240 base money factor
48-month | 15k miles | residual 40% | .00240 base money factor
60-month | 15k miles | residual 35% | .00240 base money factor
2011 Mercedes SL65 AMG
24-month | 15k miles | residual 51% | .00240 base money factor
36-month | 15k miles | residual 42% | .00240 base money factor
48-month | 15k miles | residual 37% | .00240 base money factor
60-month | 15k miles | residual 32% | .00240 base money factor
2011 Mercedes SLK300
24-month | 15k miles | residual 58% | .00032 base money factor
36-month | 15k miles | residual 50% | .00032 base money factor
48-month | 15k miles | residual 45% | .00032 base money factor
60-month | 15k miles | residual 40% | .00240 base money factor
2011 Mercedes SLK350
24-month | 15k miles | residual 60% | .00034 base money factor
36-month | 15k miles | residual 52% | .00034 base money factor
48-month | 15k miles | residual 46% | .00034 base money factor
60-month | 15k miles | residual 41% | .00240 base money factor
FIND A MERCEDEZ-BENZ DEALER NEAR YOU
Mercedes-Benz Incentives from Edmunds.com
Lease rates provided by LeaseCompare.com