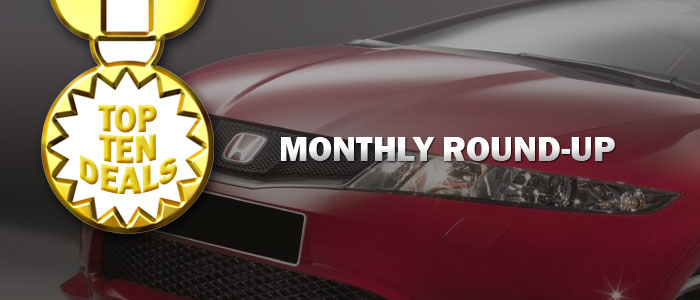 This month is a very competitive month for leasing. Many of the great leases of the past few months have been pushed off the Top Ten due to heavy discounts on remaining inventory. Please read over the Ground Rules to get an idea as to how this estimates are calculated. I have also changed the format in order to provide a side-by-side comparison of the numbers using my lease calculator. Enjoy!
If you would like to support the website, please request your auto quotes from Yahoo! Autos
. Thank you!
Ground Rules
Participating vehicles will be based on the lease rates gathered on this website during the corresponding month.
Ideally, 36-month/15k lease terms will be examined. If not available, other terms will be used.
A $1500 drive-off fee is assumed for all cars. Since fees and taxes vary from region to region, your drive-off may vary.
Sale Price estimates will be based on Truecar.com

's

sales data in the Southern California region, so your numbers may vary.
All estimates assume you qualify for the base rate. A minimum FICO® Score of 700 may be required.
Sales taxes are not included since different states handle taxes differently. Please refer to "Understanding Sales Tax" to learn how taxes affect your monthly payments.
The rating system used is based on RIDE with G's Lease Calculator. The closer you are to the 100 rating, the better the deal. Anything exceeding a 100 rating is phenomenal.
Top Ten Finalists
First – 2010 Honda Civic LX Coupe (114.9)
A combination of discounts and solid lease rates makes this a top-notch lease for those who seek to spend little on basic transportation. The Civic Sedan also made the list, but to prevent redundancy, I decided to just list the coupe and sedan together.
Second – 2011 Nissan Sentra S (108.7)
When cheap cars with height residuals and solid money factors get discounted, the end result is usually an excellent lease.
Third – 2010 Honda Accord CrossTour EX-L (108.4)
I'm not a bit fan of this crossover but I can't deny how good of a lease it is. I love the concept though. The execution? not so much.
Fourth- 2010 Honda Accord EX-L Sedan (105.7)
Please note that the 2011 model is out, but not leasing as well yet. Once 2010 models have been moved, you should see 2011 models MFs drop.
Fifth- 2010 Honda Odyssey EX-L (101.9) x4
With four of the top five leases this month, Honda is really trying to move remaining inventory. I know most people love the new Odyssey, but don't expect that one to go cheap any time soon. Instead, opt for the 2010 and save some green in your wallet.
Sixth – 2010 Infiniti EX35 Journey RWD (101.5)
A large amount of dealer cash available on this model is enabling dealers to cut prices extensively. 2010 models are still arriving in dealer lots, which is somewhat surprising considering it's so late in the year. Nevertheless, this deal may not last long. The question is, do you really want one?
Seventh – 2010 Infiniti G37 Sport Coupe Manual (101.2)
The top-pick for two of the last four months remains a strong lease. 2011 sedans are out, therefore I anticipate the 2011 coupes to arrive shortly. This probably means that this deal's days are numbered. The G37 Sedan Manual is also a great lease right now in case you need two extra doors and a usable trunk. Stay away from the Journey ATs because they will cost you more.
Eighth- 2010 Lexus ES350 (100.8)
I wouldn't be surprised if the ES had made the Round Up last month too. Lexus is providing lots of dealer cash on their 2010 left-overs, so don't get discouraged by the high money factors, these cars still lease very well.
Ninth – 2010 Lexus IS250 (98.9)
Remaining IS250 inventory should make great leases right now due to the cash available on them. The 2011s are out though, so I expect Lexus to start winding down the cash and push purchases on whatever is left.
Tenth – 2010 Infiniti FX35 (97.9)
Like Lexus, Infiniti is also dropping tons of cash to move remaining inventory. If you had your eyes set on the FX all year long, this is not a bad month to move in on one.
Missing the Cut (90+ rating)
2011 Mercedes-Benz C300 (97.6)
2010 Acura TSX (97.4)
2010 Mazda CX-9 Touring AWD (96.8)
2011 Mercedes-Benz ML350 4matic (95.6)
2010 Acura TL (94.4)
2011 Hyundai Sonata Limited (94.3)
2010 Lexus IS250 Convertible (92.4)
2011 Audi A3 2.0T Premium (91.5)
Parting Shots
If you are in the market for a 2010, this month is probably the best time to get one because availability should still be decent and the prices are very competitive. As we approach the end of the year, it may be more difficult to find a 2010 that fits your specifications since production of 2011s should be in full swing for most models.