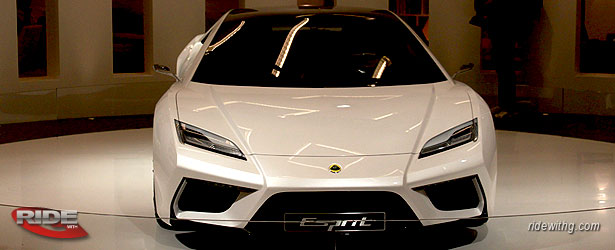 Over the weekend, I had the opportunity to attend the LA Auto Show, courtesy of Audi. This year, unlike the previous one, has been filled with some pleasant surprises. There were some unusual absences from high-end players such as Ferrari and Lamborghini (they were usually found at the Concourse, but I didn't see any time time around), but I personally felt that many of the mainstream brands plus Lotus did enough in their showcases to make up for it. Concept cars such as Mazda's Shinari and Nissan's Ellure provided a nice preview of what's to come. Overall, I was most impressed with Lotus's new product line and I really hope that their new direction will result in sustainable success. I know some of the purists out there are disappointed with the company straying from their roots, but I think that given their financial situation, they probably didn't have much of a choice.
As usual, here is my rundown of what I found interesting at the show this year.
Porsche. Like always, you will find Porsche in that all-familiar room just to the right of the West Hall entrance. Notable rides are the Cayenne Hybrid, Speedster and the Cayman R, to name a few. Overall, strong showing.
Ford. The Explorer reminds me a lot of a Range Rover, which I'm not all that crazy about. The Focus ST is one sweet hatch that should easily smoke most of the competition and give the MS3 a run for it's money. They were also running a $50 gift car promo for test driving a Ford, which I signed up for. I was planning to test drive the Edge anyway, so why not make $50 bucks out of that experience, right?
Lincoln. Despite Ford's success with their core brand, Lincoln is in severe need for an overhaul. I did not like ANY of their cars. The marketing, the design, everything…just doesn't work. The "shark-teeth" grill has to go too. Plus there really isn't anything original here, just a bunch of pimped-up and re-badged Ford models which some may find difficult to love.
Mitsubishi has not made anything significant in quite some time and this year is no exception. They do have a mini EV, but I can't see how folks would want something that small when they can opt for something like a Leaf or a Fit EV. Besides that, the Eclipse looks unchanged and there are better crossover options than the Outlander.
Volvo brought in a plug-in electric C30, but besides that, I didn't see anything new. That isn't a bad thing, I think Volvo has a very capable line-up with the newly redesign S60 and the XC60. Here is a random fact for you, the actual trunk space of the S60 is 4 cubic inches smaller than my wife's Jetta Wolfsburg. That is pretty sad considering how much smaller the Jetta is compared to the S60.
Subaru showcased the new Impreza Concept and I love it! If Subaru doesn't produce this (as is), they are insane. On a side note, I spent some time inside the Forester and I liked it better than the Outback. Afterwards, I went to TrueCar and optioned both vehicles and realize how much cheaper the Forester is compared to the Outback. Anyway, it looks like the Outback will be scratched from my shopping list on Round 3 of "Replacing the G", which I will probably get to sometime next month or early next year.
Dodge/Jeep/Chrysler seems to have come a bit more prepared this year. As you know, I was pleasantly surprised by the Grand Cherokee's redesign. I also took a liking to the new Charger which is vastly improved compared to the outgoing model. It seems more polished and it looks better in person than in pictures. I also climbed into the 3rd row seat of a Durango, which was actually adequate for someone around my size (5'10). I don't think I would want to ride back there for more than a few hours though. For about $30k, you can get a base Durango with a 3rd row and a V6, which is in line with Honda's Pilot and Toyota's Highlander. Ironically, the Chryslers were underwhelming; the C300 looked almost unchanged and the 200 appeared underdeveloped, even in it's sporty S trim.
Fiat brought tall, leggy models…err "product advisers" and the 500 into the show. This micromobile will only appeal to those shopping for a Smart car, which doesn't apply to most of us. Surprisingly, these 6-foot "product advisers" actually fit inside these cars.
Nissan came ready to play this year and brought in some heavy hitters. The besides the usual fare (GT-R, Z, Rogue, Murano, Altima and Maxima), Nissan brought the Leaf, Juke, the convertible Murano and the Ellure concept, which produced many "oohs and ahhhs" from the crowd. The likelihood of ever getting a Nissan with "suicide" doors is probably zero, but it would be nice to see some of those design elements on future Altimas and Maximas.
Honda brought the FC, which is actually leased in limited quantities right now. Not exactly a new car, but certainly unique. I tried to cozy up with the CrossTour since it's such a good deal this month, but couldn't. Somehow, this car has a tendency to attract empty-nesters so I was probably one of the youngest people anywhere near the CrossTour. A new Fit was introduced as a EV, which should compete nicely with the Leaf. I also tried to cozy up with a fully-loaded Pilot and I think I could see myself in one. Sure, its ugly, but the interior is not half bad. Hypothetically, I can imagine my family being a "Honda family"; with the wife rolling in an Accord. Me rolling in a Pilot and a pimped out CR-Z R hiding inside my garage. Aah! I can see it now…
Lotus. I actually had to wait in line to get into their showroom because there were just so many people wanting in. That actually proved to be a good thing because it allowed me to take pictures peacefully without folks walking in front of me, which allowed me to take decent shots of their entire line-up. As I mentioned before, I have high hopes that Lotus will prevail in bringing their brand more mainstream. When that happens, maybe this blog will be worth over $100k, then I will just sell it and buy one of those Esprits! Haahaa, yeah, right.
Hyundai's newest redesign comes as the Elantra. Like the Sonata, the Elantra got a heavy makeover and the results are pleasing. The interior is redone in a very Sonata-esque fashion which should appeal to most folks. The compact sedan market is suddenly seeing HUGE competition with the Focus, Corolla, Cruze and the Elantra getting significant updates. Here's hoping Honda doesn't get left behind because the Civic is starting to look aged. I also got a chance to sit inside a Sonata Hybrid and it feels…exactly the same as the other ones. The Hybrid should be arriving in dealerships sometime in the first quarter of 2011.
Audi sent me a pair of tickets to the show this year via a Twitter promotion, so many thanks to the folks in Audi's marketing/PR department. Unfortunately, I didn't take a lot of Audi pictures for two reasons: a) way too crowded. b) nothing I haven't already seen at the OC Auto Show in October.
Lexus brought the LFA, a re-badged/re-tuned Prius and their usual suspects. The LFA looks unchanged from the prototype pics I took a year or two ago, so seeing it again was anti-climactic. The Lexus "Prius" comes to us as the Lexus 250h, which according to some "First Drive" reports, isn't all that exciting. Toyota used to hold a special place in my heart (my very first car was a hand-me-down '80 Toyota Cressida), but not anymore. Cost-cutting has really killed the brand for me and I will not longer consider one, not even in luxury form. Of course, this isn't really news to you guys.
Mercedes-Benz didn't bring anything newsworthy to the table. I was hoping they would bring the 2012 ML and CLS, but I didn't see them. It is very possible that I might have missed them because  I was wrapped up with the latest incarnations of the E-Class (convertible & wagon).
BMW showed off the 6-series concept which I looks sharp and a very solid replacement for the existing 6. I also saw the newly redesign 5 and I feel that they did an admirable job with that one too. Less impressive was the X3 which doesn't seem to offer anything extraordinary relative to the $700+ per month lease payment some of us have estimated (see discussions in BMW November 2010 lease rates post).
MINI introduced the Countryman, which is essentially a four-seat compact SUV. Yup, a MINI SUV…it's like an oxymoron.
Buick. The LaCrosse is an excellent Lexus ES killer and the Regal is supposed at least put up a fight in a world dominated by the 3-series. So far reports say otherwise on the CXL, so GM introduces the Regal GS. A 2.0L Turbo four that pumps out 255hp and 295ft of torque. Sounds impressive, but I would much rather have the Pontiac G8 GT's thundering V8 under my hood even at the expense of lower MPG. As for the fit-and-finish, the Regal looks classy and well-put together inside and out, but still, BMW has no reason to fear anyone not named Infiniti.
Mazda put on a serious show with the Shinari concept. If any of this sweet ride's design elements ever cross over into the Mazda6 or perhaps the RX8, you will see one in my driveway.
Acura. With the exception of the TSX wagon, Acura did not have anything new to show this time around. Not even a concept. Upon closer inspection, I've come to realize I don't want a TSX wagon. I don't care for it's styling, I much prefer the sedan.
Cadillac showed the ULC concept which is probably not likely to hit the streets. Besides that, there isn't anything else that isn't already on sale.
Infiniti finally decided to bring the Essence to LA. This concept created a nice buzz around the show, which a big crowd gathering around it to take pictures. If Nissan is as daring as I think they are, they should put this model into production so that it can compete against other high-end performance coupes.
Volkswagen revamped the Eos and the Touareg which brings a sort of "uniformness" to the whole VW line. I personally dig it, so no complaints here. The Jetta SEL with Sports Pkg caught my eye and I found this package to be effective in making the Jetta look less "vanilla". Unfortunately it doesn't do much to the simplified interior. One has to wonder why this trim doesn't come with a DSG.
The Rest. After about 4 and a half hours, I was so tired that I ended up skipping the rest of the manufacturers. Some for good reason (Toyota) and other because I had no choice. I don't think I missed too much though. Maybe the Range Rover Evoque, but that's about it.
If you haven't made it to the show yet, go check it out! If you are in the market for a new car in the next 12 months, even more of a reason to go! Should you be on the fence about it or simple don't live anywhere near downtown LA, here are some pics to wet your appetite. Enjoy!