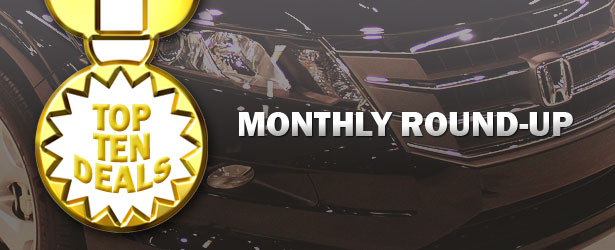 I am hitting the November Round-Up real early this month! I know there are some missing numbers from other manufacturers, but I am planning to be off for the Thanksgiving weekend, so I won't have time to work on this in the next couple weeks. Besides, the major players are in which makes this a fairly complete list.
One HUGE thing to note this month: 2010 lease rates are hard to find once 2011s are in, but that doesn't mean they aren't leasing well. If you are looking to get into say, the IS250, check a 2010 first since there should be some holiday cash available. Do this for every car that still has 2010 models available, because it is CLEARANCE time. Make sure to work numbers for the 2010 and the 2011 to see which is a better deal.
This month's list is still pretty good, but not as good as last month's. A lot of cars dropped off the list because their 2011 models don't lease well right now. We are in a transition period, so as we cross-over to the 2011 model year, 2011s won't lease well until the 2010 inventory dwindles.
Some of the leases calculations were based on a base models, therefore, the payment estimates are on the "lower" end. This was done to save myself some time as I crunch all numbers manually. Starting the next year, all vehicle estimates will be made at base price, so your payments should go up from that point and up.
Please read over the Ground Rules to get an idea as to how this estimates are calculated. I have also changed the format in order to provide a side-by-side comparison of the numbers using my lease calculator. Enjoy!
If you would like to support the website, please request your auto quotes from Yahoo! Autos
. Thank you!
Ground Rules
Participating vehicles will be based on the lease rates gathered on this website during the corresponding month.
36-month/15k lease terms will used for all calculations unless a better term is available.
A $1500 drive-off fee is assumed for all cars. Since fees and taxes vary from region to region, your drive-off may vary.
Sale Price estimates will be based on Truecar.com sales data in the Southern California region, so your numbers may vary.
All estimates assume you qualify for the base rate. A minimum FICO® Score of 700 may be required.
Sales taxes are not included since different states handle taxes differently. Please refer to "Understanding Sales Tax" to learn how taxes affect your monthly payments.
The rating system used is based on RIDE with G's Lease Calculator. The closer you are to the 100 rating, the better the deal. Anything exceeding a 100 rating is phenomenal.
Top Ten Finalists
The CrossTour shoots to the top of the list this month due to big discounts off the MSRP. The Residual and MF are not half bad, but it's the fact that it's an outgoing 2010 model (and because not many people really want one) that makes this such a great lease.
After finishing Seventh last month on the Round-Up, the G37 Sport Coupe shoots back to a Second place finish by getting a lower MF and more discounts off the MSRP. Not even a lower residual can keep this ride down. I expect to see the 2011 G37 coupe rolling in at the end of the month, so I wouldn't snooze on this.
The Sentra only gets a gentle downward shove from it's older cousin (the G37), dropping it to Third on the list. Make no mistake, this is an econobox, so don't come in with lofty expectations. It's basic/practical transportation at it's cheapest.
Since MBs lease best at 48-months instead of 36-months, the ML350 becomes a HOT lease right now. Don't get me wrong, it's well beyond my budget, but it certainly is cheap by luxury SUV standards. If you are in the market for a X3, Q5, FX35, RX350 or even a GLK350, consider the ML350 instead.
The Civic took a nose-dive this month from leading the Round-Up for two consecutive months. There is a good reason however, the 2010s are on their way out and the 2011s are in showrooms now. This is actually a pretty good deal considering how new the 2011s are. Just remember to inquire about any remaining 2010s before jumping on a 2011.
The Accord has always been a very steady lease month-in and month-out. This month is no exception, even on a 2011 model. Of course, I wouldn't recommend leasing a EX or EX-L at the moment since the residuals are lower and the MF is probably a bit higher than the base models.
The C300 made the "Missing the Cut" list last month on a 27-month lease. This month, that residual value tanked, so I had to resort to 48-months, it's more "ideal" term. As you can see, this proved to be a good idea since the C300 can now be had in the low $400s at 15k miles per year (before taxes), quite comparable to the G25, 328, A4 and IS250.
This is NOT a cheap car in terms of payments. However, relative to it's price tag, its is a smoking good deal. Good enough to snatch the Eighth spot, besting every single Acura, Lexus and BMW.
Looks like Nissan is picking up where it left off a few months ago and decided to move 2011 Maximas on the cheaper side. If you want a cheaper alternative to the G37, this could be your ride.
Sneaking back into the top ten is the Hyundai Sonata. The payments may be significantly higher than the Accord LX, but this one comes fully loaded. I mean, NAV, backup cams, Bluetooth, the works! Kinda tough to overlook it if you want a family sedan that's roomie and loaded.
Missing the Cut (90+ rating)
2011 Infiniti G37 Sedan (93.9)
2011 VW Golf S (93.7)
2010 Acura ZDX (93.0)
2011 Lexus RX350 (92)
2011 Audi A3 Premium (91.7)
2011 Infiniti M37 (91.5)
2011 Nissan Rogue SV AWD (91.3)
2011 BMW 328ix (91.2)
2011 Infiniti G25 (91.0)
2011 Hyundai Genesis (90.6)

Parting Shots
If you don't see any 2011 Acuras, don't be surprised. That's because they don't lease well right now. The 2010 TSX is a border-90 lease, if you can get a lower price than $27,219 then you'll have yourself a 90+ rating (currently a 89.9 at that price). A good chunk of newly-introduced 2011 models do not lease well right now. If that's what you are looking for this month, I recommend waiting a few more months or going with any remaining 2010.