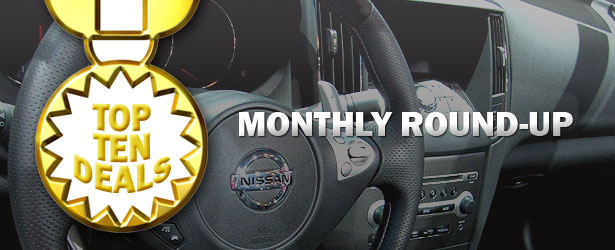 As this year comes to a close, here is this year's last Round-Up. There have been noticeable changes to the rankings, with the C300, ML350 and the CLS550 getting tossed out of the top-10 list and being substituted by cars such as the Mazda6 and the Acura ZDX, to name a few. This is mainly due to a higher sale price, so if you managed to get in on last month's excellent MB leases, congratulations. Even though many of the lease rates carried over from November, some of the sale prices have changed, which resulted in a large number of cars jumping into the "Missing the Cut" group. There's still plenty of time to cut deals right now, so make sure to take advantage of it. Most lease rates will stay the same through January 3rd, giving you a few extra days to get in on those last minute deals. January is notorious for being a bad leasing month, so I don't recommend waiting.
Please enjoy my last post of the year. I am essentially done collecting lease rates for the rest of the month, so my apologies if I didn't get the numbers you were looking for. Don't forget to use my lease calculator during your negotiations. It's rating system is a very good tool and there's nothing else like it out there. Plus, It does a fairly accurate job at predicting how good a deal is, so take advantage of it.
With that said…HAPPY HOLIDAYS, MERRY CHRISTMAS AND HAPPY NEW YEAR! And if you missed out on a new ride this year, there's always next year!
For Dealer Quotes, Click Here.
Ground Rules
Participating vehicles will be based on the lease rates gathered on this website during the corresponding month.
36-month/15k lease terms will used for all calculations unless a better term is available.
A $1500 drive-off fee is assumed for all cars. Since fees and taxes vary from region to region, your drive-off may vary.
Sale Price estimates will be based on Truecar.com sales data in the Southern California region, so your numbers may vary.
All estimates assume you qualify for the base rate. A minimum FICO® Score of 700 may be required.
Sales taxes are not included since different states handle taxes differently. Please refer to "Understanding Sales Tax" to learn how taxes affect your monthly payments.
The rating system used is based on RIDE with G's Lease Calculator. The closer you are to the 100 rating, the better the deal. Anything exceeding a 100 rating is phenomenal.
Top Ten Finalists
There has been a big buzz surrounding the Sentra's lease program this month. Regardless of whether the cash rebate is applicable to leases or not, you can't deny how great the rates are on this econobox.
Just like the Sentra, the Civic is a red-hot lease right now too. I think the design and styling is a bit aged, but certainly a step up from the Sentra. The car costs a bit more (than the Sentra), but it's still a smoking good deal.
The mid-cycle refresh of the Accord makes it slightly more bearable, but I think the low monthly payments should keep most lessees happy since it doesn't really burn a hole in your wallet to drive one of these well-built rides.
Honda is still trying to move the CrossTour this month. Lowest price I've seen is several hundreds less than last month, this means lower monthly payments because the lease rates haven't change since last month.
The Altima, like the Accord, are pretty good deals this month. However, I would recommend going with the Accord since Honda has a better lease program and costs about $500 less to lease over a three-year period.
I made the mistake of not including this ride on last month's top-10 list. This is an excellent lease on one of the most popular crossovers around. The only issue I have with the CR-V is it's engine. I can't believe there isn't a V6 option! Honda, wake up!
I'm am almost getting tired of listing the G37 Coupe Sport. Month in and month out, this ride is pretty much the sports coupe to get. If you are looking for a luxury coupe, look nowhere else.
I think this is probably a better option than the Sonata if you are an enthusiast. In terms of driving dynamics, very few non-luxury brands can top Mazda. They don't repetitively remind you of their "zoom-zoom" capabilities for nothing. This is a solid ride at a very good price.
Nissan seems to be back at it with the Maxima. Last summer and fall, we saw some insane deals on the Maxima, fully loaded! Right now, you are looking about the same thing. If you want a reasonable payment, four-doors, V6 power and lots of goodies, this is your car.
Acura didn't do much in terms of lease rates, but it seems some dealers are becoming rather eager to unload remaining 2010 inventory. Once 2010 rolls around, this would technically be considered an "old-new" car. Which will probably be hard to lease. I think its a fine deal if you are into the whole "Crossover Coupe" thing.
Missing the Cut (90+ rating)
2011 Infiniti G37 Sedan (99.5)
2011 Infiniti G25 Sedan (98.4)
2011 Acura TL (97.3)
2011 Hyundai Sonata Limited (95.7)
2011 Mercedes-Benz ML350 (95.3)
2011 Infiniti FX35 (94.3)
2011 Honda Odyssey LX (93.7)
2011 Nissan Rogue SV AWD (93.7)
2011 Mercedes-Benz CLS550 (93.0)
2010 Acura TSX (92.7)
2011 Mercedes-Benz C300 Sport (92.0)
2011 Lexus RX350 (91.7)
2011 Audi A3 (91.7)
2011 Hyundai Genesis V6 (91.2)
2011 Infiniti M37 (90.8)
2011 Hyndai Genesis 2.0T (90.5)
Parting Shots
This month's best brand to lease is Honda/Acura. Their holiday lease programs are top notch and deserve a look (if you can past the old-fashion styling). Honda does need to "rework" their style a bit, but they still build some solid cars that are practical and easy to live with. Nissan/Infiniti have excellent offerings as well, as does Hyundai and Mercedes-Benz. Audi didn't bring much to the leasing world this year (with the exception of the A3) and neither did VW for some odd reason. Anyway, I hope next year we get some American cars with great lease programs, that would be refreshing to see.