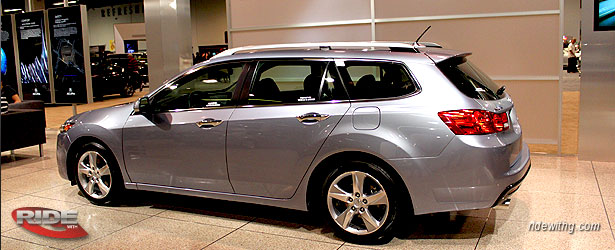 So the 2011 TSX Sportwagon numbers are out and they are the same as the sedan!!! That's refreshing! Glad they didn't do what the Germans do with their wagons. The discounts could be better, but that should improve over time. For now, I'd rather drive a TL than a TSX Wagon. Anyway, remember that Acura lease rates are regional (with the Midwest usually getting screwed), so your MF will vary. I believe the MF for the TL in non-major markets is 0.00181. Ouch.


Here is a sample calculation based on TrueCar's Southern California sale price and do not include local taxes. Please note that your dealer calculations may vary due to local fees/taxes.
2011 TL Base
MSRP – $36,165
Sale Price – $32,566
Monthly – $384+ tax
RWG Rating – 92.6
2011 TSX SportWagon
MSRP – $31,820
Sale Price – $30,532
Monthly – $387+ tax
RWG Rating – 84.2
For Dealer Quotes, Click Here.


2011 TL Base
36-month | 15k miles | residual 58% | .00116 base money factor
2011 TL Tech
36-month | 15k miles | residual 55% | .00116 base money factor
2011 TL AWD
36-month | 15k miles | residual 53% | .00116 base money factor
2011 TL AWD Tech
36-month | 15k miles | residual 52% | .00116 base money factor
2010 TSX Base
36-month | 15k miles | residual 54% | .00049 base money factor
2010 TSX Tech
36-month | 15k miles | residual 51% | .00049 base money factor
2011 TSX Base
36-month | 15k miles | residual 63% | .00190 base money factor
2011 TSX SportWagon
36-month | 15k miles | residual 63% | .00190 base money factor
2011 MDX
36-month | 15k miles | residual 57% | .00135 base money factor
2011 MDX Technology
24-month | 15k miles | residual 62% | .00135 base money factor
2011 MDX Technology w/RES
36-month | 15k miles | residual 54% | .00135 base money factor
2011 MDX Advance
36-month | 15k miles | residual 53% | .00135 base money factor
2011 MDX Advance w/RES
36-month | 15k miles | residual 53% | .00135 base money factor