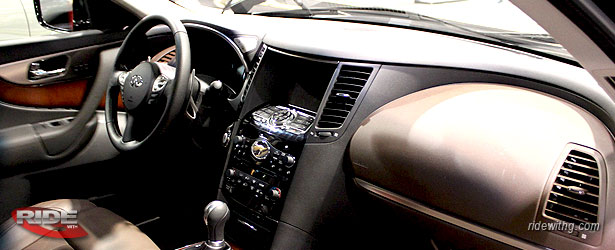 Did you know that Infinitis are the second most popular leases on this website? Not surprising since they boast one of the best "bang-for-the buck" leases around. Like the 2010 model, this year G37 Sport Coupe MT has one of the best balances between residual value and money factor. Unfortunately, there isn't a lot of TrueCar sales data to get a good idea of what the sale price will be. However, I am willing to bet that it remains a strong lease regardless. The G25 is also a great lease right now if you don't need the power (and gas consumption) of the G37.


Here is a sample calculation based on TrueCar's Southern California sale price and do not include local taxes. Please note that your dealer calculations may vary due to local fees/taxes.
2011 Infiniti G25 Sedan Journey
MSRP – $31,825
Sale Price – $28,383
Monthly – $299 + tax
RWG Rating – 101.05
For Dealer Quotes, Click Here.
's Infiniti lease specials:
2011 Infiniti G25X Sedan w/ Moonroof (MSRP: $36,190)
Monthly: $323 + TAX
Term: 39 months
Mileage: 10k/year
$0 cap cost reduction with 1st month, bank fee, and motor vehicle fee due
2011 Infiniti G37X Coupe w/ Premium and Navigation (MSRP: $45,320)
Monthly: $391 + TAX
Term: 39 months
Mileage: 10k/year
$0 cap cost reduction with 1st month, bank fee, and motor vehicle fee due


2011 INFINITI G25 SEDAN BASE
36month | 15k miles | residual 61% | .00123 base money factor
2011 INFINITI G25 SEDAN JOURNEY
36month | 15k miles | residual 62% | .00123 base money factor
2011 INFINITI G25 SEDAN X AWD
36month | 15k miles | residual 64% | .00146 base money factor
2011 INFINITI G37 SEDAN JOURNEY
36month | 15k miles | residual 60% | .00100 base money factor
2011 INFINITI G37 SEDAN X AWD
36month | 15k miles | residual 62% | .00125 base money factor
2011 INFINITI G37 SEDAN SPORT MANUAL
36month | 15k miles | residual 59% | .00100 base money factor
2011 INFINITI G37 COUPE BASE
36month | 15k miles | residual 67% | .00138 base money factor
2011 INFINITI G37 COUPE JOURNEY
36month | 15k miles | residual 64% | .00138 base money factor
2011 INFINITI G37 COUPE X AWD
36month | 15k miles | residual 65% | .00147 base money factor
2011 INFINITI G37 COUPE SPORT MANUAL
36month | 15k miles | residual 64% | .00138 base money factor
2011 INFINITI EX35 AWD
36month | 15k miles | residual 60% | .00158 base money factor
2011 INFINITI EX35 AWD JOURNEY
36month | 15k miles | residual 57% | .00158 base money factor
2011 INFINITI FX35 AWD
36month | 15k miles | residual 56% | .00129 base money factor
2011 INFINITI FX50 AWD
36month | 15k miles | residual 53% | .00145 base money factor
2011 INFINITI G37 CONVERTIBLE BASE
36month | 15k miles | residual 58% | .00179 base money factor
2011 INFINITI G37 CONVERTIBLE SPORT
36month | 15k miles | residual 59% | .00179 base money factor
2011 INFINITI M37 SEDAN X AWD
36month | 15k miles | residual 55% | .00054 base money factor
2011 INFINITI M56 SEDAN X AWD
36month | 15k miles | residual 53% | .00124 base money factor
2011 INFINITI QX56 4WD
36month | 15k miles | residual 55% | .00220 base money factor