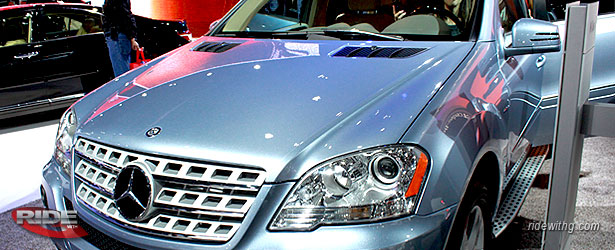 Here's a partial list of Mercedes-Benz lease rates. I'll add more as they become available. Clearly last December was the better month to lease a C300. I believe the C300s are due for a mid-cycle refresh, so I wouldn't be surprised to see prices drop as we approach summertime.


Here is a sample calculation based on TrueCar's Southern California sale price and do not include local taxes. Please note that your dealer calculations may vary due to local fees/taxes.
2011 Mercedes C300 Sport
MSRP – $34,865
Sale Price – $32,786
Monthly – $426+ tax
RWG Rating – 83.94
For Dealer Quotes, Click Here.


This month's lease rates have been brought to you by LeaseCompare.


2011 Mercedes C300 Luxury
24 month | 15k miles | residual 68% | .00128 base money factor
36 month | 15k miles | residual 57% | .00128 base money factor
48 month | 15k miles | residual 52% | .00128 base money factor
60 month | 15k miles | residual 45% | .00240 base money factor
2011 Mercedes C300 Luxury 4matic
24 month | 15k miles | residual 68% | .00128 base money factor
36 month | 15k miles | residual 57% | .00128 base money factor
48 month | 15k miles | residual 52% | .00128 base money factor
60 month | 15k miles | residual 45% | .00240 base money factor
2011 Mercedes C300 Sport
24 month | 15k miles | residual 68% | .00128 base money factor
36 month | 15k miles | residual 57% | .00128 base money factor
48 month | 15k miles | residual 52% | .00128 base money factor
60 month | 15k miles | residual 45% | .00240 base money factor
2011 Mercedes C300 Sport 4matic
24 month | 15k miles | residual 68% | .00128 base money factor
36 month | 15k miles | residual 57% | .00128 base money factor
48 month | 15k miles | residual 52% | .00128 base money factor
60 month | 15k miles | residual 45% | .00240 base money factor
2011 Mercedes C350 Sport
24 month | 15k miles | residual 66% | .00200 base money factor
36 month | 15k miles | residual 56% | .00200 base money factor
48 month | 15k miles | residual 50% | .00200 base money factor
60 month | 15k miles | residual 44% | .00240 base money factor
2011 Mercedes C63 AMG
24 month | 15k miles | residual 63% | .00240 base money factor
36 month | 15k miles | residual 55% | .00240 base money factor
48 month | 15k miles | residual 48% | .00240 base money factor
60 month | 15k miles | residual 42% | .00240 base money factor
2011 Mercedes CL550 4matic
24 month | 15k miles | residual 59% | .00240 base money factor
36 month | 15k miles | residual 48% | .00240 base money factor
48 month | 15k miles | residual 42% | .00240 base money factor
60 month | 15k miles | residual 37% | .00240 base money factor
2011 Mercedes CL600
24 month | 15k miles | residual 48% | .00240 base money factor
36 month | 15k miles | residual 40% | .00240 base money factor
48 month | 15k miles | residual 35% | .00240 base money factor
60 month | 15k miles | residual 32% | .00240 base money factor
2011 Mercedes CL63 AMG
24 month | 15k miles | residual 52% | .00240 base money factor
36 month | 15k miles | residual 42% | .00240 base money factor
48 month | 15k miles | residual 38% | .00240 base money factor
60 month | 15k miles | residual 34% | .00240 base money factor
2011 Mercedes CL65 AMG
24 month | 15k miles | residual 47% | .00240 base money factor
36 month | 15k miles | residual 39% | .00240 base money factor
48 month | 15k miles | residual 35% | .00240 base money factor
60 month | 15k miles | residual 31% | .00240 base money factor
2011 Mercedes CLS550
24 month | 15k miles | residual 61% | .00110 base money factor
36 month | 15k miles | residual 52% | .00110 base money factor
48 month | 15k miles | residual 46% | .00110 base money factor
60 month | 15k miles | residual 40% | .00240 base money factor
2011 Mercedes CLS63 AMG
24 month | 15k miles | residual 62% | .00240 base money factor
36 month | 15k miles | residual 52% | .00240 base money factor
48 month | 15k miles | residual 46% | .00240 base money factor
60 month | 15k miles | residual 40% | .00240 base money factor
2011 Mercedes E350 Coupe
24 month | 15k miles | residual 67% | .00240 base money factor
36 month | 15k miles | residual 57% | .00240 base money factor
48 month | 15k miles | residual 50% | .00240 base money factor
60 month | 15k miles | residual 44% | .00240 base money factor
2011 Mercedes E350 BlueTec Diesel Sedan
24 month | 15k miles | residual 76% | .00240 base money factor
36 month | 15k miles | residual 63% | .00240 base money factor
48 month | 15k miles | residual 56% | .00240 base money factor
60 month | 15k miles | residual 49% | .00240 base money factor
2011 Mercedes E350 Luxury Sedan
24 month | 15k miles | residual 70% | .00240 base money factor
36 month | 15k miles | residual 58% | .00240 base money factor
48 month | 15k miles | residual 52% | .00240 base money factor
60 month | 15k miles | residual 45% | .00240 base money factor
2011 Mercedes E350 Luxury 4MATIC Sedan
24 month | 15k miles | residual 70% | .00240 base money factor
36 month | 15k miles | residual 58% | .00240 base money factor
48 month | 15k miles | residual 52% | .00240 base money factor
60 month | 15k miles | residual 45% | .00240 base money factor
2011 Mercedes E350 Sport Sedan
24 month | 15k miles | residual 70% | .00240 base money factor
36 month | 15k miles | residual 58% | .00240 base money factor
48 month | 15k miles | residual 52% | .00240 base money factor
60 month | 15k miles | residual 45% | .00240 base money factor
2011 Mercedes E350 Sport 4MATIC Sedan
24 month | 15k miles | residual 70% | .00240 base money factor
36 month | 15k miles | residual 58% | .00240 base money factor
48 month | 15k miles | residual 52% | .00240 base money factor
60 month | 15k miles | residual 45% | .00240 base money factor
2011 Mercedes E350 Luxury 4MATIC Wagon
24 month | 15k miles | residual 63% | .00240 base money factor
36 month | 15k miles | residual 58% | .00240 base money factor
48 month | 15k miles | residual 47% | .00240 base money factor
60 month | 15k miles | residual 39% | .00240 base money factor
2011 Mercedes E350 Sport 4MATIC Wagon
24 month | 15k miles | residual 63% | .00240 base money factor
36 month | 15k miles | residual 58% | .00240 base money factor
48 month | 15k miles | residual 47% | .00240 base money factor
60 month | 15k miles | residual 39% | .00240 base money factor
2011 Mercedes E350 Convertible
24 month | 15k miles | residual 62% | .00240 base money factor
36 month | 15k miles | residual 57% | .00240 base money factor
48 month | 15k miles | residual 48% | .00240 base money factor
60 month | 15k miles | residual 40% | .00240 base money factor
2011 Mercedes E550 Coupe
24 month | 15k miles | residual 65% | .00240 base money factor
36 month | 15k miles | residual 55% | .00240 base money factor
48 month | 15k miles | residual 48% | .00240 base money factor
60 month | 15k miles | residual 42% | .00240 base money factor
2011 Mercedes E550 Luxury Sedan
24 month | 15k miles | residual 64% | .00240 base money factor
36 month | 15k miles | residual 55% | .00240 base money factor
48 month | 15k miles | residual 48% | .00240 base money factor
60 month | 15k miles | residual 41% | .00240 base money factor
2011 Mercedes E550 Luxury 4MATIC Sedan
24 month | 15k miles | residual 64% | .00240 base money factor
36 month | 15k miles | residual 55% | .00240 base money factor
48 month | 15k miles | residual 48% | .00240 base money factor
60 month | 15k miles | residual 41% | .00240 base money factor
2011 Mercedes E550 Sport Sedan
24 month | 15k miles | residual 64% | .00240 base money factor
36 month | 15k miles | residual 55% | .00240 base money factor
48 month | 15k miles | residual 48% | .00240 base money factor
60 month | 15k miles | residual 41% | .00240 base money factor
2011 Mercedes E550 Sport 4MATIC Sedan
24 month | 15k miles | residual 64% | .00240 base money factor
36 month | 15k miles | residual 55% | .00240 base money factor
48 month | 15k miles | residual 48% | .00240 base money factor
60 month | 15k miles | residual 41% | .00240 base money factor
2011 Mercedes E550 Convertible
24 month | 15k miles | residual 60% | .00240 base money factor
36 month | 15k miles | residual 55% | .00240 base money factor
48 month | 15k miles | residual 46% | .00240 base money factor
60 month | 15k miles | residual 38% | .00240 base money factor
2011 Mercedes E63 AMG Sedan
24 month | 15k miles | residual 60% | .00240 base money factor
36 month | 15k miles | residual 58% | .00240 base money factor
48 month | 15k miles | residual 45% | .00240 base money factor
60 month | 15k miles | residual 39% | .00240 base money factor
2011 Mercedes G550
24 month | 15k miles | residual 59% | .00240 base money factor
36 month | 15k miles | residual 49% | .00240 base money factor
48 month | 15k miles | residual 43% | .00240 base money factor
60 month | 15k miles | residual 38% | .00240 base money factor
2011 Mercedes G55 AMG
24 month | 15k miles | residual 57% | .00240 base money factor
36 month | 15k miles | residual 47% | .00240 base money factor
48 month | 15k miles | residual 42% | .00240 base money factor
60 month | 15k miles | residual 37% | .00240 base money factor
2011 Mercedes GL350 BlueTec Diesel
24 month | 15k miles | residual 67% | .00240 base money factor
36 month | 15k miles | residual 56% | .00240 base money factor
48 month | 15k miles | residual 50% | .00240 base money factor
60 month | 15k miles | residual 44% | .00240 base money factor
2011 Mercedes GL450
24 month | 15k miles | residual 63% | .00204 base money factor
36 month | 15k miles | residual 58% | .00204 base money factor
48 month | 15k miles | residual 47% | .00204 base money factor
60 month | 15k miles | residual 42% | .00240 base money factor
2011 Mercedes GL550
24 month | 15k miles | residual 60% | .00240 base money factor
36 month | 15k miles | residual 50% | .00240 base money factor
48 month | 15k miles | residual 45% | .00240 base money factor
60 month | 15k miles | residual 40% | .00240 base money factor
2011 Mercedes GLK350
24 month | 15k miles | residual 66% | .00240 base money factor
36 month | 15k miles | residual 55% | .00240 base money factor
48 month | 15k miles | residual 47% | .00240 base money factor
60 month | 15k miles | residual 40% | .00240 base money factor
2011 Mercedes GLK350 4matic
24 month | 15k miles | residual 66% | .00240 base money factor
36 month | 15k miles | residual 57% | .00240 base money factor
48 month | 15k miles | residual 47% | .00240 base money factor
60 month | 15k miles | residual 40% | .00240 base money factor
2011 Mercedes ML350 BlueTec Diesel
24 month | 15k miles | residual 68% | .00134 base money factor
36 month | 15k miles | residual 58% | .00134 base money factor
48 month | 15k miles | residual 50% | .00134 base money factor
60 month | 15k miles | residual 43% | .00240 base money factor
2011 Mercedes ML350
24 month | 15k miles | residual 62% | .00060 base money factor
36 month | 15k miles | residual 53% | .00060 base money factor
48 month | 15k miles | residual 47% | .00060 base money factor
60 month | 15k miles | residual 41% | .00240 base money factor
2011 Mercedes ML350 4matic
24 month | 15k miles | residual 62% | .00032 base money factor
36 month | 15k miles | residual 53% | .00032 base money factor
48 month | 15k miles | residual 47% | .00032 base money factor
60 month | 15k miles | residual 41% | .00240 base money factor
2011 Mercedes ML450 4WD
2011 Mercedes ML550 4WD
24 month | 15k miles | residual 56% | .00240 base money factor
36 month | 15k miles | residual 48% | .00240 base money factor
48 month | 15k miles | residual 44% | .00240 base money factor
60 month | 15k miles | residual 38% | .00240 base money factor
2011 Mercedes ML63 AMG 4WD
24 month | 15k miles | residual 59% | .00240 base money factor
36 month | 15k miles | residual 51% | .00240 base money factor
48 month | 15k miles | residual 46% | .00240 base money factor
60 month | 15k miles | residual 41% | .00240 base money factor
2011 Mercedes R350 BlueTec Diesel
24 month | 15k miles | residual 62% | .00240 base money factor
36 month | 15k miles | residual 55% | .00240 base money factor
48 month | 15k miles | residual 47% | .00240 base money factor
60 month | 15k miles | residual 42% | .00240 base money factor
2011 Mercedes R350 4matic
24 month | 15k miles | residual 56% | .00165 base money factor
36 month | 15k miles | residual 53% | .00165 base money factor
48 month | 15k miles | residual 42% | .00165 base money factor
60 month | 15k miles | residual 37% | .00240 base money factor
2011 Mercedes S400 Hybrid
24 month | 15k miles | residual 57% | .00240 base money factor
36 month | 15k miles | residual 52% | .00240 base money factor
48 month | 15k miles | residual 41% | .00240 base money factor
60 month | 15k miles | residual 36% | .00240 base money factor
2011 Mercedes S550
24 month | 15k miles | residual 56% | .00163 base money factor
36 month | 15k miles | residual 50% | .00163 base money factor
48 month | 15k miles | residual 41% | .00163 base money factor
60 month | 15k miles | residual 35% | .00240 base money factor
2011 Mercedes S550 4matic
24 month | 15k miles | residual 57% | .00155 base money factor
36 month | 15k miles | residual 50% | .00155 base money factor
48 month | 15k miles | residual 41% | .00155 base money factor
60 month | 15k miles | residual 35% | .00240 base money factor
2011 Mercedes S600
24 month | 15k miles | residual 46% | .00240 base money factor
36 month | 15k miles | residual 37% | .00240 base money factor
48 month | 15k miles | residual 34% | .00240 base money factor
60 month | 15k miles | residual 29% | .00240 base money factor
2011 Mercedes S63
24 month | 15k miles | residual 54% | .00240 base money factor
36 month | 15k miles | residual 44% | .00240 base money factor
48 month | 15k miles | residual 39% | .00240 base money factor
60 month | 15k miles | residual 35% | .00240 base money factor
2011 Mercedes S65
24 month | 15k miles | residual 46% | .00240 base money factor
36 month | 15k miles | residual 38% | .00240 base money factor
48 month | 15k miles | residual 34% | .00240 base money factor
60 month | 15k miles | residual 29% | .00240 base money factor
2011 Mercedes SL550
24 month | 15k miles | residual 59% | .00059 base money factor
36 month | 15k miles | residual 50% | .00059 base money factor
48 month | 15k miles | residual 45% | .00059 base money factor
60 month | 15k miles | residual 39% | .00240 base money factor
2011 Mercedes SL63 AMG
24 month | 15k miles | residual 52% | .00240 base money factor
36 month | 15k miles | residual 44% | .00240 base money factor
48 month | 15k miles | residual 40% | .00240 base money factor
60 month | 15k miles | residual 35% | .00240 base money factor
2011 Mercedes SL65 AMG
24 month | 15k miles | residual 48% | .00240 base money factor
36 month | 15k miles | residual 40% | .00240 base money factor
48 month | 15k miles | residual 37% | .00240 base money factor
60 month | 15k miles | residual 32% | .00240 base money factor
2011 Mercedes SLK300
24 month | 15k miles | residual 57% | .00021 base money factor
36 month | 15k miles | residual 49% | .00021 base money factor
48 month | 15k miles | residual 44% | .00021 base money factor
60 month | 15k miles | residual 39% | .00240 base money factor
2011 Mercedes SLK350
24 month | 15k miles | residual 59% | .00023 base money factor
36 month | 15k miles | residual 51% | .00023 base money factor
48 month | 15k miles | residual 45% | .00023 base money factor
60 month | 15k miles | residual 40% | .00240 base money factor