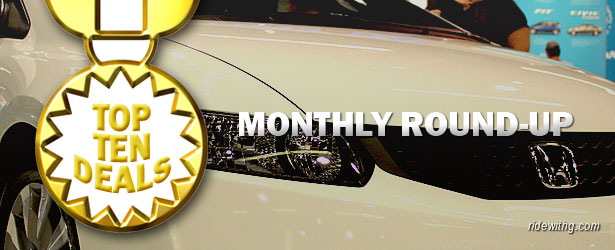 As you can see, the month of January is not as good as last December. Payments on cars in the Top Top list jumped anywhere from $20 to $50 per month, which translates to thousands of dollars over the life of the loan. The good news is that the Civic tops this month's list for the third time in the last seven months. Impressive. Even more impressive is that fact that Honda and Nissan pretty much dominate this month's Round-Up. As you all know, I highly recommend Hondas if you are a first time lessee. Their lease program is straight forward and economical compared to other brands. GAP coverage, damage waiver and no disposition fee simple blows the competition away.
For Dealer Quotes, Click Here.
Ground Rules
Participating vehicles will be based on the lease rates gathered on this website during the corresponding month.
36-month/15k lease terms will used for all calculations unless a better term is available.
A $1500 drive-off fee is assumed for all cars. Since fees and taxes vary from region to region, your drive-off may vary.
Sale Price estimates will be based on Truecar.com sales data in the Southern California region, so your numbers may vary.
All estimates assume you qualify for the base rate. A minimum FICO® Score of 700 may be required.
Sales taxes are not included since different states handle taxes differently. Please refer to "Understanding Sales Tax" to learn how taxes affect your monthly payments.
The rating system used is based on RIDE with G's Lease Calculator. The closer you are to the 100 rating, the better the deal. Anything exceeding a 100 rating is phenomenal.
Top Ten Finalists
Not as good as last month, but still reasonable enough for what you are getting.
The customer cash is still there, but it's not available for leasing. Therefore, not as good of a deal. If you buy cash or using third party bank to finance, you should be able to tap into that rebate.
I'm actually warming up to the mid-cycle refresh of the Accord. It gives it a "classier" look in my opinion, although the back look a little too much like the Hyundai Azera.
Technically tied the Accord for Third, but since the G37 is a manual and a bit harder to find, it gets penalized a little bit.
Not a bad ride for the amount of cash you pay, but not the kind of car I'd like on my drive way. It's like a failed case study on how to clone the BMW X6.
Seems like a lot of folks are warming up to the entry-level G sedan. With lease numbers like this, I can't say I blame them.
For this price range, I would rather have the Accord. However, I cannot deny that this is still one heck of a deal.
Good deal if you are looking for a crossover. I'm still waiting on Honda to introduce a V6 version of the CR-V. Until that happens, I probably won't consider leasing one.
Most of you will probably opt for the SV, which will cost you more. But if you manage to find some S on the lot, you should be able to cut a pretty good deal on them.
I got three words for you: One. Sweet. Ride.
Missing the Cut (90+ rating)
2011 Hyundai Sonata 2.0T SE (93.1)
2011 Honda Odyssey LX (95.4)
2011 Infiniti FX35 (97.4)
2011 Acura TL (98.3)
2011 Mazda3 i Sport (96.0)
2011 Mazda CX-9 GT (97.4)
2011 Mercedez-Benz C300 Sport (90.9)
2011 Lexus IS250 (90.3)
2011 Audi A3 (90.0)
2011 VW Tiguan S (91.0)
2011 VW CC R-Line (90.2)
Parting Shots
As stated before, not the best time to lease a car, but certainly not the worst. Probably better than the past few Januaries I've seen and comparable to last November in most cases. I'd would like to see more VWs, Hyundais and Acuras on the Top Ten though. Nissan and Honda have been dominating the list these past couple months, while BMW didn't even get close to Missing the Cut. A little more variety would be great.