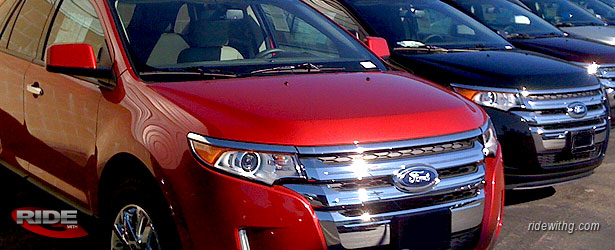 Last month during the holidays, I got a chance to spend about 30+ minutes with the 2011 Ford Edge SEL. I played around with the Touch system, explored the interior and all it's compartments, and took it around the block on a test drive. Here are my impressions of the Ford Edge, which my local dealer claims it's selling like hot-cakes and justifies a $2000 mark-up (Yeah, right).
Drive – Plenty of torque and the engine was quite smooth. The suspension did a decent job absorbing the uneven pavement, like all CUVs should. The cabin is quiet and sound insulation is above average. Handling was a bit too floaty for my taste, but this may be biased since I prefer cars over trucks. The Edge drives like a car twice its size, but it's still manageable in tight quarters.
Interior Features & Quality – Ford has improved their interior materials, however, it is still a notch below other brands it tries to compete with. Leather felt hard and cheap. Door panels are made of hard plastic, but you can still push these panels in without much effort, which makes them appear rather flimsy. The dash is made of soft rubber, which is pleasant to the touch. Panoramic moonroof is nice, but seems to require more involvement than the usual "one-touch" moonroofs I am accustomed to.  The voice-activated Sync system worked like a charm. My sales man had a very heavy accent and it still managed to set the correct temperature on the first try. MyFord Touch is feature-rich, but poorly executed. I consider myself  a tech-savvy individual, but after about 15 minutes dabbling in it, the only thing I managed to do is learn how to navigate through the radio. One of the features I did like was sharing your 3G-enabled device's internet and turning the car into a wifi hotspot. Unfortunately, the interface was somewhat sluggish and it's touch-sensitive screen required more than a few touches to navigate from menu to menu. The overall touch user-interface was not intuitive and I think the average person may find it too complicated and/or distracting to use while driving. I recommend waiting for the next-gen MyFord Touch and see if Ford address some of the shortcomings of the current system.
Cargo – Pretty decent cargo space, specially when rear-seats are folded down making it extremely practical. SEL model has one-touch release buttons to fold down the back seats, very cool.
MPG – 19/27 mpg, which is very good for a CUV of this size. The SE model gets 1 less MPG highway, which I can't quite understand why.
Price –  Starting at $27k (SE model), this truck comes with a decent array of standard features. However, fancy features like Bluetooth, leather and Nav are optional. Opt for the top of the line Sport model and you will be paying upwards of $41k. The SEL model I test drive was priced around $36k, plus a dealer mark-up of about $2000, which bumped it up to about $38k.
Overall – In terms of value, I find the Edge overpriced, even without the dealer mark-up. Sure, the Touch system cannot be found in any other non-Ford vehicle at the moment, but it's user-friendliness seems to negate all that wonderful technology. The qualify and craftsmanship is definitely a step above what Ford has produced in the past, however, it is still a step below some of the other CUVs it tries to compete against in this price range.
Recommendation – Despite it's shortcomings, it is still a solid CUV and the Ecoboost engine should only make the Edge that much more appealing (for a price). If I were in the market for a CUV (which I sort of am at the moment), I would probably opt for the SE which tops out slightly above $29k. You still get a nice set of standard features and it doesn't exactly break the bank.