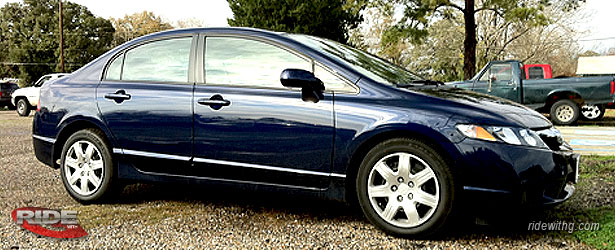 Name: RoyallyBlue
Location: Louisiana
What He's Got: 2011 Royal Blue Honda Civic LX Sedan

The Story:
First let me give a HUGE thanks to BouncewithB for his outstanding advise and knowledge.  He also has a really cool car that has been posted on the Wall and should be checked out.  I've seen it in person and it is a sweet ride.  Anyways, he introduced me to this site and took some time to talk to me about the in's and out's on leasing.  Without his time and help, I would probably not even considered doing a lease.

With that said, I ended up getting 2011 Honda Civic as seen in the pic.  It was a leasing special they were running and I believe G had even posted it as the 2nd best leasing offer for the month of December.  The lease was no money down, no first month payment, 35 months (with first payment due and paid for by the dealership at signing) for a total of $219 a month taxes included ($202 base without taxes.)  The only thing I paid was ttl which was about $150.  Gross Capitalized Cost: $18811 – Depreciation: $6842 – Rent charge: $454 – 12,000 yr. – I was very happy with the lease and am very satisfied by my car.  It may not be the best lease ever obtained, but this is optimally suited for me.

Prior to this I had a 96 Mustang that I have owned out-right for the past six years.  Well, I have recently gotten engaged and used the money I've been saving for a new car towards one heck of a diamond ring for my fiance.  Needless to say, literally a month and a half later, the head gaskets blew on that Mustang and so I had no car and little cash.

I had gotten so used of not paying monthly for a car that the thought of the lease scared me (not to mention all the horror stories that I have heard and confusing terms that come along with the agreement.)  So I decided to go used car shopping.  Forget it.  Down here, the used cars that are worth what you spend on them are the rare finds and I could not find a good deal on trustworthy car after EXTENSIVE research.

Anyways, I learned BouncewithB leases and asked him about it and he led me here and gave me some tips.  Thanks to this website and B, I am leasing my first car.  This website is extremely valuable to anyone even thinking about leasing and the straight forward and honest enthusiasm for the "Art of the Lease" makes this website a winner.  The calculator was real handy too.  Thanks for all the info to G and his staff and a SPECIAL thanks to BouncewithB.

RoyallyBlue
My Take: CONGRATULATIONS (one the new car and the engagement!) Glad to hear the site has not only has helped you get a new set of wheels, but also save you money when you needed it most. Definitely gotta give BouncewithB a shoutout on this one. He's been a huge help to me as well over the years with his advice and support. $219 is cheap with no money down so you did extremely well there! Congrats again!
Want your ride featured on RIDE with G? Send your pics over to thewall(at)ridewithg.com