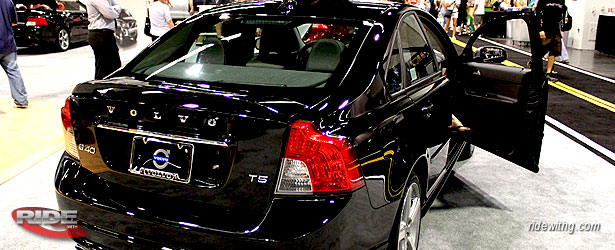 There has been a slight improvement with Volvos this month! Here's the skinny…The 2011 S60s have $2000 dealer cash, and the 2011 S80s have $1000 dealer cash. There is also $1000 loyalty cash available on all vehicles towards leases. The Volvo base acquisition fee is $695.
The 2011 S60 looks like a winner this month. It has a solid residual and an acceptable money factor. The discounts are deep since the 2012 model is already out. Without factoring the loyalty cash, I am already getting a 91.4 rating. This would make the S60 the first Volvo to get an honorable mention on this month's Round Up. Talk about historic! See sample calculation below.
This information has been provided by Rman850r, who has been instrumental in providing this site with Volvo numbers. Lease rate was made available by the good folks at North Point Volvo. If you are in or near the Alpharetta, GA area and looking for a Volvo, please give them a call.


Here is a sample calculation based on TrueCar's Southern California sale price and do not include local taxes. Please note that your dealer calculations may vary due to local fees/taxes.
2011 S60 T-6
MSRP – $40,075
Sale Price – $34,973
Monthly – $433+ tax
RWG Rating -91.4
For Dealer Quotes, Click Here.


2011 S60 T-6
36-month | 15k miles | residual 56% | .00148 base money factor
2012 S60 T-5
36-month | 15k miles | residual 66% | .00198 base money factor
2011 S80 3.2
36-month | 15k miles | residual 51% | .00024 base money factor
2011 S80 T-6
36-month | 15k miles | residual 53% | .00052 base money factor
2011 XC-60 T-6 R-design
36-month | 15k miles | residual 51% | .00127 base money factor
2011 XC-60 T-6
36-month | 15k miles | residual 54% | .00127 base money factor
2011 XC-60 3.2 AWD R-design
36-month | 15k miles | residual 48% | .00124 base money factor
2011 XC-60 3.2 FWD R-design
36-month | 15k miles | residual 47% | .00124 base money factor
2011 XC-60 3.2 AWD
36-month | 15k miles | residual 51% | .00124 base money factor
2011 XC-60 3.2 FWD
36-month | 15k miles | residual 49% | .00124 base money factor