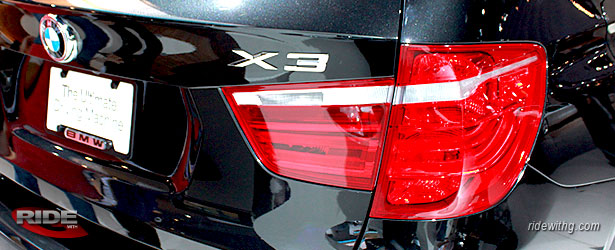 For the most part, BMW's February lease rates remain unchanged. The biggest change only applies to lease terms longer than 48-months. Those terms get a healthy .00030 money factor reduction, but I still don't recommend leasing a BMW longer than 3 years. Other than, lease rates are the same. I've been noticing a slight up-tick on the sale prices recently, but the month is still young, so I would recommend holding out until month-end to see if discounts become more aggressive. Expect lease rates to change next month.


Here is a sample calculation based on TrueCar's Southern California sale price and do not include local taxes. Please note that your dealer calculations may vary due to local fees/taxes.
2011 BMW 328i Sedan Lease
MSRP – $34,525
Sale Price – $32,435
Monthly – $409+ tax
RWG Rating – 85.7
2011 BMW M3 Convertible
MSRP – $70,125
Sale Price – $66,470
Monthly – $756+ tax
RWG Rating – 91.6
For Dealer Quotes, Click Here.


This month's lease rates have been brought to you by LeaseCompare.


2011 BMW 128i Coupe Lease
24month | 15k miles | residual 64% | .00135 base money factor
36month | 15k miles | residual 56% | .00135 base money factor
48month | 15k miles | residual 42% | .00200 base money factor
60month | 15k miles | residual 33% | .00200 base money factor
2011 BMW 128i Convertible Lease
24month | 15k miles | residual 64% | .00120 base money factor
36month | 15k miles | residual 56% | .00120 base money factor
48month | 15k miles | residual 43% | .00200 base money factor
60month | 15k miles | residual 34% | .00200 base money factor
2011 BMW 135i Coupe Lease
24month | 15k miles | residual 64% | .00120 base money factor
36month | 15k miles | residual 56% | .00120 base money factor
48month | 15k miles | residual 41% | .00200 base money factor
60month | 15k miles | residual 33% | .00200 base money factor
2011 BMW 135i Convertible Lease
24month | 15k miles | residual 64% | .00120 base money factor
36month | 15k miles | residual 56% | .00120 base money factor
48month | 15k miles | residual 41% | .00200 base money factor
60month | 15k miles | residual 33% | .00200 base money factor
2011 BMW 328i Sedan Lease
24month | 15k miles | residual 63% | .00105 base money factor
36month | 15k miles | residual 57% | .00105 base money factor
48month | 15k miles | residual 44% | .00200 base money factor
60month | 15k miles | residual 36% | .00200 base money factor
2011 BMW 328xi Sedan Lease
24month | 15k miles | residual 63% | .00105 base money factor
36month | 15k miles | residual 57% | .00105 base money factor
48month | 15k miles | residual 43% | .00200 base money factor
60month | 15k miles | residual 35% | .00200 base money factor
2011 BMW 328i Coupe Lease
24month | 15k miles | residual 63% | .00120 base money factor
36month | 15k miles | residual 57% | .00120 base money factor
48month | 15k miles | residual 43% | .00200 base money factor
60month | 15k miles | residual 35% | .00200 base money factor
2011 BMW 328xi Coupe Lease
24month | 15k miles | residual 63% | .00120 base money factor
36month | 15k miles | residual 57% | .00120 base money factor
48month | 15k miles | residual 44% | .00200 base money factor
60month | 15k miles | residual 36% | .00200 base money factor
2011 BMW 328i Convertible Lease
24month | 15k miles | residual 63% | .00105 base money factor
36month | 15k miles | residual 57% | .00105 base money factor
48month | 15k miles | residual 42% | .00200 base money factor
60month | 15k miles | residual 33% | .00200 base money factor
2011 BMW 328i Wagon Lease
24month | 15k miles | residual 64% | .00105 base money factor
36month | 15k miles | residual 58% | .00105 base money factor
48month | 15k miles | residual 38% | .00200 base money factor
60month | 15k miles | residual 31% | .00200 base money factor
2011 BMW 328xi Wagon Lease
24month | 15k miles | residual 64% | .00105 base money factor
36month | 15k miles | residual 58% | .00105 base money factor
48month | 15k miles | residual 40% | .00200 base money factor
60month | 15k miles | residual 33% | .00200 base money factor
2011 BMW 335i Sedan Lease
24month | 15k miles | residual 64% | .00150 base money factor
36month | 15k miles | residual 58% | .00150 base money factor
48month | 15k miles | residual 39% | .00200 base money factor
60month | 15k miles | residual 32% | .00200 base money factor
2011 BMW 335xi Sedan Lease
24month | 15k miles | residual 61% | .00135 base money factor
36month | 15k miles | residual 55% | .00135 base money factor
48month | 15k miles | residual 38% | .00200 base money factor
60month | 15k miles | residual 31% | .00200 base money factor
2011 BMW 335d Diesel Sedan Lease
24month | 15k miles | residual 61% | .00125 base money factor
36month | 15k miles | residual 53% | .00125 base money factor
48month | 15k miles | residual 43% | .00200 base money factor
60month | 15k miles | residual 35% | .00200 base money factor
2011 BMW 335i Coupe Lease
24month | 15k miles | residual 63% | .00135 base money factor
36month | 15k miles | residual 57% | .00135 base money factor
48month | 15k miles | residual 40% | .00200 base money factor
60month | 15k miles | residual 32% | .00200 base money factor
2011 BMW 335is Coupe Lease
24month | 15k miles | residual 64% | .00165 base money factor
36month | 15k miles | residual 58% | .00165 base money factor
48month | 15k miles | residual 39% | .00200 base money factor
60month | 15k miles | residual 31% | .00200 base money factor
2011 BMW 335xi Coupe Lease
24month | 15k miles | residual 64% | .00160 base money factor
36month | 15k miles | residual 58% | .00160 base money factor
48month | 15k miles | residual 40% | .00200 base money factor
60month | 15k miles | residual 33% | .00200 base money factor
2011 BMW 335i Convertible Lease
24month | 15k miles | residual 64% | .00150 base money factor
36month | 15k miles | residual 58% | .00150 base money factor
48month | 15k miles | residual 41% | .00200 base money factor
60month | 15k miles | residual 33% | .00200 base money factor
2011 BMW 335is Convertible Lease
24month | 15k miles | residual 63% | .00150 base money factor
36month | 15k miles | residual 57% | .00150 base money factor
48month | 15k miles | residual 38% | .00200 base money factor
60month | 15k miles | residual 30% | .00200 base money factor
2011 BMW M3 Sedan
24month | 15k miles | residual 64% | .00205 base money factor
36month | 15k miles | residual 58% | .00205 base money factor
48month | 15k miles | residual 39% | .00200 base money factor
60month | 15k miles | residual 32% | .00200 base money factor
2011 BMW M3 Coupe
24month | 15k miles | residual 64% | .00175 base money factor
36month | 15k miles | residual 58% | .00175 base money factor
48month | 15k miles | residual 40% | .00200 base money factor
60month | 15k miles | residual 32% | .00200 base money factor
2011 BMW M3 Convertible
24month | 15k miles | residual 67% | .00090 base money factor
36month | 15k miles | residual 61% | .00090 base money factor
48month | 15k miles | residual 37% | .00200 base money factor
60month | 15k miles | residual 30% | .00200 base money factor
2011 BMW 528i Sedan
24month | 15k miles | residual 62% | .00175 base money factor
36month | 15k miles | residual 56% | .00175 base money factor
48month | 15k miles | residual 42% | .00200 base money factor
60month | 15k miles | residual 35% | .00200 base money factor
2011 BMW 535i Sedan
24month | 15k miles | residual 62% | .00175 base money factor
36month | 15k miles | residual 56% | .00175 base money factor
48month | 15k miles | residual 40% | .00200 base money factor
60month | 15k miles | residual 33% | .00200 base money factor
2011 BMW 535i xDrive Sedan
24month | 15k miles | residual 62% | .00175 base money factor
36month | 15k miles | residual 56% | .00175 base money factor
48month | 15k miles | residual 40% | .00200 base money factor
60month | 15k miles | residual 33% | .00200 base money factor
2011 BMW 550i Sedan
24month | 15k miles | residual 59% | .00185 base money factor
36month | 15k miles | residual 53% | .00185 base money factor
48month | 15k miles | residual 38% | .00200 base money factor
60month | 15k miles | residual 31% | .00200 base money factor
2011 BMW 550i xDrive Sedan
24month | 15k miles | residual 59% | .00185 base money factor
36month | 15k miles | residual 53% | .00185 base money factor
48month | 15k miles | residual 40% | .00200 base money factor
60month | 15k miles | residual 33% | .00200 base money factor
2011 BMW 535i Gran Turismo Wagon
24month | 15k miles | residual 62% | .00175 base money factor
36month | 15k miles | residual 56% | .00175 base money factor
48month | 15k miles | residual 38% | .00200 base money factor
60month | 15k miles | residual 31% | .00200 base money factor
2011 BMW 535xi Gran Turismo Wagon
24month | 15k miles | residual 62% | .00175 base money factor
36month | 15k miles | residual 56% | .00175 base money factor
48month | 15k miles | residual 38% | .00200 base money factor
60month | 15k miles | residual 31% | .00200 base money factor
2011 BMW 550i Gran Turismo Wagon
24month | 15k miles | residual 62% | .00175 base money factor
36month | 15k miles | residual 56% | .00175 base money factor
48month | 15k miles | residual 37% | .00200 base money factor
60month | 15k miles | residual 30% | .00200 base money factor
2011 BMW 550xi Gran Turismo Wagon
24month | 15k miles | residual 62% | .00175 base money factor
36month | 15k miles | residual 56% | .00175 base money factor
48month | 15k miles | residual 38% | .00200 base money factor
60month | 15k miles | residual 31% | .00200 base money factor
2011 BMW 740i Sedan
24month | 15k miles | residual 58% | .00165 base money factor
36month | 15k miles | residual 52% | .00165 base money factor
48month | 15k miles | residual 35% | .00200 base money factor
60month | 15k miles | residual 27% | .00200 base money factor
2011 BMW 740Li Sedan
24month | 15k miles | residual 58% | .00160 base money factor
36month | 15k miles | residual 52% | .00160 base money factor
48month | 15k miles | residual 36% | .00200 base money factor
60month | 15k miles | residual 28% | .00200 base money factor
2011 BMW 750i Sedan
24month | 15k miles | residual 58% | .00165 base money factor
36month | 15k miles | residual 52% | .00165 base money factor
48month | 15k miles | residual 33% | .00200 base money factor
60month | 15k miles | residual 26% | .00200 base money factor
2011 BMW 750i xDrive Sedan
24month | 15k miles | residual 58% | .00155 base money factor
36month | 15k miles | residual 52% | .00155 base money factor
48month | 15k miles | residual 35% | .00200 base money factor
60month | 15k miles | residual 28% | .00200 base money factor
2011 BMW 750i ActiveHybrid Sedan
24month | 15k miles | residual 58% | .00145 base money factor
36month | 15k miles | residual 52% | .00145 base money factor
48month | 15k miles | residual 31% | .00200 base money factor
60month | 15k miles | residual 24% | .00200 base money factor
2011 BMW 750Li Sedan
24month | 15k miles | residual 58% | .00155 base money factor
36month | 15k miles | residual 52% | .00155 base money factor
48month | 15k miles | residual 34% | .00200 base money factor
60month | 15k miles | residual 27% | .00200 base money factor
2011 BMW 750Li xDrive Sedan
24month | 15k miles | residual 58% | .00155 base money factor
36month | 15k miles | residual 52% | .00155 base money factor
48month | 15k miles | residual 36% | .00200 base money factor
60month | 15k miles | residual 28% | .00200 base money factor
2011 BMW 750Li ActiveHybrid Sedan
24month | 15k miles | residual 58% | .00140 base money factor
36month | 15k miles | residual 52% | .00140 base money factor
48month | 15k miles | residual 31% | .00200 base money factor
60month | 15k miles | residual 24% | .00200 base money factor
2011 BMW 760Li Sedan
24month | 15k miles | residual 44% | .00205 base money factor
36month | 15k miles | residual 38% | .00205 base money factor
48month | 15k miles | residual 29% | .00200 base money factor
60month | 15k miles | residual 22% | .00200 base money factor
2011 BMW Alpina B7 SWB Sedan
24month | 15k miles | residual 51% | .00205 base money factor
36month | 15k miles | residual 45% | .00205 base money factor
48month | 15k miles | residual 33% | .00200 base money factor
60month | 15k miles | residual 26% | .00200 base money factor
2011 BMW Alpina B7 SWB xDrive Sedan
24month | 15k miles | residual 51% | .00205 base money factor
36month | 15k miles | residual 45% | .00205 base money factor
48month | 15k miles | residual 33% | .00200 base money factor
60month | 15k miles | residual 26% | .00200 base money factor
2011 BMW Alpina B7 LWB Sedan
24month | 15k miles | residual 51% | .00205 base money factor
36month | 15k miles | residual 45% | .00205 base money factor
48month | 15k miles | residual 34% | .00200 base money factor
60month | 15k miles | residual 26% | .00200 base money factor
2011 BMW Alpina B7 LWB xDrive Sedan
24month | 15k miles | residual 50% | .00205 base money factor
36month | 15k miles | residual 44% | .00205 base money factor
48month | 15k miles | residual 33% | .00200 base money factor
60month | 15k miles | residual 25% | .00200 base money factor
2011 BMW X3 xDrive28i SUV
24month | 15k miles | residual 62% | .00205 base money factor
36month | 15k miles | residual 56% | .00205 base money factor
48month | 15k miles | residual 42% | .00200 base money factor
60month | 15k miles | residual 34% | .00200 base money factor
2011 BMW X3 xDrive35i SUV
24month | 15k miles | residual 62% | .00205 base money factor
36month | 15k miles | residual 56% | .00205 base money factor
48month | 15k miles | residual 42% | .00200 base money factor
60month | 15k miles | residual 34% | .00200 base money factor
2011 BMW X5 xDrive35i SUV
24month | 15k miles | residual 59% | .00175 base money factor
36month | 15k miles | residual 51% | .00175 base money factor
48month | 15k miles | residual 42% | .00200 base money factor
60month | 15k miles | residual 34% | .00200 base money factor
2011 BMW X5 xDrive35i Premium SUV
24month | 15k miles | residual 61% | .00140 base money factor
36month | 15k miles | residual 55% | .00140 base money factor
48month | 15k miles | residual 42% | .00200 base money factor
60month | 15k miles | residual 35% | .00200 base money factor
2011 BMW X5 xDrive35i Sport Activity SUV
24month | 15k miles | residual 62% | .00155 base money factor
36month | 15k miles | residual 56% | .00155 base money factor
48month | 15k miles | residual 41% | .00200 base money factor
60month | 15k miles | residual 34% | .00200 base money factor
2011 BMW X5 xDrive35d Diesel SUV
24month | 15k miles | residual 61% | .00205 base money factor
36month | 15k miles | residual 53% | .00205 base money factor
48month | 15k miles | residual 44% | .00200 base money factor
60month | 15k miles | residual 36% | .00200 base money factor
2011 BMW X5 xDrive50i SUV
24month | 15k miles | residual 64% | .00185 base money factor
36month | 15k miles | residual 58% | .00185 base money factor
48month | 15k miles | residual 35% | .00200 base money factor
60month | 15k miles | residual 28% | .00200 base money factor
2011 BMW X5 M SUV
24month | 15k miles | residual 57% | .00185 base money factor
36month | 15k miles | residual 51% | .00185 base money factor
48month | 15k miles | residual 36% | .00200 base money factor
60month | 15k miles | residual 28% | .00200 base money factor
2011 BMW X6 xDrive35i Crossover
24month | 15k miles | residual 63% | .00175 base money factor
36month | 15k miles | residual 57% | .00175 base money factor
48month | 15k miles | residual 39% | .00200 base money factor
60month | 15k miles | residual 32% | .00200 base money factor
2011 BMW X6 xDrive50i Crossover
24month | 15k miles | residual 62% | .00155 base money factor
36month | 15k miles | residual 56% | .00155 base money factor
48month | 15k miles | residual 36% | .00200 base money factor
60month | 15k miles | residual 30% | .00200 base money factor
2011 BMW X6 ActiveHybrid Crossover
24month | 15k miles | residual 63% | .00060 base money factor
36month | 15k miles | residual 57% | .00060 base money factor
48month | 15k miles | residual 33% | .00200 base money factor
60month | 15k miles | residual 26% | .00200 base money factor
2011 BMW X6 M Crossover
24month | 15k miles | residual 53% | .00190 base money factor
36month | 15k miles | residual 47% | .00190 base money factor
48month | 15k miles | residual 36% | .00200 base money factor
60month | 15k miles | residual 28% | .00200 base money factor
2011 BMW Z4 sDrive30i Convertible
24month | 15k miles | residual 64% | .00100 base money factor
36month | 15k miles | residual 58% | .00100 base money factor
48month | 15k miles | residual 33% | .00200 base money factor
60month | 15k miles | residual 25% | .00200 base money factor
2011 BMW Z4 sDrive35i Convertible
24month | 15k miles | residual 64% | .00125 base money factor
36month | 15k miles | residual 58% | .00125 base money factor
48month | 15k miles | residual 32% | .00200 base money factor
60month | 15k miles | residual 24% | .00200 base money factor
2011 BMW Z4 sDrive35is Convertible
24month | 15k miles | residual 64% | .00180 base money factor
36month | 15k miles | residual 58% | .00180 base money factor
48month | 15k miles | residual 31% | .00200 base money factor
60month | 15k miles | residual 23% | .00200 base money factor