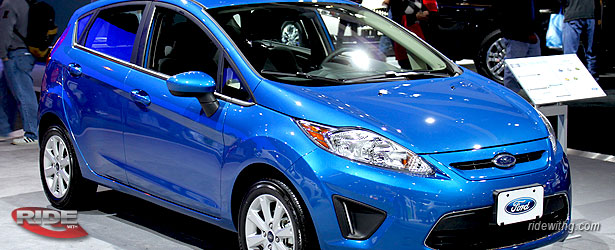 Looks like Ford's Explorer has decent lease rates this month. The residual is fair and so is the money factor (on the XLT model). The challenge would be getting dealers to discount the car enough so that the payments fall within a reasonable range. A few things to note on the Explorer. There are a lot of cash rebates available, but not all will qualify. The $1000 cash incentive being promoted right now is not applicable to lessees. However, if you currently own or lease a 1995 or newer Explorer, Sport Trac, Freestyle, Taurus X or Mountaineer, you get a whopping $1500 bucks toward the lease of a new Explorer. There are other rebates that can be found by going to Edmunds.com.
As you can see in my calculations, the Explorer still needs a little work. The rates are okay, but the discounts are still lacking. I think the deal would be much better if you qualify for any of Ford's rebates.


Here is a sample calculation based on TrueCar's Southern California sale price and do not include local taxes. Please note that your dealer calculations may vary due to local fees/taxes.
2011 Ford Explorer XLT 4WD
MSRP – $33,995
Sale Price – $32,213 ($1000 rebate not applicable to leases)
Monthly – $409+ tax
RWG Rating – 85.7
For Dealer Quotes, Click Here.


This month's lease rates have been brought to you by LeaseCompare.


2011 Ford Explorer Base 4WD
24-month | 15k miles | residual 63% | .00031 base money factor
36-month | 15k miles | residual 54% | .00104 base money factor
48-month | 15k miles | residual 45% | .00208 base money factor
2011 Ford Explorer XLT 4WD
24-month | 15k miles | residual 64% | .00031 base money factor
36-month | 15k miles | residual 55% | .00104 base money factor
48-month | 15k miles | residual 45% | .00208 base money factor
2011 Ford Explorer Limited 4WD
24-month | 15k miles | residual 61% | .00031 base money factor
36-month | 15k miles | residual 52% | .00104 base money factor
48-month | 15k miles | residual 42% | .00208 base money factor
2011 Edge Limited AWD
36-month | 15k miles | residual 57% | .00125 base money factor
2011 Ford Edge SE AWD
36-month | 15k miles | residual 57% | .00125 base money factor