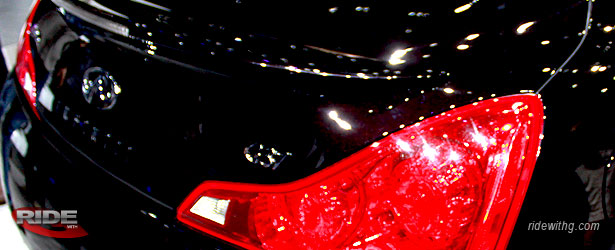 Update! Last week, I got an email from VC (a long time reader of this blog) and here's the deal he got on a G37…
The MF was .00147(regular) and i put 9msd(max of .0001) reduction…..bringing a total of [.00147-.0009) = a reduced MF of .00057 Each deposit was $400(x9) = 3600.

Essentially I put 3600 due(100% refundable)…..plus $1180(registration…aqq fee…dealer fee)…plus another 1000(infiniti owner loyalty rebate). for a total of $ $5800 due upfront.

So essentially only $1180 due, since 1k is rebate, and the 3600 is completely refunded.

They took close to 5k off msrp, plus another 1k(infiniti owner loyalty bonus cash…used towards cap-cost reduction).

so with about 1180 due, plus the MSD. i got the payment to be $280 a month!!! i got this one fully loaded too. navi, premium, spoiler, etc.

msrp was 46,800. January had a $500 detroit auto show bonus cash, so that helped too. make sure you let people know, the G37x coupe is great deal, ESPECIALLY on 24month lease right now.
Wondering if February rates are still the same? They are! IFS carried over their lease rates from January into February, with the exception of the G37 Convertible Sport, that one gets a 3% bump in residual and a 0.00001 increase in the MF. Despite this "good news", I am expecting IFS to modify their rates in March. It is rare that lease rates remain the same for more than two months, so if you like these numbers, make sure you cut a deal this month.
I think the G37 Journey gives you more bang for the buck, but if you don't need the extra power, go with the G25.
As a special bonus from our sponsor, the G37 IPL rates are also posted. Enjoy!


Here is a sample calculation based on TrueCar's Southern California sale price and do not include local taxes. Please note that your dealer calculations may vary due to local fees/taxes.
2011 Infiniti G25 Sedan Journey
MSRP – $31,825
Sale Price – $28,383
Monthly – $299 + tax
RWG Rating – 101.1
2011 Infiniti G37 Sedan Journey
MSRP – $36,275
Sale Price – $31,282
Monthly – $317+ tax
RWG Rating – 106.7
For Dealer Quotes, Click Here.



2011 INFINITI G37 COUPE IPL AT
36 month | 15k miles | residual 60% | .00138 base money factor
2011 INFINITI G25 SEDAN BASE
36 month | 15k miles | residual 61% | .00123 base money factor
2011 INFINITI G25 SEDAN JOURNEY
36 month | 15k miles | residual 62% | .00123 base money factor
2011 INFINITI G25 SEDAN X AWD
36 month | 15k miles | residual 64% | .00146 base money factor
2011 INFINITI G37 SEDAN JOURNEY
36 month | 15k miles | residual 60% | .00100 base money factor
2011 INFINITI G37 SEDAN X AWD
36 month | 15k miles | residual 62% | .00125 base money factor
2011 INFINITI G37 SEDAN SPORT MANUAL
36 month | 15k miles | residual 59% | .00100 base money factor
2011 INFINITI G37 COUPE BASE
36 month | 15k miles | residual 67% | .00138 base money factor
2011 INFINITI G37 COUPE JOURNEY
36 month | 15k miles | residual 64% | .00138 base money factor
2011 INFINITI G37 COUPE X AWD
36 month | 15k miles | residual 65% | .00147 base money factor
2011 INFINITI G37 COUPE SPORT MANUAL
36 month | 15k miles | residual 64% | .00138 base money factor
2011 INFINITI EX35 AWD
36 month | 15k miles | residual 60% | .00158 base money factor
2011 INFINITI EX35 AWD JOURNEY
36 month | 15k miles | residual 57% | .00158 base money factor
2011 INFINITI FX35 AWD
36 month | 15k miles | residual 56% | .00129 base money factor
2011 INFINITI FX50 AWD
36 month | 15k miles | residual 53% | .00145 base money factor
2011 INFINITI G37 CONVERTIBLE BASE
36 month | 15k miles | residual 61% | .00180 base money factor
2011 INFINITI G37 CONVERTIBLE SPORT 6MT
36 month | 15k miles | residual 62% | .00180 base money factor
2011 INFINITI M37 SEDAN X AWD
36 month | 15k miles | residual 55% | .00054 base money factor
2011 INFINITI M56 SEDAN X AWD
36 month | 15k miles | residual 53% | .00124 base money factor
2011 INFINITI QX56 4WD
36 month | 15k miles | residual 55% | .00220 base money factor