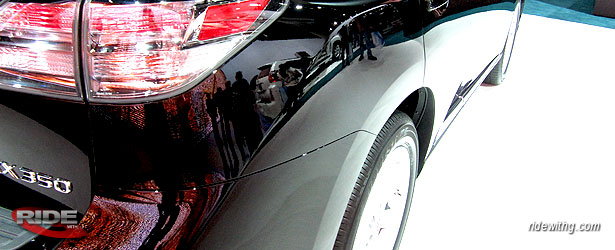 Different month, same old lease rates. That is what the numbers look like this month for Lexus. Not the strongest leasing month, but I think the IS250 is a borderline good deal here due to a slightly lower sale price than anticipated. This allows the IS to squeak into the GOOD DEAL territory, which generally consists of rides with a RWG rating of 90 to 99.


Here is a sample calculation based on TrueCar's Southern California sale price and do not include local taxes. Please note that your dealer calculations may vary due to local fees/taxes.
2011 Lexus IS250 AT Sedan
MSRP – $34,690
Sale Price – $30,858
Monthly – $378+ tax
RWG Rating – 90.8
For Dealer Quotes, Click Here.



2011 LEXUS ES350
36 month | 15k miles | residual 55% | .00175 base money factor
2011 LEXUS GS350 AWD
36 month | 15k miles | residual 52% | .00150 base money factor
2011 LEXUS GS450h
36 month | 15k miles | residual 50% | .00150 base money factor
2011 LEXUS GS460
36 month | 15k miles | residual 50% | .00150 base money factor
2011 LEXUS GX460
36 month | 15k miles | residual 51% | .00175 base money factor
2011 LEXUS GX460 PREMIUM
36 month | 15k miles | residual 51% | .00175 base money factor
2011 LEXUS HS250H
36 month | 15k miles | residual 54% | .00210 base money factor
2011 LEXUS HS250H PREMIUM
36 month | 15k miles | residual 54% | .00210 base money factor
2011 LEXUS IS250 AT SDN
36 month | 15k miles | residual 59% | .00175 base money factor
2011 LEXUS IS250 AWD AT SDN
36 month | 15k miles | residual 59% | .00175 base money factor
2011 LEXUS IS250 AT CONV
36 month | 15k miles | residual 59% | .00185 base money factor
2011 LEXUS IS350 AWD AT SEDAN
36 month | 15k miles | residual 55% | .00175 base money factor
2011 LEXUS IS350 CONV
36 month | 15k miles | residual 56% | .00185 base money factor
2011 LEXUS IS-F
36 month | 15k miles | residual 53% | .00210 base money factor
2011 LEXUS LS460
36 month | 15k miles | residual 52% | .00190 base money factor
2011 LEXUS LS460 AWD
36 month | 15k miles | residual 52% | .00190 base money factor
2011 LEXUS LX570
36 month | 15k miles | residual 50% | .00210 base money factor
2011 LEXUS RX350 AWD
36 month | 15k miles | residual 55% | .00170 base money factor
2011 LEXUS RX450H AWD
36 month | 15k miles | residual 54% | .00150 base money factor