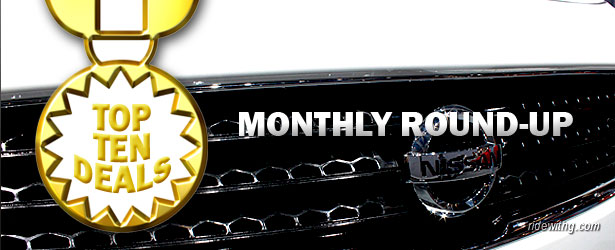 Lease rates didn't change much from last month, but sale prices dropped for most vehicles, which makes February a slightly better month than January. The were a few exceptions, such as in Honda's case. Honda sales prices in the Southern California region seems to have gone up a bit, making the leases slightly more costly than back in December and January. You will see in the chart that certain Honda's RWG rating have dropped slightly, but overall, still a very good lease compared to other brands and models.
I have been suggested to perhaps breakdown the Round-Up by class, which I think is a good idea. I will try to spend some time next month reorganize the list and rank the leases by class. In the mean time, enjoy February's Round-Up!
For Dealer Quotes, Click Here.
Ground Rules
Participating vehicles will be based on the lease rates gathered on this website during the corresponding month.
36-month/15k lease terms will used for all calculations unless a better term is available.
A $1500 drive-off fee is assumed for all cars. Since fees and taxes vary from region to region, your drive-off may vary.
Sale Price estimates will be based on Truecar.com sales data in the Southern California region, so your numbers may vary.
All estimates assume you qualify for the base rate. A minimum FICO® Score of 700 may be required.
Sales taxes are not included since different states handle taxes differently. Please refer to "Understanding Sales Tax" to learn how taxes affect your monthly payments.
The rating system used is based on RIDE with G's Lease Calculator. The closer you are to the 100 rating, the better the deal. Anything exceeding a 100 rating is phenomenal.
Top Ten Finalists
Seems like the Civic and the Sentra have been trading places these last few months, so no surprise here. The Sentra is a better deal as a purchase right now since there are some rebates that aren't available to leases.
Sometimes I wish I could get my hands on Mazda numbers more consistently. If I did, we would see a 3-way competition between Mazda, Nissan and Honda to see which dominates the Monthly Round-Up.
Numbers took a dive this month because sale prices have gone up. Further proof that you can't just rely on residual and money factors alone.
Since the Accord isn't looking as good this month due to a higher sale price, the Altima makes for a good substitute.
If you are shopping for luxury sport coupes and don't want to spend much money, this is your ride.
Do you see a pattern? This is the most bang for the buck when it comes to luxury sport sedans.
Car is getting discounted quite a bit this month. Surprising for a 2011 model.
A sensible choice for those seeking reasonable fuel economy and performance.
If I am ever willing to pay upwards of $500+ a month, this would be the ride I'd get.
Dropped quite a bit, but mainly due to a higher sale. Nothing extra haggling with your dealer can't fix.
Missing the Cut
(Honorable Mentions)
2011 Mercedes-Benz C300 Sport (97.3)
2011 Honda CRV LX AWD (97.2)
2011 Nissan Maxima S (96.4)
2011 Nissan Rogue S AWD (95.3)
2011 Nissan Versa S HB (95.2)
2011 Hyundai Sonata SE Turbo (94.7)
2011 VW CC Sport (92.7)
2011 Ford Edge SEL AWD (92.0)
2011 VW Tiguan S 4motion (91.9)
2011 Acura TSX (91.7)
2011 Acura TL (91.4)
2011 Volvo S60 T-6 (91.4)
2011 Lexus IS250 (91.3)
2011 Infiniti FX35 AWD (90.9)
2011 Mazda CX-9 Touring (90.7)
2011 Subaru Legacy 3.6R Premium (90.5)
2011 Audi A3 Premium (90.5)
2011 BMW 135i (90.0)
Parting Shots
If you didn't notice, the bulk of the Top Ten List are Nissan made. This says a lot since the days of German cars being "great leases" is officially over. Nowadays, they are just good, not great. With BMW and Audi looking disinterested in providing any sort of "deal" to consumers.
On another note, I didn't think I would see the day when a Volvo would "Miss the Cut", but that day has arrived in the form of a S60 T6, which is on clearance due to the incoming 2012 model.
Lastly, many models received a price bump so payments may have gone up (or down) slightly. However, the overall feeling I am getting is that February is still a slightly better month than January. Expect bigger changes in March.