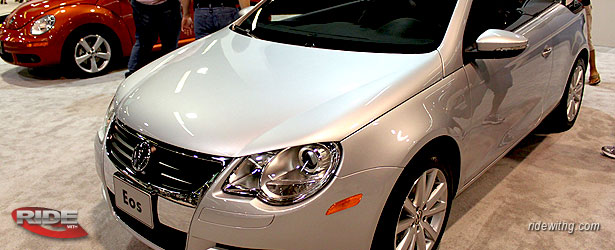 Residuals have dropped 1% through the entire VW lineup this month. VWC did not drop the money factors to compensate, however, not all is lost. VW is offering lease cash on many of their cars, which should compensate for the residual loss and the lack of MF reduction. Check out Edmund's VW Incentives to see what they got going on this month.
As you can see below, if you take last month's sale price and tack on the $750 lease cash, you'd be looking at a pretty sweet deal on the CC.
Another car that looks good is the Tiguan. There's $250 lease cash available, so assuming last month's sale price minus the lease cash, you're also looking a good payment on a nice compact SUV.


Here is a sample calculation based on TrueCar's Southern California sale price and do not include local taxes. Please note that your dealer calculations may vary due to local fees/taxes.
2011 VOLKSWAGEN CC SPORT AT
MSRP – $30,120
Sale Price – $25,419 (inc $750 lease cash)
Monthly – $303+ tax
RWG Rating – 96.0
2011 VOLKSWAGEN TIGUAN S 4MOTION
MSRP – $27,595
Sale Price – $24,674 (inc $250 lease cash)
Monthly – $296+ tax
RWG Rating – 90.4
For Dealer Quotes, Click Here.



2012 VOLKSWAGEN CC SPORT AT
36 month | 15k miles | residual 53% | .00047 base money factor
2011 VOLKSWAGEN CC SPORT AT
36 month | 15k miles | residual 50% | .00040 base money factor
2011 VOLKSWAGEN GOLF 2DR HATCHBACK AT
36 month | 15k miles | residual 50% | .00084 base money factor
2011 VOLKSWAGEN GTI 2DR HATCHBACK AT
36 month | 15k miles | residual 54% | .00063 base money factor
2011 VOLKSWAGEN JETTA SEDAN S AT
36 month | 15k miles | residual 56% | .00181 base money factor
2011 VOLKSWAGEN JETTA WAGON S AT
36 month | 15k miles | residual 50% | .00073 base money factor
2011 VOLKSWAGEN ROUTAN S
36 month | 15k miles | residual 45% | .00010 base money factor
2011 VOLKSWAGEN TIGUAN S 4MOTION
36 month | 15k miles | residual 54% | .00062 base money factor
2011 VOLKSWAGEN TOUAREG VR6 SPORT
36 month | 15k miles | residual 46% | .00052 base money factor