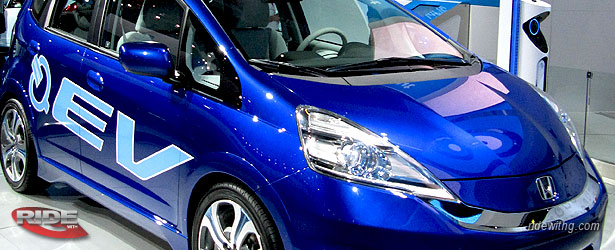 Gas prices has probably been affecting Honda sale prices or something because I have seen the price of Hondas increase over the past couple of months in my area. I can see that paying upwards of $4 bucks a gallon would entice people to go with more fuel efficient cars, but come on!!! We are still in a recession people!!!
The CrossTour is still dirt cheap for a $34k car. The Civic is still as affordable as it's always been and the CR-V is probably the best crossover SUV around (no I don't consider the CrossTour a crossover…I don't exactly know what it is). All is still well in Hondaland.


Here is a sample calculation based on TrueCar's Southern California sale price and do not include local taxes. Please note that your dealer calculations may vary due to local fees/taxes.
2011 Honda Civic Sedan LX AT
MSRP – $19,305
Sale Price – $16,129
Monthly – $152+ tax
RWG Rating – 115.2
2011 HONDA ACCORD CROSSTOUR 4WD EX-L
MSRP – $34,920
Sale Price – $29,763
Monthly – $295 + tax
RWG Rating – 109.5
2011 HONDA CR-V 4WD LX AT
MSRP – $23,725
Sale Price – $2,1913
Monthly – $238+ tax
RWG Rating – 96.4
For Dealer Quotes, Click Here.



2011 HONDA ACCORD COUPE LX-S AT
36 month | 15k miles | residual 54% | .00113 base money factor
2011 HONDA ACCORD CROSSTOUR 2WD EX
36 month | 15k miles | residual 58% | .00062 base money factor
2011 HONDA ACCORD CROSSTOUR 4WD EX-L
36 month | 15k miles | residual 58% | .00062 base money factor
2011 HONDA ACCORD SEDAN LX AT
36 month | 15k miles | residual 56% | .00113 base money factor
2011 HONDA ACCORD SEDAN EX AT
36 month | 15k miles | residual 56% | .00062 base money factor
2011 HONDA CIVIC COUPE LX AT
36 month | 15k miles | residual 56% | .00057 base money factor
2011 HONDA CIVIC SEDAN LX AT
36 month | 15k miles | residual 58% | .00057 base money factor
2011 HONDA CR-V 4WD LX AT
36 month | 15k miles | residual 60% | .00069 base money factor
2011 HONDA CR-Z HATCHBACK AT
36 month | 15k miles | residual 64% | .00200 base money factor
2011 HONDA ELEMENT 4WD LX AT
36 month | 15k miles | residual 59% | .00200 base money factor
2011 HONDA FIT HATCHBACK AT
36 month | 15k miles | residual 61% | .00138 base money factor
2011 HONDA ODYSSEY LX AT
36 month | 15k miles | residual 62% | .00187 base money factor
2011 HONDA PILOT 4WD LX
36 month | 15k miles | residual 56% | .00145 base money factor
2011 HONDA RIDGELINE CREW CAB RT
36 month | 15k miles | residual 56% | .00200 base money factor