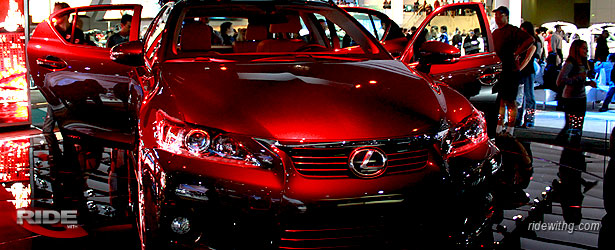 Surprisingly enough, the majority of the Lexus lineup renamed the same as February (that's three consecutive months with same rates!). However, there are exception. The GS350 AWD had 1% drop in residual and the HS got a drop in MF (residual stayed the same). Lastly the RX350 gets a drop in money factor (same residual). Not a bad month for Lexus (just look at the IS250, cheap!). Overall, you should enjoy about the same payments as last month for most models and slightly less for others (HS and RX). Lower prices should also make March a better month than February.
A special note regarding when to buy/lease. It has been statistically proven that buying/leasing towards then end of a month is generally cheaper than at the beginning. Therefore, if you can afford to wait until the end of each month, do so. You could be saving hundreds just by being a little bit more patient.


Here is a sample calculation based on TrueCar's Southern California sale price and do not include local taxes. Please note that your dealer calculations may vary due to local fees/taxes.
2011 Lexus IS250 AT Sedan
MSRP – $34,690
Sale Price – $30,265
Monthly – $361+ tax
RWG Rating – 93.9
2011 LEXUS RX350 AWD
MSRP – $39,250
Sale Price – $34,329
Monthly – $435+ tax
RWG Rating – 89.8
For Dealer Quotes, Click Here.



2011 LEXUS ES350
36 month | 15k miles | residual 55% | .00175 base money factor
2011 LEXUS GS350 AWD
36 month | 15k miles | residual 51% | .00150 base money factor
2011 LEXUS GS450h
36 month | 15k miles | residual 50% | .00150 base money factor
2011 LEXUS GS460
36 month | 15k miles | residual 50% | .00150 base money factor
2011 LEXUS GX460
36 month | 15k miles | residual 51% | .00175 base money factor
2011 LEXUS GX460 PREMIUM
36 month | 15k miles | residual 51% | .00175 base money factor
2011 LEXUS HS250H
36 month | 15k miles | residual 54% | .00170 base money factor
2011 LEXUS HS250H PREMIUM
36 month | 15k miles | residual 54% | .00170 base money factor
2011 LEXUS IS250 AT SDN
36 month | 15k miles | residual 59% | .00175 base money factor
2011 LEXUS IS250 AWD AT SDN
36 month | 15k miles | residual 59% | .00175 base money factor
2011 LEXUS IS250 AT CONV
36 month | 15k miles | residual 59% | .00185 base money factor
2011 LEXUS IS350 AWD AT SEDAN
36 month | 15k miles | residual 55% | .00175 base money factor
2011 LEXUS IS350 CONV
36 month | 15k miles | residual 56% | .00185 base money factor
2011 LEXUS IS-F
36 month | 15k miles | residual 53% | .00210 base money factor
2011 LEXUS LS460
36 month | 15k miles | residual 52% | .00190 base money factor
2011 LEXUS LS460 AWD
36 month | 15k miles | residual 52% | .00190 base money factor
2011 LEXUS LX570
36 month | 15k miles | residual 50% | .00210 base money factor
2011 LEXUS RX350 AWD
36 month | 15k miles | residual 55% | .00145 base money factor
2011 LEXUS RX450H AWD
36 month | 15k miles | residual 54% | .00150 base money factor