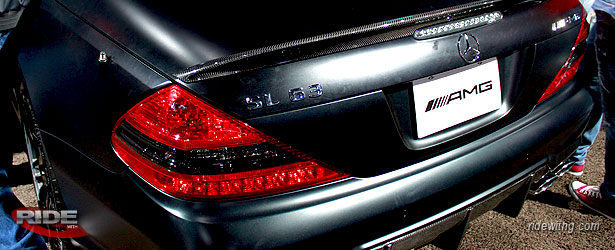 Like everyone else, MB dropped the residual and the money factor to keep things around the same ballpark the last couple of months (Feb numbers were the same as Jan). In So Cal, the C300 Sport is enjoying 10% discount off MSRP, which isn't half bad, but I am willing to bet that come summer time, it will get better. In any case, The C300 is a very good lease if you can hit those numbers. Plus, if you opt for the 48-month term, your payments would get even lower. Of course, you gotta deal with the cost of wear-n-tear items since the lease is longer. Sometimes, MB does provide an attractive 27-month lease by taking advantage of that high residual value and reasonable money factor. Since I don't deal with "unconventional" terms, you will need to speak to your dealer in order to get the 411 on that.
One thing to keep in mind is that my estimates are based on "base" models, therefore, the more options you add, the pricier your payments get. Generally speaking, for every $1000 borrowed, the monthly payment increases by about $30 per month.
Couple of other notable leases include: SLK (low money factor), E350 conv (lower than usual money factor), ML350 (low money factor).
The S has a low money factor too, but the residual value is far too low to make it a good deal.


Here is a sample calculation based on TrueCar's Southern California sale price and do not include local taxes. Please note that your dealer calculations may vary due to local fees/taxes.
2011 Mercedes C300 Sport (36-month)
MSRP – $34,865
Sale Price – $31,286
Monthly – $382+ tax
RWG Rating – 90.5
2011 Mercedes C300 Sport (48-month)
MSRP – $34,865
Sale Price – $31,286
Monthly – $335+ tax
RWG Rating – 97.9
For Dealer Quotes, CLICK HERE.


This month's lease rates have been brought to you by LeaseCompare.


2011 Mercedes C300 Luxury
24 month | 15k miles | residual 67% | .00109 base money factor
36 month | 15k miles | residual 56% | .00109 base money factor
48 month | 15k miles | residual 51% | .00109 base money factor
60 month | 15k miles | residual 44% | .00240 base money factor
2011 Mercedes C300 Luxury 4matic
24 month | 15k miles | residual 67% | .00109 base money factor
36 month | 15k miles | residual 56% | .00109 base money factor
48 month | 15k miles | residual 51% | .00109 base money factor
60 month | 15k miles | residual 44% | .00240 base money factor
2011 Mercedes C300 Sport
24 month | 15k miles | residual 67% | .00109 base money factor
36 month | 15k miles | residual 56% | .00109 base money factor
48 month | 15k miles | residual 51% | .00109 base money factor
60 month | 15k miles | residual 44% | .00240 base money factor
2011 Mercedes C300 Sport 4matic
24 month | 15k miles | residual 67% | .00109 base money factor
36 month | 15k miles | residual 56% | .00109 base money factor
48 month | 15k miles | residual 51% | .00109 base money factor
60 month | 15k miles | residual 44% | .00240 base money factor
2011 Mercedes C350 Sport
24 month | 15k miles | residual 65% | .00193 base money factor
36 month | 15k miles | residual 55% | .00193 base money factor
48 month | 15k miles | residual 49% | .00193 base money factor
60 month | 15k miles | residual 43% | .00240 base money factor
2011 Mercedes C63 AMG
24 month | 15k miles | residual 62% | .00240 base money factor
36 month | 15k miles | residual 54% | .00240 base money factor
48 month | 15k miles | residual 47% | .00240 base money factor
60 month | 15k miles | residual 41% | .00240 base money factor
2011 Mercedes CL550 4matic
24 month | 15k miles | residual 58% | .00240 base money factor
36 month | 15k miles | residual 47% | .00240 base money factor
48 month | 15k miles | residual 41% | .00240 base money factor
60 month | 15k miles | residual 36% | .00240 base money factor
2011 Mercedes CL600
24 month | 15k miles | residual 47% | .00240 base money factor
36 month | 15k miles | residual 39% | .00240 base money factor
48 month | 15k miles | residual 34% | .00240 base money factor
60 month | 15k miles | residual 31% | .00240 base money factor
2011 Mercedes CL63 AMG
24 month | 15k miles | residual 51% | .00240 base money factor
36 month | 15k miles | residual 41% | .00240 base money factor
48 month | 15k miles | residual 37% | .00240 base money factor
60 month | 15k miles | residual 33% | .00240 base money factor
2011 Mercedes CL65 AMG
24 month | 15k miles | residual 46% | .00240 base money factor
36 month | 15k miles | residual 38% | .00240 base money factor
48 month | 15k miles | residual 34% | .00240 base money factor
60 month | 15k miles | residual 30% | .00240 base money factor
2011 Mercedes CLS550
24 month | 15k miles | residual 60% | .00015 base money factor
36 month | 15k miles | residual 51% | .00015 base money factor
48 month | 15k miles | residual 45% | .00015 base money factor
60 month | 15k miles | residual 39% | .00240 base money factor
2011 Mercedes CLS63 AMG
24 month | 15k miles | residual 61% | .00240 base money factor
36 month | 15k miles | residual 51% | .00240 base money factor
48 month | 15k miles | residual 45% | .00240 base money factor
60 month | 15k miles | residual 39% | .00240 base money factor
2011 Mercedes E350 Coupe
24 month | 15k miles | residual 66% | .00161 base money factor
36 month | 15k miles | residual 56% | .00161 base money factor
48 month | 15k miles | residual 49% | .00161 base money factor
60 month | 15k miles | residual 43% | .00240 base money factor
2011 Mercedes E350 BlueTec Diesel Sedan
24 month | 15k miles | residual 75% | .00240 base money factor
36 month | 15k miles | residual 62% | .00240 base money factor
48 month | 15k miles | residual 55% | .00240 base money factor
60 month | 15k miles | residual 48% | .00240 base money factor
2011 Mercedes E350 Luxury Sedan
24 month | 15k miles | residual 69% | .00240 base money factor
36 month | 15k miles | residual 57% | .00240 base money factor
48 month | 15k miles | residual 51% | .00240 base money factor
60 month | 15k miles | residual 44% | .00240 base money factor
2011 Mercedes E350 Luxury 4MATIC Sedan
24 month | 15k miles | residual 69% | .00240 base money factor
36 month | 15k miles | residual 57% | .00240 base money factor
48 month | 15k miles | residual 51% | .00240 base money factor
60 month | 15k miles | residual 44% | .00240 base money factor
2011 Mercedes E350 Sport Sedan
24 month | 15k miles | residual 69% | .00240 base money factor
36 month | 15k miles | residual 57% | .00240 base money factor
48 month | 15k miles | residual 51% | .00240 base money factor
60 month | 15k miles | residual 44% | .00240 base money factor
2011 Mercedes E350 Sport 4MATIC Sedan
24 month | 15k miles | residual 69% | .00240 base money factor
36 month | 15k miles | residual 57% | .00240 base money factor
48 month | 15k miles | residual 51% | .00240 base money factor
60 month | 15k miles | residual 44% | .00240 base money factor
2011 Mercedes E350 Luxury 4MATIC Wagon
24 month | 15k miles | residual 62% | .00240 base money factor
36 month | 15k miles | residual 57% | .00240 base money factor
48 month | 15k miles | residual 46% | .00240 base money factor
60 month | 15k miles | residual 38% | .00240 base money factor
2011 Mercedes E350 Sport 4MATIC Wagon
24 month | 15k miles | residual 62% | .00240 base money factor
36 month | 15k miles | residual 57% | .00240 base money factor
48 month | 15k miles | residual 46% | .00240 base money factor
60 month | 15k miles | residual 38% | .00240 base money factor
2011 Mercedes E350 Convertible
24 month | 15k miles | residual 61% | .00169 base money factor
36 month | 15k miles | residual 56% | .00169 base money factor
48 month | 15k miles | residual 47% | .00169 base money factor
60 month | 15k miles | residual 39% | .00240 base money factor
2011 Mercedes E550 Coupe
24 month | 15k miles | residual 64% | .00240 base money factor
36 month | 15k miles | residual 54% | .00240 base money factor
48 month | 15k miles | residual 47% | .00240 base money factor
60 month | 15k miles | residual 41% | .00240 base money factor
2011 Mercedes E550 Luxury Sedan
24 month | 15k miles | residual 63% | .00240 base money factor
36 month | 15k miles | residual 54% | .00240 base money factor
48 month | 15k miles | residual 47% | .00240 base money factor
60 month | 15k miles | residual 40% | .00240 base money factor
2011 Mercedes E550 Luxury 4MATIC Sedan
24 month | 15k miles | residual 63% | .00240 base money factor
36 month | 15k miles | residual 54% | .00240 base money factor
48 month | 15k miles | residual 47% | .00240 base money factor
60 month | 15k miles | residual 40% | .00240 base money factor
2011 Mercedes E550 Sport Sedan
24 month | 15k miles | residual 63% | .00240 base money factor
36 month | 15k miles | residual 54% | .00240 base money factor
48 month | 15k miles | residual 47% | .00240 base money factor
60 month | 15k miles | residual 40% | .00240 base money factor
2011 Mercedes E550 Sport 4MATIC Sedan
24 month | 15k miles | residual 63% | .00240 base money factor
36 month | 15k miles | residual 54% | .00240 base money factor
48 month | 15k miles | residual 47% | .00240 base money factor
60 month | 15k miles | residual 40% | .00240 base money factor
2011 Mercedes E550 Convertible
24 month | 15k miles | residual 59% | .00240 base money factor
36 month | 15k miles | residual 54% | .00240 base money factor
48 month | 15k miles | residual 45% | .00240 base money factor
60 month | 15k miles | residual 37% | .00240 base money factor
2011 Mercedes E63 AMG Sedan
24 month | 15k miles | residual 59% | .00240 base money factor
36 month | 15k miles | residual 57% | .00240 base money factor
48 month | 15k miles | residual 44% | .00240 base money factor
60 month | 15k miles | residual 38% | .00240 base money factor
2011 Mercedes G550
24 month | 15k miles | residual 58% | .00240 base money factor
36 month | 15k miles | residual 48% | .00240 base money factor
48 month | 15k miles | residual 42% | .00240 base money factor
60 month | 15k miles | residual 37% | .00240 base money factor
2011 Mercedes G55 AMG
24 month | 15k miles | residual 56% | .00240 base money factor
36 month | 15k miles | residual 46% | .00240 base money factor
48 month | 15k miles | residual 41% | .00240 base money factor
60 month | 15k miles | residual 36% | .00240 base money factor
2011 Mercedes GL350 BlueTec Diesel
24 month | 15k miles | residual 66% | .00240 base money factor
36 month | 15k miles | residual 55% | .00240 base money factor
48 month | 15k miles | residual 49% | .00240 base money factor
60 month | 15k miles | residual 43% | .00240 base money factor
2011 Mercedes GL450
24 month | 15k miles | residual 62% | .00193 base money factor
36 month | 15k miles | residual 57% | .00193 base money factor
48 month | 15k miles | residual 46% | .00193 base money factor
60 month | 15k miles | residual 41% | .00240 base money factor
2011 Mercedes GL550
24 month | 15k miles | residual 59% | .00240 base money factor
36 month | 15k miles | residual 49% | .00240 base money factor
48 month | 15k miles | residual 44% | .00240 base money factor
60 month | 15k miles | residual 39% | .00240 base money factor
2011 Mercedes GLK350
24 month | 15k miles | residual 65% | .00193 base money factor
36 month | 15k miles | residual 54% | .00193 base money factor
48 month | 15k miles | residual 46% | .00193 base money factor
60 month | 15k miles | residual 39% | .00240 base money factor
2011 Mercedes GLK350 4matic
24 month | 15k miles | residual 65% | .00193 base money factor
36 month | 15k miles | residual 56% | .00193 base money factor
48 month | 15k miles | residual 46% | .00193 base money factor
60 month | 15k miles | residual 39% | .00240 base money factor
2011 Mercedes ML350 BlueTec Diesel
24 month | 15k miles | residual 67% | .00134 base money factor
36 month | 15k miles | residual 57% | .00134 base money factor
48 month | 15k miles | residual 49% | .00134 base money factor
60 month | 15k miles | residual 42% | .00240 base money factor
2011 Mercedes ML350
24 month | 15k miles | residual 61% | .00068 base money factor
36 month | 15k miles | residual 52% | .00068 base money factor
48 month | 15k miles | residual 46% | .00068 base money factor
60 month | 15k miles | residual 40% | .00240 base money factor
2011 Mercedes ML350 4matic
24 month | 15k miles | residual 61% | .00039 base money factor
36 month | 15k miles | residual 52% | .00039 base money factor
48 month | 15k miles | residual 46% | .00039 base money factor
60 month | 15k miles | residual 40% | .00240 base money factor
2011 Mercedes ML450 Hybrid
36 month | 15k miles | residual 53% | .00240 base money factor
48 month | 15k miles | residual 39% | .00240 base money factor
60 month | 15k miles | residual 34% | .00240 base money factor
2011 Mercedes ML550 4WD
24 month | 15k miles | residual 55% | .00240 base money factor
36 month | 15k miles | residual 47% | .00240 base money factor
48 month | 15k miles | residual 43% | .00240 base money factor
60 month | 15k miles | residual 37% | .00240 base money factor
2011 Mercedes ML63 AMG 4WD
24 month | 15k miles | residual 58% | .00240 base money factor
36 month | 15k miles | residual 50% | .00240 base money factor
48 month | 15k miles | residual 45% | .00240 base money factor
60 month | 15k miles | residual 40% | .00240 base money factor
2011 Mercedes R350 BlueTec Diesel
24 month | 15k miles | residual 61% | .00240 base money factor
36 month | 15k miles | residual 54% | .00240 base money factor
48 month | 15k miles | residual 46% | .00240 base money factor
60 month | 15k miles | residual 41% | .00240 base money factor
2011 Mercedes R350 4matic
24 month | 15k miles | residual 55% | .00147 base money factor
36 month | 15k miles | residual 52% | .00147 base money factor
48 month | 15k miles | residual 41% | .00147 base money factor
60 month | 15k miles | residual 36% | .00240 base money factor
2011 Mercedes S400 Hybrid
24 month | 15k miles | residual 56% | .00240 base money factor
36 month | 15k miles | residual 51% | .00240 base money factor
48 month | 15k miles | residual 40% | .00240 base money factor
60 month | 15k miles | residual 35% | .00240 base money factor
2011 Mercedes S550
24 month | 15k miles | residual 55% | .00145 base money factor
36 month | 15k miles | residual 49% | .00145 base money factor
48 month | 15k miles | residual 40% | .00145 base money factor
60 month | 15k miles | residual 34% | .00240 base money factor
2011 Mercedes S550 4matic
24 month | 15k miles | residual 56% | .00137 base money factor
36 month | 15k miles | residual 49% | .00137 base money factor
48 month | 15k miles | residual 40% | .00137 base money factor
60 month | 15k miles | residual 34% | .00240 base money factor
2011 Mercedes S600
24 month | 15k miles | residual 45% | .00240 base money factor
36 month | 15k miles | residual 36% | .00240 base money factor
48 month | 15k miles | residual 33% | .00240 base money factor
60 month | 15k miles | residual 28% | .00240 base money factor
2011 Mercedes S63
24 month | 15k miles | residual 53% | .00240 base money factor
36 month | 15k miles | residual 43% | .00240 base money factor
48 month | 15k miles | residual 38% | .00240 base money factor
60 month | 15k miles | residual 34% | .00240 base money factor
2011 Mercedes S65
24 month | 15k miles | residual 45% | .00240 base money factor
36 month | 15k miles | residual 37% | .00240 base money factor
48 month | 15k miles | residual 33% | .00240 base money factor
60 month | 15k miles | residual 28% | .00240 base money factor
2011 Mercedes SL550
24 month | 15k miles | residual 58% | .00040 base money factor
36 month | 15k miles | residual 49% | .00040 base money factor
48 month | 15k miles | residual 44% | .00040 base money factor
60 month | 15k miles | residual 38% | .00240 base money factor
2011 Mercedes SL63 AMG
24 month | 15k miles | residual 51% | .00240 base money factor
36 month | 15k miles | residual 43% | .00240 base money factor
48 month | 15k miles | residual 39% | .00240 base money factor
60 month | 15k miles | residual 34% | .00240 base money factor
2011 Mercedes SL65 AMG
24 month | 15k miles | residual 47% | .00240 base money factor
36 month | 15k miles | residual 39% | .00240 base money factor
48 month | 15k miles | residual 36% | .00240 base money factor
60 month | 15k miles | residual 31% | .00240 base money factor
2011 Mercedes SLK300
24 month | 15k miles | residual 56% | .00020 base money factor
36 month | 15k miles | residual 48% | .00020 base money factor
48 month | 15k miles | residual 43% | .00020 base money factor
60 month | 15k miles | residual 38% | .00240 base money factor
2011 Mercedes SLK350
24 month | 15k miles | residual 59% | .00020 base money factor
36 month | 15k miles | residual 51% | .00020 base money factor
48 month | 15k miles | residual 45% | .00020 base money factor
60 month | 15k miles | residual 40% | .00240 base money factor