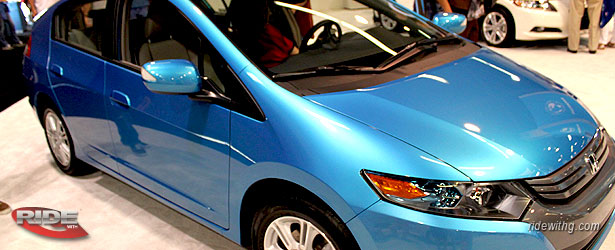 If you have been watching TV lately, you probably have seen Honda's "Really Big Thing" promotion going on now. It's actually a pretty good deal still, but not as good as the past few months due to a slight increase in sale prices. Hondas and Infinitis are EXCELLENT leases in generally. The "bang-for-the-buck" factor is off the charts in some cases.
Lauren actually got me thinking about getting a CrossTour (Noooooo!). I don't really like the car aesthetically; however, it's practicality, cost and Honda's fabulous lease program is really got me considering one.


Here is a sample calculation based on TrueCar's Southern California sale price and do not include local taxes. Please note that your dealer calculations may vary due to local fees/taxes.
2011 HONDA ACCORD CROSSTOUR EX
MSRP – $30,570
Sale Price – $26,322
Monthly – $266+ tax
RWG Rating – 107.1
2011 HONDA CR-V 4WD LX AT
MSRP – $23,725
Sale Price – $22,063
Monthly – $242+ tax
RWG Rating – 95.2
For Dealer Quotes, CLICK HERE
.



2011 HONDA ACCORD COUPE LX-S AT
36 month | 15k miles | residual 54% | .00113 base money factor
2011 HONDA ACCORD CROSSTOUR 2WD EX
36 month | 15k miles | residual 58% | .00062 base money factor
2011 HONDA ACCORD CROSSTOUR 4WD EX-L
36 month | 15k miles | residual 56% | .00062 base money factor
2011 HONDA ACCORD SEDAN LX AT
36 month | 15k miles | residual 56% | .00113 base money factor
2011 HONDA ACCORD SEDAN EX AT
36 month | 15k miles | residual 56% | .00062 base money factor
2011 HONDA CIVIC COUPE LX AT
36 month | 15k miles | residual 56% | .00057 base money factor
2011 HONDA CIVIC SEDAN LX AT
36 month | 15k miles | residual 58% | .00057 base money factor
2011 HONDA CR-V 4WD LX AT
36 month | 15k miles | residual 60% | .00069 base money factor
2011 HONDA CR-Z HATCHBACK AT
36 month | 15k miles | residual 64% | .00200 base money factor
2011 HONDA ELEMENT 4WD LX AT
36 month | 15k miles | residual 59% | .00200 base money factor
2011 HONDA FIT HATCHBACK AT
36 month | 15k miles | residual 61% | .00138 base money factor
2011 HONDA ODYSSEY LX AT
36 month | 15k miles | residual 62% | .00187 base money factor
2011 HONDA PILOT 4WD LX
36 month | 15k miles | residual 56% | .00145 base money factor
2011 HONDA RIDGELINE CREW CAB RT
36 month | 15k miles | residual 56% | .00200 base money factor