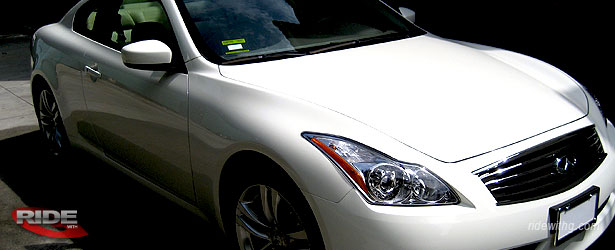 Despite being a base model coupe, my '08 G37 has been by far, the finest vehicle I have ever leased. As I detailed and prepared it for an appraisal last night, I found myself wanting to keep it just a little longer. However, the needs of the family supersede my desire for a "fun-car", so what needed to be done, had to be done.
This afternoon, I took some time out during my lunch break to get my car appraised at Carmax and to my surprise, I am getting a sizable chunk of change in return. Before I break down the numbers, I would like to point out key reasons as to why I was able to do this.
My car is in pristine condition. Not even a scratch (not since that little bumper incident anyway) and the paint is silky smooth.
I am almost 5,000 miles under my mileage allowance (at 31,000 when I should be at around 36000).
I detailed my car the night before. No, not just a car wash. I mean DETAIL! Every nook and cranny.
I rotate my tires every 6000 miles to wear out the tires evenly.
I still have over 3-months left on my lease.
I suspect that the value of Infinitis has probably gone up a slightly due to disaster in Japan.
Bundle these six reasons together and here's how the numbers look like:
IFS Payoff Quote: $23,370.20
CarMax Offer:  $24,500.00
Difference: $1129.80
Other than my need to get into a more "practical" car, I felt the urgency to do something because by May 17th I would have to pay my DMV registration again. I wanted to avoid paying a full year's registration to drive my car another three months, so the most logical choice was to trade it in.
What I am getting into next is still up in the air, but it is nice to know that I can sell this car soon in order to get some nice equity out of it. Further proof that if you take care of your car and don't put too many miles on it, you can get some money by selling a leased vehicle.