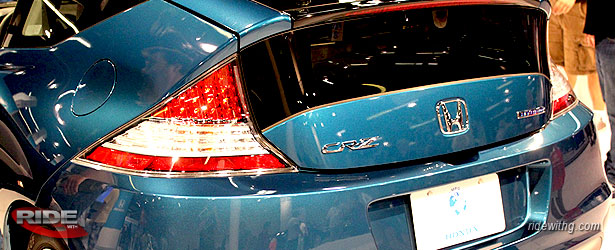 Numbers look like they have gone up to higher MF and lower residual values. Tack on the shortage of vehicles and you are looking at higher overall lease payments. I've been hearing a lot about how the tsunami has affected production and so pricing has gone up a bit. I don't know if it's just a ploy to get you to pay more for your car or not, but I imagine there is some truth to that. The problem is that it's starting to sound more like a scare tactic which I find kind of annoying. Nevertheless, don't expect any breaks on the 2012 Civic. My cousin was trying to pick one up last month but wasn't very successful negotiating with them. They wanted sticker price and wouldn't budge. With gas prices inching up, dealers know that Civics are going to be hot commodities in the near future.


Here is a sample calculation based on TrueCar's Southern California sale price and do not include local taxes. Please note that your dealer calculations may vary due to local fees/taxes.
2011 HONDA ACCORD CROSSTOUR 4WD EX-L
MSRP – $34,920
Sale Price – $30,996
Monthly – $366+ tax
RWG Rating – 93.4
For Dealer Quotes, Click Here.



2011 HONDA ACCORD COUPE LX-S AT
36 month | 15k miles | residual 54% | .00077 base money factor
2011 HONDA ACCORD CROSSTOUR 2WD EX
36 month | 15k miles | residual 57% | .00077 base money factor
2011 HONDA ACCORD CROSSTOUR 4WD EX-L
36 month | 15k miles | residual 55% | .00077 base money factor
2011 HONDA ACCORD SEDAN LX AT
36 month | 15k miles | residual 56% | .00077 base money factor
2011 HONDA ACCORD SEDAN EX AT
36 month | 15k miles | residual 56% | .00077 base money factor
2012 HONDA CIVIC COUPE LX AT
36 month | 15k miles | residual 63% | .00200 base money factor
2012 HONDA CIVIC SEDAN LX AT
36 month | 15k miles | residual 65% | .00200 base money factor
2011 HONDA CR-V 4WD LX AT
36 month | 15k miles | residual 60% | .00078 base money factor
2011 HONDA CR-Z HATCHBACK AT
36 month | 15k miles | residual 64% | .00200 base money factor
2011 HONDA ELEMENT 4WD LX AT
36 month | 15k miles | residual 59% | .00200 base money factor
2011 HONDA FIT HATCHBACK AT
36 month | 15k miles | residual 61% | .00200 base money factor
2011 HONDA ODYSSEY LX AT
36 month | 15k miles | residual 61% | .00161 base money factor
2011 HONDA PILOT 4WD LX
36 month | 15k miles | residual 56% | .00125 base money factor
2011 HONDA RIDGELINE CREW CAB RT
36 month | 15k miles | residual 56% | .00200 base money factor