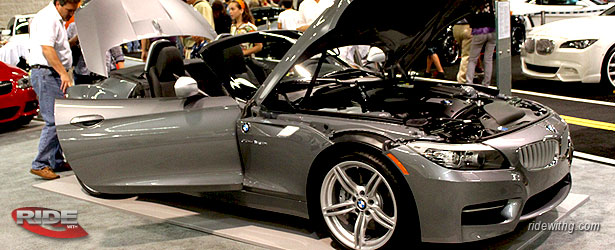 LeaseCompare has not officially released June's BMW numbers on their Facebook page yet. But I managed to confirm the 3-series numbers and they remain the same as May's. I think it should be safe to assume that June numbers remain unchanged for the rest of the line up. If anything changes, I will let you know.
Based on Angel Romero's deal on a Z4, it looks like BMW is providing a FANTASTIC 24-month lease on these convertibles. If you are in the market for one, how is a good time. 24-month leases may feel a little bit short, but the one thing I do love about them is the fact that you can avoid a lot of the wear-n-tear costs that creep up on 36-month leases. Existing BMWFS customers should enjoy a 0.0003 discount on the money factor, making this lease an even SWEETER deal. You can make this even more appealing by adding some MSDs to drive the money factor down for more savings!


Here is a sample calculation based on TrueCar's Southern California sale price and do not include local taxes. Please note that your dealer calculations may vary due to local fees/taxes.
2011 BMW Z4 sDrive30i
MSRP – $48,325
Sale Price – $44,730
Monthly – $432+ tax
RWG Rating – 108.2
For Dealer Quotes, Click Here.


This month's lease rates have been brought to you by LeaseCompare.


2012 BMW 128i Coupe
24 month | 15k miles | residual 63% | .00160 base money factor
36 month | 15k miles | residual 57% | .00160 base money factor
48 month | 15k miles | residual 44% | .00200 base money factor
60 month | 15k miles | residual 34% | .00200 base money factor
2012 BMW 128i Convertible
24 month | 15k miles | residual 63% | .00130 base money factor
36 month | 15k miles | residual 57% | .00130 base money factor
48 month | 15k miles | residual 44% | .00200 base money factor
60 month | 15k miles | residual 35% | .00200 base money factor
2012 BMW 135i Coupe
24 month | 15k miles | residual 63% | .00120 base money factor
36 month | 15k miles | residual 57% | .00120 base money factor
48 month | 15k miles | residual 41% | .00200 base money factor
60 month | 15k miles | residual 32% | .00200 base money factor
2012 BMW 135i Convertible
24 month | 15k miles | residual 62% | .00100 base money factor
36 month | 15k miles | residual 56% | .00100 base money factor
48 month | 15k miles | residual 42% | .00200 base money factor
60 month | 15k miles | residual 34% | .00200 base money factor
2012 BMW 650i Convertible
24 month | 15k miles | residual 58% | .00200 base money factor
36 month | 15k miles | residual 52% | .00200 base money factor
48 month | 15k miles | residual 39% | .00200 base money factor
60 month | 15k miles | residual 32% | .00200 base money factor
2012 BMW 740i Sedan
24 month | 15k miles | residual 61% | .00190 base money factor
36 month | 15k miles | residual 55% | .00190 base money factor
48 month | 15k miles | residual 38% | .00200 base money factor
60 month | 15k miles | residual 30% | .00200 base money factor
2012 BMW 740Li Sedan
24 month | 15k miles | residual 61% | .00190 base money factor
36 month | 15k miles | residual 55% | .00190 base money factor
48 month | 15k miles | residual 38% | .00200 base money factor
60 month | 15k miles | residual 29% | .00200 base money factor
2012 BMW 750i Sedan
24 month | 15k miles | residual 61% | .00200 base money factor
36 month | 15k miles | residual 55% | .00200 base money factor
48 month | 15k miles | residual 36% | .00200 base money factor
60 month | 15k miles | residual 28% | .00200 base money factor
2012 BMW 750i xDrive Sedan
24 month | 15k miles | residual 61% | .00200 base money factor
36 month | 15k miles | residual 55% | .00200 base money factor
48 month | 15k miles | residual 36% | .00200 base money factor
60 month | 15k miles | residual 29% | .00200 base money factor
2012 BMW 750Li Sedan
24 month | 15k miles | residual 61% | .00200 base money factor
36 month | 15k miles | residual 55% | .00200 base money factor
48 month | 15k miles | residual 36% | .00200 base money factor
60 month | 15k miles | residual 28% | .00200 base money factor
2012 BMW 750Li xDrive Sedan
24 month | 15k miles | residual 61% | .00200 base money factor
36 month | 15k miles | residual 55% | .00200 base money factor
48 month | 15k miles | residual 36% | .00200 base money factor
60 month | 15k miles | residual 29% | .00200 base money factor
2012 BMW Alpina B7 SWB Sedan
24 month | 15k miles | residual 52% | .00200 base money factor
36 month | 15k miles | residual 44% | .00200 base money factor
48 month | 15k miles | residual 36% | .00200 base money factor
60 month | 15k miles | residual 28% | .00200 base money factor
2012 BMW Alpina B7 SWB xDrive Sedan
24 month | 15k miles | residual 52% | .00200 base money factor
36 month | 15k miles | residual 44% | .00200 base money factor
48 month | 15k miles | residual 35% | .00200 base money factor
60 month | 15k miles | residual 27% | .00200 base money factor
2012 BMW Alpina B7 LWB Sedan
24 month | 15k miles | residual 52% | .00200 base money factor
36 month | 15k miles | residual 44% | .00200 base money factor
48 month | 15k miles | residual 35% | .00200 base money factor
60 month | 15k miles | residual 27% | .00200 base money factor
2012 BMW Alpina B7 LWB xDrive Sedan
24 month | 15k miles | residual 52% | .00200 base money factor
36 month | 15k miles | residual 44% | .00200 base money factor
48 month | 15k miles | residual 35% | .00200 base money factor
60 month | 15k miles | residual 27% | .00200 base money factor
2012 BMW X5 xDrive35i SUV
24 month | 15k miles | residual 62% | .00200 base money factor
36 month | 15k miles | residual 54% | .00200 base money factor
48 month | 15k miles | residual 45% | .00200 base money factor
60 month | 15k miles | residual 36% | .00200 base money factor
2012 BMW X5 xDrive35i Premium SUV
24 month | 15k miles | residual 63% | .00185 base money factor
36 month | 15k miles | residual 57% | .00185 base money factor
48 month | 15k miles | residual 44% | .00200 base money factor
60 month | 15k miles | residual 35% | .00200 base money factor
2012 BMW X5 xDrive35i Sport Activity SUV
24 month | 15k miles | residual 64% | .00200 base money factor
36 month | 15k miles | residual 58% | .00200 base money factor
48 month | 15k miles | residual 43% | .00200 base money factor
60 month | 15k miles | residual 35% | .00200 base money factor
2012 BMW X5 xDrive50i SUV
24 month | 15k miles | residual 64% | .00170 base money factor
36 month | 15k miles | residual 58% | .00170 base money factor
48 month | 15k miles | residual 39% | .00200 base money factor
60 month | 15k miles | residual 31% | .00200 base money factor
2012 BMW X5 M SUV
24 month | 15k miles | residual 57% | .00195 base money factor
36 month | 15k miles | residual 51% | .00195 base money factor
48 month | 15k miles | residual 40% | .00200 base money factor
60 month | 15k miles | residual 32% | .00200 base money factor
2012 BMW X6 xDrive35i Crossover
24 month | 15k miles | residual 64% | .00200 base money factor
36 month | 15k miles | residual 58% | .00200 base money factor
48 month | 15k miles | residual 43% | .00200 base money factor
60 month | 15k miles | residual 35% | .00200 base money factor
2012 BMW X6 xDrive50i Crossover
24 month | 15k miles | residual 63% | .00145 base money factor
36 month | 15k miles | residual 57% | .00145 base money factor
48 month | 15k miles | residual 40% | .00200 base money factor
60 month | 15k miles | residual 31% | .00200 base money factor
2012 BMW X6 M Crossover
24 month | 15k miles | residual 57% | .00200 base money factor
36 month | 15k miles | residual 49% | .00200 base money factor
48 month | 15k miles | residual 40% | .00200 base money factor
60 month | 15k miles | residual 32% | .00200 base money factor
2011 BMW 128i Coupe Lease
24 month | 15k miles | residual 58% | .00200 money factor
36 month | 15k miles | residual 50% | .00200 money factor
48 month | 15k miles | residual 41% | .00200 money factor
60 month | 15k miles | residual 32% | .00200 money factor
2011 BMW 128i Convertible Lease
24 month | 15k miles | residual 59% | .00200 money factor
36 month | 15k miles | residual 51% | .00200 money factor
48 month | 15k miles | residual 41% | .00200 money factor
60 month | 15k miles | residual 32% | .00200 money factor
2011 BMW 135i Coupe Lease
24 month | 15k miles | residual 57% | .00200 money factor
36 month | 15k miles | residual 49% | .00200 money factor
48 month | 15k miles | residual 39% | .00200 money factor
60 month | 15k miles | residual 31% | .00200 money factor
2011 BMW 135i Convertible Lease
24 month | 15k miles | residual 58% | .00200 money factor
36 month | 15k miles | residual 50% | .00200 money factor
48 month | 15k miles | residual 41% | .00200 money factor
60 month | 15k miles | residual 32% | .00200 money factor
2011 BMW 1 Series M Coupe Lease
24 month | 15k miles | residual 61% | .00200 money factor
36 month | 15k miles | residual 53% | .00200 money factor
48 month | 15k miles | residual 45% | .00200 money factor
60 month | 15k miles | residual 32% | .00200 money factor
2011 BMW 328i Coupe Lease
24 month | 15k miles | residual 71% | .00190 money factor
36 month | 15k miles | residual 63% | .00190 money factor
48 month | 15k miles | residual 42% | .00200 money factor
60 month | 15k miles | residual 34% | .00200 money factor
2011 BMW 328xi Coupe Lease
24 month | 15k miles | residual 71% | .00190 money factor
36 month | 15k miles | residual 63% | .00190 money factor
48 month | 15k miles | residual 42% | .00200 money factor
60 month | 15k miles | residual 34% | .00200 money factor
2011 BMW 328i Sedan Lease
24 month | 15k miles | residual 71% | .00190 money factor
36 month | 15k miles | residual 61% | .00190 money factor
48 month | 15k miles | residual 42% | .00200 money factor
60 month | 15k miles | residual 34% | .00200 money factor
2011 BMW 328xi Sedan Lease
24 month | 15k miles | residual 71% | .00200 money factor
36 month | 15k miles | residual 62% | .00200 money factor
48 month | 15k miles | residual 40% | .00200 money factor
60 month | 15k miles | residual 32% | .00200 money factor
2011 BMW 328i Wagon Lease
24 month | 15k miles | residual 71% | .00175 money factor
36 month | 15k miles | residual 61% | .00175 money factor
48 month | 15k miles | residual 38% | .00200 money factor
60 month | 15k miles | residual 31% | .00200 money factor
2011 BMW 328xi Wagon Lease
24 month | 15k miles | residual 72% | .00190 money factor
36 month | 15k miles | residual 63% | .00190 money factor
48 month | 15k miles | residual 38% | .00200 money factor
60 month | 15k miles | residual 31% | .00200 money factor
2011 BMW 328i Convertible Lease
24 month | 15k miles | residual 69% | .00195 money factor
36 month | 15k miles | residual 62% | .00195 money factor
48 month | 15k miles | residual 44% | .00200 money factor
60 month | 15k miles | residual 36% | .00200 money factor
2011 BMW 335i Coupe Lease
24 month | 15k miles | residual 69% | .00195 money factor
36 month | 15k miles | residual 60% | .00195 money factor
48 month | 15k miles | residual 40% | .00200 money factor
60 month | 15k miles | residual 33% | .00200 money factor
2011 BMW 335is Coupe Lease
24 month | 15k miles | residual 68% | .00190 money factor
36 month | 15k miles | residual 59% | .00190 money factor
48 month | 15k miles | residual 39% | .00200 money factor
60 month | 15k miles | residual 32% | .00200 money factor
2011 BMW 335xi Coupe Lease
24 month | 15k miles | residual 68% | .00200 money factor
36 month | 15k miles | residual 59% | .00200 money factor
48 month | 15k miles | residual 39% | .00200 money factor
60 month | 15k miles | residual 31% | .00200 money factor
2011 BMW 335i Sedan Lease
24 month | 15k miles | residual 69% | .00200 money factor
36 month | 15k miles | residual 61% | .00200 money factor
48 month | 15k miles | residual 38% | .00200 money factor
60 month | 15k miles | residual 31% | .00200 money factor
2011 BMW 335xi Sedan Lease
24 month | 15k miles | residual 67% | .00190 money factor
36 month | 15k miles | residual 59% | .00190 money factor
48 month | 15k miles | residual 40% | .00200 money factor
60 month | 15k miles | residual 32% | .00200 money factor
2011 BMW 335d Diesel Sedan Lease
24 month | 15k miles | residual 65% | .00200 money factor
36 month | 15k miles | residual 56% | .00200 money factor
48 month | 15k miles | residual 43% | .00200 money factor
60 month | 15k miles | residual 34% | .00200 money factor
2011 BMW 335i Convertible Lease
24 month | 15k miles | residual 68% | .00195 money factor
36 month | 15k miles | residual 60% | .00195 money factor
48 month | 15k miles | residual 42% | .00200 money factor
60 month | 15k miles | residual 34% | .00200 money factor
2011 BMW 335is Convertible Lease
24 month | 15k miles | residual 66% | .00195 money factor
36 month | 15k miles | residual 59% | .00195 money factor
48 month | 15k miles | residual 40% | .00200 money factor
60 month | 15k miles | residual 33% | .00200 money factor
2011 BMW M3 Coupe Lease
24 month | 15k miles | residual 65% | .00175 money factor
36 month | 15k miles | residual 59% | .00175 money factor
48 month | 15k miles | residual 41% | .00200 money factor
60 month | 15k miles | residual 33% | .00200 money factor
2011 BMW M3 Sedan Lease
24 month | 15k miles | residual 66% | .00200 money factor
36 month | 15k miles | residual 60% | .00200 money factor
48 month | 15k miles | residual 40% | .00200 money factor
60 month | 15k miles | residual 33% | .00200 money factor
2011 BMW M3 Convertible Lease
24 month | 15k miles | residual 64% | .00090 money factor
36 month | 15k miles | residual 58% | .00090 money factor
48 month | 15k miles | residual 40% | .00200 money factor
60 month | 15k miles | residual 33% | .00200 money factor
2011 BMW 528i Sedan Lease
24 month | 15k miles | residual 61% | .00200 money factor
36 month | 15k miles | residual 55% | .00200 money factor
48 month | 15k miles | residual 43% | .00200 money factor
60 month | 15k miles | residual 35% | .00200 money factor
2011 BMW 535i Sedan Lease
24 month | 15k miles | residual 62% | .00200 money factor
36 month | 15k miles | residual 56% | .00200 money factor
48 month | 15k miles | residual 41% | .00200 money factor
60 month | 15k miles | residual 35% | .00200 money factor
2011 BMW 535i xDrive Sedan Lease
24 month | 15k miles | residual 62% | .00200 money factor
36 month | 15k miles | residual 56% | .00200 money factor
48 month | 15k miles | residual 42% | .00200 money factor
60 month | 15k miles | residual 35% | .00200 money factor
2011 BMW 550i Sedan Lease
24 month | 15k miles | residual 65% | .00200 money factor
36 month | 15k miles | residual 59% | .00200 money factor
48 month | 15k miles | residual 40% | .00200 money factor
60 month | 15k miles | residual 33% | .00200 money factor
2011 BMW 550i xDrive Sedan Lease
24 month | 15k miles | residual 59% | .00185 money factor
36 month | 15k miles | residual 53% | .00185 money factor
48 month | 15k miles | residual 39% | .00200 money factor
60 month | 15k miles | residual 31% | .00200 money factor
2011 BMW 535i Gran Turismo Wagon Lease
24 month | 15k miles | residual 62% | .00175 money factor
36 month | 15k miles | residual 56% | .00175 money factor
48 month | 15k miles | residual 38% | .00200 money factor
60 month | 15k miles | residual 31% | .00200 money factor
2011 BMW 535xi Gran Turismo Wagon Lease
24 month | 15k miles | residual 62% | .00175 money factor
36 month | 15k miles | residual 56% | .00175 money factor
48 month | 15k miles | residual 37% | .00200 money factor
60 month | 15k miles | residual 30% | .00200 money factor
2011 BMW 550i Gran Turismo Wagon Lease
24 month | 15k miles | residual 62% | .00175 money factor
36 month | 15k miles | residual 56% | .00175 money factor
48 month | 15k miles | residual 35% | .00200 money factor
60 month | 15k miles | residual 29% | .00200 money factor
2011 BMW 550xi Gran Turismo Wagon Lease
24 month | 15k miles | residual 62% | .00175 money factor
36 month | 15k miles | residual 56% | .00175 money factor
48 month | 15k miles | residual 36% | .00200 money factor
60 month | 15k miles | residual 29% | .00200 money factor
2011 BMW 740i Sedan Lease
24 month | 15k miles | residual 58% | .00165 money factor
36 month | 15k miles | residual 52% | .00165 money factor
48 month | 15k miles | residual 35% | .00200 money factor
60 month | 15k miles | residual 27% | .00200 money factor
2011 BMW 740Li Sedan Lease
24 month | 15k miles | residual 58% | .00160 money factor
36 month | 15k miles | residual 52% | .00160 money factor
48 month | 15k miles | residual 35% | .00200 money factor
60 month | 15k miles | residual 28% | .00200 money factor
2011 BMW 750i Sedan Lease
24 month | 15k miles | residual 58% | .00165 money factor
36 month | 15k miles | residual 52% | .00165 money factor
48 month | 15k miles | residual 33% | .00200 money factor
60 month | 15k miles | residual 26% | .00200 money factor
2011 BMW 750i xDrive Sedan Lease
24 month | 15k miles | residual 58% | .00155 money factor
36 month | 15k miles | residual 52% | .00155 money factor
48 month | 15k miles | residual 33% | .00200 money factor
60 month | 15k miles | residual 26% | .00200 money factor
2011 BMW 750i ActiveHybrid Sedan Lease
24 month | 15k miles | residual 57% | .00200 money factor
36 month | 15k miles | residual 51% | .00200 money factor
48 month | 15k miles | residual 30% | .00200 money factor
60 month | 15k miles | residual 23% | .00200 money factor
2011 BMW 750Li Sedan Lease
24 month | 15k miles | residual 58% | .00155 money factor
36 month | 15k miles | residual 52% | .00155 money factor
48 month | 15k miles | residual 33% | .00200 money factor
60 month | 15k miles | residual 26% | .00200 money factor
2011 BMW 750Li xDrive Sedan Lease
24 month | 15k miles | residual 58% | .00155 money factor
36 month | 15k miles | residual 52% | .00155 money factor
48 month | 15k miles | residual 34% | .00200 money factor
60 month | 15k miles | residual 27% | .00200 money factor
2011 BMW 750Li ActiveHybrid Sedan Lease
24 month | 15k miles | residual 58% | .00140 money factor
36 month | 15k miles | residual 52% | .00140 money factor
48 month | 15k miles | residual 30% | .00200 money factor
60 month | 15k miles | residual 23% | .00200 money factor
2011 BMW 760Li Sedan Lease
24 month | 15k miles | residual 44% | .00200 money factor
36 month | 15k miles | residual 38% | .00200 money factor
48 month | 15k miles | residual 27% | .00200 money factor
60 month | 15k miles | residual 21% | .00200 money factor
2011 BMW Alpina B7 SWB Sedan Lease
24 month | 15k miles | residual 51% | .00200 money factor
36 month | 15k miles | residual 45% | .00200 money factor
48 month | 15k miles | residual 32% | .00200 money factor
60 month | 15k miles | residual 25% | .00200 money factor
2011 BMW Alpina B7 SWB xDrive Sedan Lease
24 month | 15k miles | residual 50% | .00200 money factor
36 month | 15k miles | residual 44% | .00200 money factor
48 month | 15k miles | residual 31% | .00200 money factor
60 month | 15k miles | residual 24% | .00200 money factor
2011 BMW Alpina B7 LWB Sedan Lease
24 month | 15k miles | residual 51% | .00200 money factor
36 month | 15k miles | residual 45% | .00200 money factor
48 month | 15k miles | residual 32% | .00200 money factor
60 month | 15k miles | residual 24% | .00200 money factor
2011 BMW Alpina B7 LWB xDrive Sedan Lease
24 month | 15k miles | residual 50% | .00200 money factor
36 month | 15k miles | residual 44% | .00200 money factor
48 month | 15k miles | residual 31% | .00200 money factor
60 month | 15k miles | residual 24% | .00200 money factor
2011 BMW X3 xDrive28i SUV Lease
24 month | 15k miles | residual 62% | .00200 money factor
36 month | 15k miles | residual 56% | .00200 money factor
48 month | 15k miles | residual 45% | .00200 money factor
60 month | 15k miles | residual 38% | .00200 money factor
2011 BMW X3 xDrive35i SUV Lease
24 month | 15k miles | residual 62% | .00200 money factor
36 month | 15k miles | residual 56% | .00200 money factor
48 month | 15k miles | residual 44% | .00200 money factor
60 month | 15k miles | residual 37% | .00200 money factor
2011 BMW X5 xDrive35i SUV Lease
24 month | 15k miles | residual 58% | .00175 money factor
36 month | 15k miles | residual 51% | .00175 money factor
48 month | 15k miles | residual 41% | .00200 money factor
60 month | 15k miles | residual 33% | .00200 money factor
2011 BMW X5 xDrive35i Premium SUV Lease
24 month | 15k miles | residual 61% | .00140 money factor
36 month | 15k miles | residual 55% | .00140 money factor
48 month | 15k miles | residual 41% | .00200 money factor
60 month | 15k miles | residual 34% | .00200 money factor
2011 BMW X5 xDrive35i Sport Activity SUV Lease
24 month | 15k miles | residual 62% | .00155 money factor
36 month | 15k miles | residual 56% | .00155 money factor
48 month | 15k miles | residual 42% | .00200 money factor
60 month | 15k miles | residual 35% | .00200 money factor
2011 BMW X5 xDrive35d Diesel SUV Lease
24 month | 15k miles | residual 61% | .00200 money factor
36 month | 15k miles | residual 53% | .00200 money factor
48 month | 15k miles | residual 45% | .00200 money factor
60 month | 15k miles | residual 37% | .00200 money factor
2011 BMW X5 xDrive50i SUV Lease
24 month | 15k miles | residual 64% | .00185 money factor
36 month | 15k miles | residual 58% | .00185 money factor
48 month | 15k miles | residual 35% | .00200 money factor
60 month | 15k miles | residual 28% | .00200 money factor
2011 BMW X5 M SUV Lease
24 month | 15k miles | residual 57% | .00185 money factor
36 month | 15k miles | residual 51% | .00185 money factor
48 month | 15k miles | residual 36% | .00200 money factor
60 month | 15k miles | residual 29% | .00200 money factor
2011 BMW X6 xDrive35i Crossover Lease
24 month | 15k miles | residual 63% | .00175 money factor
36 month | 15k miles | residual 57% | .00175 money factor
48 month | 15k miles | residual 39% | .00200 money factor
60 month | 15k miles | residual 32% | .00200 money factor
2011 BMW X6 xDrive50i Crossover Lease
24 month | 15k miles | residual 62% | .00155 money factor
36 month | 15k miles | residual 58% | .00155 money factor
48 month | 15k miles | residual 36% | .00200 money factor
60 month | 15k miles | residual 29% | .00200 money factor
2011 BMW X6 ActiveHybrid Crossover Lease
24 month | 15k miles | residual 63% | .00060 money factor
36 month | 15k miles | residual 57% | .00060 money factor
48 month | 15k miles | residual 32% | .00200 money factor
60 month | 15k miles | residual 25% | .00200 money factor
2011 BMW X6 M Crossover Lease
24 month | 15k miles | residual 53% | .00190 money factor
36 month | 15k miles | residual 47% | .00190 money factor
48 month | 15k miles | residual 36% | .00200 money factor
60 month | 15k miles | residual 29% | .00200 money factor
2011 BMW Z4 sDrive30i Convertible Lease
24 month | 15k miles | residual 77% | .00145 money factor
36 month | 15k miles | residual 66% | .00145 money factor
48 month | 15k miles | residual 35% | .00200 money factor
60 month | 15k miles | residual 27% | .00200 money factor
2011 BMW Z4 sDrive35i Convertible Lease
24 month | 15k miles | residual 77% | .00175 money factor
36 month | 15k miles | residual 66% | .00175 money factor
48 month | 15k miles | residual 33% | .00200 money factor
60 month | 15k miles | residual 26% | .00200 money factor
2011 BMW Z4 sDrive35is Convertible Lease
24 month | 15k miles | residual 79% | .00190 money factor
36 month | 15k miles | residual 68% | .00190 money factor
48 month | 15k miles | residual 32% | .00200 money factor
60 month | 15k miles | residual 25% | .00200 money factor