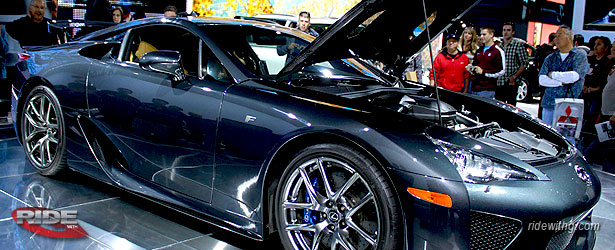 Lexus has not changed the residual value of their IS250 since March! The money factor has also gone down a little bit. Normally, this is a good thing. However, the sale prices for all things Lexus have shot up significantly, making the lease more expensive. Based on the calculation below, the price difference between a March lease of the IS250 vs the June lease is about $45 or $1620. Pretty hefty huh?
My wife has recently made her desire for a IS250 (as her next lease) known, so I am really hoping numbers start improving over the next year or so. Lucky for us, her lease does not end until Feb 2013, which gives us a year and a half to see how Toyota handles their recovery process. At the moment, I am suspecting that her Jetta's payoff is probably around the same as it's wholesale value since her Jetta is pretty rare. I'm hoping there is at least $1000 worth of positive equity by the time she decides to trade it in.


Here is a sample calculation based on TrueCar's Southern California sale price and do not include local taxes. Please note that your dealer calculations may vary due to local fees/taxes.
March Calculation
2011 Lexus IS250 AT Sedan
MSRP – $34,690
Sale Price – $30,265
Monthly – $361+ tax
RWG Rating – 93.9
June Calculation
2011 Lexus IS250 AT Sedan
MSRP – $35,340
Sale Price – $32,911
Monthly – $426+ tax
RWG Rating – 84.7
For Dealer Quotes, Click Here.



2011 LEXUS ES350
36 month | 15k miles | residual 56% | .00180 base money factor
2011 LEXUS GS350 AWD
36 month | 15k miles | residual 53% | .00155 base money factor
2011 LEXUS GS460
36 month | 15k miles | residual 51% | .00155 base money factor
2011 LEXUS GX460
36 month | 15k miles | residual 53% | .00210 base money factor
2011 LEXUS HS250H
36 month | 15k miles | residual 54% | .00210 base money factor
2011 LEXUS IS250 AT SDN
36 month | 15k miles | residual 59% | .00170 base money factor
2011 LEXUS IS250 AWD AT SDN
36 month | 15k miles | residual 59% | .00170 base money factor
2011 LEXUS IS250 AT CONV
36 month | 15k miles | residual 59% | .00210 base money factor
2011 LEXUS IS350 AWD AT SEDAN
36 month | 15k miles | residual 56% | .00170 base money factor
2011 LEXUS IS350 CONV
36 month | 15k miles | residual 57% | .00210 base money factor
2011 LEXUS IS-F
36 month | 15k miles | residual 55% | .00210 base money factor
2011 LEXUS LS460
36 month | 15k miles | residual 53% | .00210 base money factor
2011 LEXUS LS460 AWD
36 month | 15k miles | residual 53% | .00210 base money factor
2011 LEXUS LX570
36 month | 15k miles | residual 52% | .00210 base money factor
2011 LEXUS RX350 AWD
36 month | 15k miles | residual 57% | .00165 base money factor
2011 LEXUS RX450H AWD
36 month | 15k miles | residual 56% | .00210 base money factor