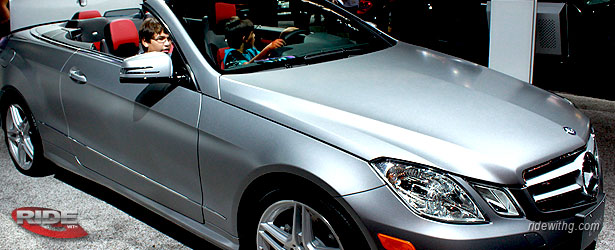 There has been a drop in residual, but nothing too significant (about 1% on 36-month leases). Another bit of bad news is that it seems MB has jacked up the sale prices recently. I'm seeing only a 5% discount off MSRP on the C300 Sport here in SoCal (based on TrueCar numbers). Last month was more like 14%. Not sure what changed, but I can't see how this can hold up in the long run. 2012 models should be arriving later this year, so I'm hopeful that sale prices will improve.
Remember that when it comes to Mercedes-Benz, the 48-month lease usually yields lower monthly payments. However, sometimes, MBFS will introduce a 27-month lease that is a pretty good deal too. Be sure to check with your dealer to see if that's available.


Here is a sample calculation based on TrueCar's Southern California sale price and do not include local taxes. Please note that your dealer calculations may vary due to local fees/taxes.
2011 Mercedes C300 Sport (48-month)
MSRP – $34,865
Sale Price – $33,146
Monthly – $376+ Tax
RWG Rating – 90.0
For Dealer Quotes, CLICK HERE.


This month's lease rates have been brought to you by LeaseCompare.


2011 Mercedes C300 Luxury
24 month | 15k miles | residual 67% | .00109 money factor
36 month | 15k miles | residual 55% | .00109 money factor
48 month | 15k miles | residual 51% | .00109 money factor
60 month | 15k miles | residual 44% | .00240 money factor
2011 Mercedes C300 Luxury 4matic
24 month | 15k miles | residual 67% | .00109 money factor
36 month | 15k miles | residual 55% | .00109 money factor
48 month | 15k miles | residual 51% | .00109 money factor
60 month | 15k miles | residual 44% | .00240 money factor
2011 Mercedes C300 Sport
24 month | 15k miles | residual 67% | .00109 money factor
36 month | 15k miles | residual 55% | .00109 money factor
48 month | 15k miles | residual 51% | .00109 money factor
60 month | 15k miles | residual 44% | .00240 money factor
2011 Mercedes C300 Sport 4matic
24 month | 15k miles | residual 67% | .00109 money factor
36 month | 15k miles | residual 55% | .00109 money factor
48 month | 15k miles | residual 51% | .00109 money factor
60 month | 15k miles | residual 44% | .00240 money factor
2011 Mercedes C350 Sport
24 month | 15k miles | residual 65% | .00240 money factor
36 month | 15k miles | residual 54% | .00240 money factor
48 month | 15k miles | residual 49% | .00240 money factor
60 month | 15k miles | residual 43% | .00240 money factor
2011 Mercedes C63 AMG
24 month | 15k miles | residual 62% | .00240 money factor
36 month | 15k miles | residual 53% | .00240 money factor
48 month | 15k miles | residual 47% | .00240 money factor
60 month | 15k miles | residual 41% | .00240 money factor
2011 Mercedes CL550 4matic
24 month | 15k miles | residual 58% | .00240 money factor
36 month | 15k miles | residual 47% | .00240 money factor
48 month | 15k miles | residual 41% | .00240 money factor
60 month | 15k miles | residual 36% | .00240 money factor
2011 Mercedes CL600
24 month | 15k miles | residual 46% | .00240 money factor
36 month | 15k miles | residual 38% | .00240 money factor
48 month | 15k miles | residual 33% | .00240 money factor
60 month | 15k miles | residual 29% | .00240 money factor
2011 Mercedes CL63 AMG
24 month | 15k miles | residual 50% | .00240 money factor
36 month | 15k miles | residual 40% | .00240 money factor
48 month | 15k miles | residual 39% | .00240 money factor
60 month | 15k miles | residual 31% | .00240 money factor
2011 Mercedes CL65 AMG
24 month | 15k miles | residual 45% | .00240 money factor
36 month | 15k miles | residual 36% | .00240 money factor
48 month | 15k miles | residual 33% | .00240 money factor
60 month | 15k miles | residual 28% | .00240 money factor
2011 Mercedes CLS550
24 month | 15k miles | residual 60% | .00240 money factor
36 month | 15k miles | residual 51% | .00240 money factor
48 month | 15k miles | residual 45% | .00240 money factor
60 month | 15k miles | residual 39% | .00240 money factor
2011 Mercedes CLS63 AMG
24 month | 15k miles | residual 60% | .00240 money factor
36 month | 15k miles | residual 51% | .00240 money factor
48 month | 15k miles | residual 45% | .00240 money factor
60 month | 15k miles | residual 39% | .00240 money factor
2011 Mercedes E350 Coupe
24 month | 15k miles | residual 64% | .00126 money factor
36 month | 15k miles | residual 54% | .00126 money factor
48 month | 15k miles | residual 47% | .00126 money factor
60 month | 15k miles | residual 41% | .00240 money factor
2011 Mercedes E350 BlueTec Diesel Sedan
24 month | 15k miles | residual 75% | .00240 money factor
36 month | 15k miles | residual 61% | .00240 money factor
48 month | 15k miles | residual 55% | .00240 money factor
60 month | 15k miles | residual 48% | .00240 money factor
2011 Mercedes E350 Luxury Sedan
24 month | 15k miles | residual 69% | .00240 money factor
36 month | 15k miles | residual 56% | .00240 money factor
48 month | 15k miles | residual 51% | .00240 money factor
60 month | 15k miles | residual 44% | .00240 money factor
2011 Mercedes E350 Luxury 4MATIC Sedan
24 month | 15k miles | residual 69% | .00240 money factor
36 month | 15k miles | residual 56% | .00240 money factor
48 month | 15k miles | residual 51% | .00240 money factor
60 month | 15k miles | residual 44% | .00240 money factor
2011 Mercedes E350 Sport Sedan
24 month | 15k miles | residual 69% | .00240 money factor
36 month | 15k miles | residual 57% | .00240 money factor
48 month | 15k miles | residual 51% | .00240 money factor
60 month | 15k miles | residual 44% | .00240 money factor
2011 Mercedes E350 Sport 4MATIC Sedan
24 month | 15k miles | residual 69% | .00240 money factor
36 month | 15k miles | residual 56% | .00240 money factor
48 month | 15k miles | residual 51% | .00240 money factor
60 month | 15k miles | residual 44% | .00240 money factor
2011 Mercedes E350 Luxury 4MATIC Wagon
24 month | 15k miles | residual 69% | .00240 money factor
36 month | 15k miles | residual 56% | .00240 money factor
48 month | 15k miles | residual 51% | .00240 money factor
60 month | 15k miles | residual 44% | .00240 money factor
2011 Mercedes E350 Sport 4MATIC Wagon
24 month | 15k miles | residual 69% | .00240 money factor
36 month | 15k miles | residual 56% | .00240 money factor
48 month | 15k miles | residual 51% | .00240 money factor
60 month | 15k miles | residual 44% | .00240 money factor
2011 Mercedes E350 Convertible
24 month | 15k miles | residual 60% | .00134 money factor
36 month | 15k miles | residual 54% | .00134 money factor
48 month | 15k miles | residual 45% | .00134 money factor
60 month | 15k miles | residual 38% | .00240 money factor
2011 Mercedes E550 Coupe
24 month | 15k miles | residual 62% | .00240 money factor
36 month | 15k miles | residual 52% | .00240 money factor
48 month | 15k miles | residual 45% | .00240 money factor
60 month | 15k miles | residual 39% | .00240 money factor
2011 Mercedes E550 Luxury Sedan
24 month | 15k miles | residual 63% | .00240 money factor
36 month | 15k miles | residual 54% | .00240 money factor
48 month | 15k miles | residual 47% | .00240 money factor
60 month | 15k miles | residual 40% | .00240 money factor
2011 Mercedes E550 Luxury 4MATIC Sedan
24 month | 15k miles | residual 63% | .00240 money factor
36 month | 15k miles | residual 54% | .00240 money factor
48 month | 15k miles | residual 47% | .00240 money factor
60 month | 15k miles | residual 40% | .00240 money factor
2011 Mercedes E550 Sport Sedan
24 month | 15k miles | residual 63% | .00240 money factor
36 month | 15k miles | residual 54% | .00240 money factor
48 month | 15k miles | residual 47% | .00240 money factor
60 month | 15k miles | residual 40% | .00240 money factor
2011 Mercedes E550 Sport 4MATIC Sedan
24 month | 15k miles | residual 63% | .00240 money factor
36 month | 15k miles | residual 54% | .00240 money factor
48 month | 15k miles | residual 47% | .00240 money factor
60 month | 15k miles | residual 40% | .00240 money factor
2011 Mercedes E550 Convertible
24 month | 15k miles | residual 59% | .00240 money factor
36 month | 15k miles | residual 52% | .00240 money factor
48 month | 15k miles | residual 44% | .00240 money factor
60 month | 15k miles | residual 38% | .00240 money factor
2011 Mercedes E63 AMG Sedan
24 month | 15k miles | residual 59% | .00240 money factor
36 month | 15k miles | residual 57% | .00240 money factor
48 month | 15k miles | residual 44% | .00240 money factor
60 month | 15k miles | residual 38% | .00240 money factor
2011 Mercedes G550
24 month | 15k miles | residual 58% | .00240 money factor
36 month | 15k miles | residual 48% | .00240 money factor
48 month | 15k miles | residual 42% | .00240 money factor
60 month | 15k miles | residual 37% | .00240 money factor
2011 Mercedes G55 AMG
24 month | 15k miles | residual 56% | .00240 money factor
36 month | 15k miles | residual 46% | .00240 money factor
48 month | 15k miles | residual 41% | .00240 money factor
60 month | 15k miles | residual 36% | .00240 money factor
2011 Mercedes GL350 BlueTec Diesel
24 month | 15k miles | residual 64% | .00240 money factor
36 month | 15k miles | residual 53% | .00240 money factor
48 month | 15k miles | residual 47% | .00240 money factor
60 month | 15k miles | residual 41% | .00240 money factor
2011 Mercedes GL450
24 month | 15k miles | residual 65% | .00126 money factor
36 month | 15k miles | residual 55% | .00126 money factor
48 month | 15k miles | residual 44% | .00126 money factor
60 month | 15k miles | residual 39% | .00240 money factor
2011 Mercedes GL550
24 month | 15k miles | residual 61% | .00126 money factor
36 month | 15k miles | residual 47% | .00126 money factor
48 month | 15k miles | residual 42% | .00126 money factor
60 month | 15k miles | residual 37% | .00240 money factor
2011 Mercedes GLK350
24 month | 15k miles | residual 63% | .00097 money factor
36 month | 15k miles | residual 51% | .00097 money factor
48 month | 15k miles | residual 44% | .00097 money factor
60 month | 15k miles | residual 37% | .00240 money factor
2011 Mercedes GLK350 4matic
24 month | 15k miles | residual 63% | .00064 money factor
36 month | 15k miles | residual 53% | .00064 money factor
48 month | 15k miles | residual 44% | .00064 money factor
60 month | 15k miles | residual 37% | .00240 money factor
2011 Mercedes ML350 BlueTec Diesel
24 month | 15k miles | residual 65% | .00115 money factor
36 month | 15k miles | residual 55% | .00115 money factor
48 month | 15k miles | residual 47% | .00115 money factor
60 month | 15k miles | residual 40% | .00240 money factor
2011 Mercedes ML350
24 month | 15k miles | residual 59% | .00057 money factor
36 month | 15k miles | residual 50% | .00057 money factor
48 month | 15k miles | residual 44% | .00057 money factor
60 month | 15k miles | residual 38% | .00240 money factor
2011 Mercedes ML350 4matic
24 month | 15k miles | residual 59% | .00035 money factor
36 month | 15k miles | residual 50% | .00035 money factor
48 month | 15k miles | residual 44% | .00035 money factor
60 month | 15k miles | residual 38% | .00240 money factor
2011 Mercedes ML450 Hybrid
36 month | 15k miles | residual 53% | .00240 money factor
48 month | 15k miles | residual 39% | .00240 money factor
60 month | 15k miles | residual 34% | .00240 money factor
2011 Mercedes ML550 4WD
24 month | 15k miles | residual 53% | .00240 money factor
36 month | 15k miles | residual 45% | .00240 money factor
48 month | 15k miles | residual 41% | .00240 money factor
60 month | 15k miles | residual 35% | .00240 money factor
2011 Mercedes ML63 AMG 4WD
24 month | 15k miles | residual 56% | .00240 money factor
36 month | 15k miles | residual 48% | .00240 money factor
48 month | 15k miles | residual 43% | .00240 money factor
60 month | 15k miles | residual 38% | .00240 money factor
2011 Mercedes R350 BlueTec Diesel
24 month | 15k miles | residual 61% | .00240 money factor
36 month | 15k miles | residual 54% | .00240 money factor
48 month | 15k miles | residual 46% | .00240 money factor
60 month | 15k miles | residual 41% | .00240 money factor
2011 Mercedes R350 4matic
24 month | 15k miles | residual 55% | .00240 money factor
36 month | 15k miles | residual 52% | .00240 money factor
48 month | 15k miles | residual 41% | .00240 money factor
60 month | 15k miles | residual 36% | .00240 money factor
2011 Mercedes S400 Hybrid
24 month | 15k miles | residual 54% | .00240 money factor
36 month | 15k miles | residual 49% | .00240 money factor
48 month | 15k miles | residual 39% | .00240 money factor
60 month | 15k miles | residual 33% | .00240 money factor
2011 Mercedes S550
24 month | 15k miles | residual 59% | .00072 money factor
36 month | 15k miles | residual 47% | .00072 money factor
48 month | 15k miles | residual 38% | .00072 money factor
60 month | 15k miles | residual 32% | .00240 money factor
2011 Mercedes S550 4matic
24 month | 15k miles | residual 60% | .00055 money factor
36 month | 15k miles | residual 47% | .00055 money factor
48 month | 15k miles | residual 38% | .00055 money factor
60 month | 15k miles | residual 32% | .00240 money factor
2011 Mercedes S600
24 month | 15k miles | residual 43% | .00240 money factor
36 month | 15k miles | residual 34% | .00240 money factor
48 month | 15k miles | residual 31% | .00240 money factor
60 month | 15k miles | residual 26% | .00240 money factor
2011 Mercedes S63
24 month | 15k miles | residual 51% | .00240 money factor
36 month | 15k miles | residual 41% | .00240 money factor
48 month | 15k miles | residual 36% | .00240 money factor
60 month | 15k miles | residual 32% | .00240 money factor
2011 Mercedes S65
24 month | 15k miles | residual 43% | .00240 money factor
36 month | 15k miles | residual 35% | .00240 money factor
48 month | 15k miles | residual 32% | .00240 money factor
60 month | 15k miles | residual 27% | .00240 money factor
2011 Mercedes SL550
24 month | 15k miles | residual 56% | .00002 money factor
36 month | 15k miles | residual 47% | .00002 money factor
48 month | 15k miles | residual 42% | .00002 money factor
60 month | 15k miles | residual 36% | .00240 money factor
2011 Mercedes SL63 AMG
24 month | 15k miles | residual 49% | .00240 money factor
36 month | 15k miles | residual 41% | .00240 money factor
48 month | 15k miles | residual 37% | .00240 money factor
60 month | 15k miles | residual 32% | .00240 money factor
2011 Mercedes SL65 AMG
24 month | 15k miles | residual 45% | .00240 money factor
36 month | 15k miles | residual 37% | .00240 money factor
48 month | 15k miles | residual 33% | .00240 money factor
60 month | 15k miles | residual 29% | .00240 money factor
2011 Mercedes SLK300
24 month | 15k miles | residual 56% | .00240 money factor
36 month | 15k miles | residual 48% | .00240 money factor
48 month | 15k miles | residual 43% | .00240 money factor
60 month | 15k miles | residual 38% | .00240 money factor
2011 Mercedes SLK350
24 month | 15k miles | residual 58% | .00240 money factor
36 month | 15k miles | residual 50% | .00240 money factor
48 month | 15k miles | residual 44% | .00240 money factor
60 month | 15k miles | residual 39% | .00240 money factor