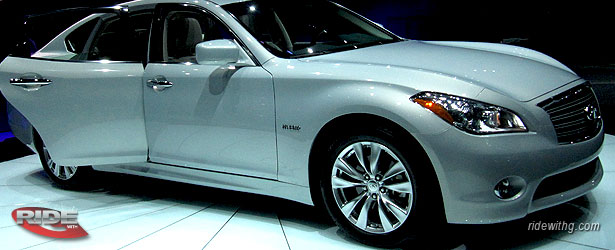 IFS drop the residual values for many of their 2011 models this month. To compensate, money factors were also decreased. On average, the residual drop has been about 2%, which isn't too bad. The bad news is that the EX got smacked with a whopping 4% drop in residual value. What IFS didn't do was drop the MF enough to offset that loss due to depreciation. What IFS did do was throw two cash rebates at the car ($500 and $2000) to sweeten the lease. One is loyalty lease cash ($500) and the other is dealer cash ($2000) which can be used on a lease. For most non-IFS customers only the dealer cash will apply.
$3500 cash incentive is for any remaining 2010 model. $1000 is available for 2011 models. Calculations below should still apply.
1.9% financing is available for all 2011 Infiniti models for those of you looking to buy instead. G sedans and coupe only get about $1000 in incentives.



Here is a sample calculation based on TrueCar's Southern California sale price and do not include local taxes. Please note that your dealer calculations may vary due to local fees/taxes.
2011 INFINITI G37 CONVERTIBLE BASE
MSRP – $46,645
Sale Price – $41,285
Monthly – $495+ tax
RWG Rating – 92.6
For Dealer Quotes, Click Here.



2011 INFINITI G37 COUPE IPL AT
36 month | 15k miles | residual 57% | .00076 base money factor
2011 INFINITI G25 SEDAN JOURNEY
36 month | 15k miles | residual 57% | .00067 base money factor
2011 INFINITI G25 SEDAN X AWD
36 month | 15k miles | residual 59% | .00091 base money factor
2011 INFINITI G37 SEDAN JOURNEY
36 month | 15k miles | residual 58% | .00058 base money factor
2011 INFINITI G37 SEDAN X AWD
36 month | 15k miles | residual 58% | .00083 base money factor
2011 INFINITI G37 SEDAN SPORT MANUAL
36 month | 15k miles | residual 55% | .00058 base money factor
2011 INFINITI G37 COUPE JOURNEY
36 month | 15k miles | residual 59% | .00076 base money factor
2011 INFINITI G37 COUPE X AWD
36 month | 15k miles | residual 60% | .00086 base money factor
2011 INFINITI G37 COUPE SPORT MANUAL
36 month | 15k miles | residual 59% | .00076 base money factor
2011 INFINITI EX35 AWD
36 month | 15k miles | residual 53% | .00072 base money factor
2011 INFINITI EX35 AWD JOURNEY
36 month | 15k miles | residual 51% | .00072 base money factor
2011 INFINITI FX35 AWD
36 month | 15k miles | residual 52% | .00076 base money factor
2011 INFINITI FX50 AWD
36 month | 15k miles | residual 49% | .00086 base money factor
2011 INFINITI G37 CONVERTIBLE BASE
36 month | 15k miles | residual 58% | .00146 base money factor
2011 INFINITI G37 CONVERTIBLE SPORT 6MT
36 month | 15k miles | residual 59% | .00146 base money factor
2012 INFINITI M37 SEDAN X AWD
36 month | 15k miles | residual 57% | .00138 base money factor
2012 INFINITI M56 SEDAN X AWD
36 month | 15k miles | residual 53% | .00174 base money factor
2012 INFINITI M35H SEDAN HYBRID
36 month | 15k miles | residual 56% | .00146 base money factor
2011 INFINITI QX56 4WD
36 month | 15k miles | residual 54% | .00220 base money factor