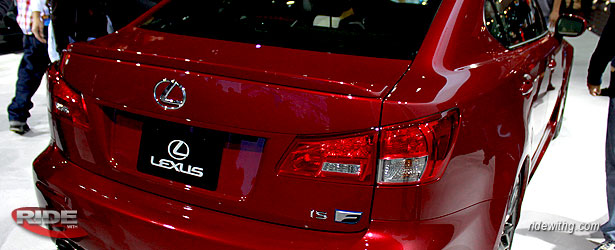 Lexus lease rates remain unchanged from June. Sale prices don't seem to have come down much either. There doesn't seem to be much in terms of incentives either. Take the IS250 for example, the only cash available to customers is $1000 for current owners and $750 for members of the military. Other than that, not much available to those looking to lease a Lexus for the 1st time.
Not even financing looks great right now, which is 2.9% for 60 months. In contrast, IFS is offering 1.9% for 60 months on the G37, Acura is offering 1.9% for 60 months on the TL, MB is offering 2.9% for 66 months on the C300 and Audi is also offering 1.9% for 60 months on the A4.


Here is a sample calculation based on TrueCar's Southern California sale price and do not include local taxes. Please note that your dealer calculations may vary due to local fees/taxes.
2011 Lexus IS250 AT Sedan
MSRP – $35,340
Sale Price – $32,911
Monthly – $426+ tax
RWG Rating – 84.7
For Dealer Quotes, Click Here.



2011 LEXUS ES350
36 month | 15k miles | residual 56% | .00180 base money factor
2011 LEXUS GS350 AWD
36 month | 15k miles | residual 53% | .00155 base money factor
2011 LEXUS GS460
36 month | 15k miles | residual 51% | .00155 base money factor
2011 LEXUS GX460
36 month | 15k miles | residual 53% | .00210 base money factor
2011 LEXUS HS250H
36 month | 15k miles | residual 54% | .00210 base money factor
2011 LEXUS IS250 AT SDN
36 month | 15k miles | residual 59% | .00170 base money factor
2011 LEXUS IS250 AWD AT SDN
36 month | 15k miles | residual 59% | .00170 base money factor
2011 LEXUS IS250 AT CONV
36 month | 15k miles | residual 59% | .00210 base money factor
2011 LEXUS IS350 AWD AT SEDAN
36 month | 15k miles | residual 56% | .00170 base money factor
2011 LEXUS IS350 CONV
36 month | 15k miles | residual 57% | .00210 base money factor
2011 LEXUS IS-F
36 month | 15k miles | residual 55% | .00210 base money factor
2011 LEXUS LS460
36 month | 15k miles | residual 53% | .00210 base money factor
2011 LEXUS LS460 AWD
36 month | 15k miles | residual 53% | .00210 base money factor
2011 LEXUS LX570
36 month | 15k miles | residual 52% | .00210 base money factor
2011 LEXUS RX350 AWD
36 month | 15k miles | residual 57% | .00165 base money factor
2011 LEXUS RX450H AWD
36 month | 15k miles | residual 56% | .00210 base money factor