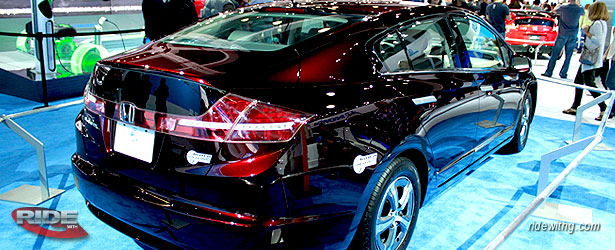 Consumer Reports smacked the crap out of the 2012 Honda Civic in their latest review (talk about PR nightmare). Justified or not, Honda needs to face the fact that their competition has improved dramatically. I have not driven the 2012 Civic yet, but based on the photos I have seen, I am unimpressed. I have seen the Fiesta, Elantra and Cruze in person and they look top notch. I think part of the problem with Honda is that they do not approach design the same way automakers such as BMW, Hyundai, Audi, Mazda and Nissan do (I know Acura does, but I also know that was a disaster. i.e. TL redesign). There doesn't seem to be a design philosophy in place, which is why Hondas have become so bland over the years. Sure, you see a few concepts here and there, but I don't really see many of those case-studies translating into production vehicles.  I love Honda leases, but they really need to work on the design of their products a bit more. They also need to think twice about how they go about cost cutting. If they take the Toyota/VW route, I will probably never lease a Honda/Acura product again.
Anyway, for the month of August, I am still liking the Honda Pilot's lease if you are looking for a large SUV. Last month, Ashwenm got a great deal on the Pilot EX. Since rates haven't changed, expect about the same deal this month. Other notable leases are the CR-V and Accords.


Here is a sample calculation based on TrueCar's Southern California sale price and do not include local taxes. Please note that your dealer calculations may vary due to local fees/taxes.
2011 HONDA PILOT 4WD LX
MSRP – $29,130
Sale Price – $25,509
Monthly – $308+ tax
RWG Rating – 92.9
For Dealer Quotes, Click Here.



2011 HONDA ACCORD COUPE LX-S AT
36 month | 15k miles | residual 54% | .00049 base money factor
2011 HONDA ACCORD CROSSTOUR 2WD EX
36 month | 15k miles | residual 56% | .00049 base money factor
2011 HONDA ACCORD CROSSTOUR 4WD EX-L
36 month | 15k miles | residual 54% | .00049 base money factor
2011 HONDA ACCORD SEDAN LX AT
36 month | 15k miles | residual 56% | .00049 base money factor
2011 HONDA ACCORD SEDAN EX AT
36 month | 15k miles | residual 56% | .00049 base money factor
2012 HONDA CIVIC COUPE LX AT
36 month | 15k miles | residual 62% | .00185 base money factor
2012 HONDA CIVIC SEDAN LX AT
36 month | 15k miles | residual 64% | .00185 base money factor
2011 HONDA CR-V 4WD LX AT
36 month | 15k miles | residual 60% | .00078 base money factor
2011 HONDA CR-Z HATCHBACK AT
36 month | 15k miles | residual 63% | .00185 base money factor
2011 HONDA ELEMENT 4WD LX AT
36 month | 15k miles | residual 59% | .00185 base money factor
2011 HONDA FIT HATCHBACK AT
36 month | 15k miles | residual 60% | .00200 base money factor
2011 HONDA ODYSSEY LX AT
36 month | 15k miles | residual 60% | .00144 base money factor
2011 HONDA PILOT 4WD LX
36 month | 15k miles | residual 55% | .00107 base money factor
2011 HONDA RIDGELINE CREW CAB RT
36 month | 15k miles | residual 56% | .00185 base money factor