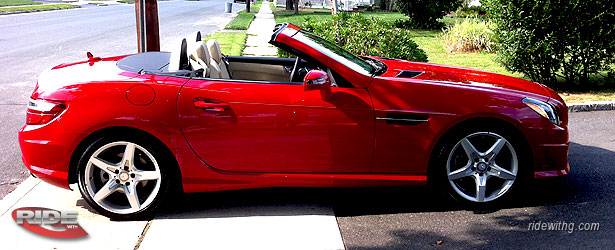 Name: Laura
Location: Long Island, NY
The RIDE: 2012 Mars Red Mercedes-Benz SLK350
The DEAL:
2012 Mercedes-Benz SLK350
Mars Red/Sahara Beige
Premium 1, Command Navigation package, Sport Package
MSRP: 62915
Base Cap Cost: 59354 (approx 6% off MSRP)
Money Factor: .00154
Term: 33 months (36 month residual drops to 52% so 33-month makes more sense)
Residual: 63%
Sales tax: 8.625
$3080 due at signing
$773 a month.
My TAKE:
It wasn't an overall "great deal", but it was good for a 2012 SLK350. The lowest sale price I seen is only about 4%, so this offer was better than most. The residual value looks strong and the money factor seems fair for a 2012 model. Congratulations Laura! The car is sooooo HOTTTT!!! I like it a lot! It's like a baby SLS! I better not show my wife these pictures or she may start dropping me hints about getting her one too. LOL.
Want your ride featured on RIDE with G? Send your pics over to thewall(at)ridewithg.com