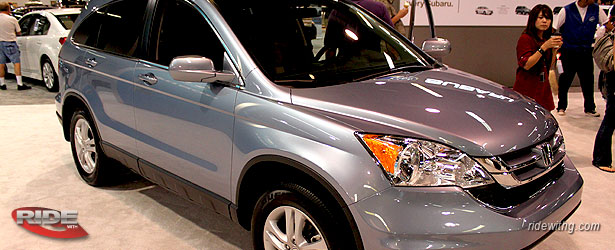 Honda numbers look decent for most remaining 2011 models. 2012 models still seem a bit expensive at the moment since the MF is quite high and the discounts are not very significant. If I where in the market for a Honda right now, I would look at the 2011 models first to see what remains and try to get the lowest sale price in town. Models I recommend looking into are the CR-V, Pilot and any remaining Accord.


Here is a sample calculation based on TrueCar's Southern California sale price and do not include local taxes. Please note that your dealer calculations may vary due to local fees/taxes.
2011 HONDA PILOT 4WD LX
MSRP – $30,730
Sale Price – $26,721
Monthly – $316+ tax
RWG Rating – 94.7
For Dealer Quotes, Click Here.



2011 HONDA ACCORD COUPE LX-S AT
36 Month – Residual 52% of MSRP – .00050 Base Rate
2011 HONDA ACCORD SEDAN LX AT
36 Month – Residual 54% of MSRP – .00050 Base Rate
2011 HONDA ACCORD SEDAN EX AT
36 Month – Residual 54% of MSRP – .00050 Base Rate
2012 HONDA CIVIC COUPE LX AT
36 Month – Residual 61% of MSRP – .00185 Base Rate
2012 HONDA CIVIC SEDAN LX AT
36 Month – Residual 63% of MSRP – .00185 Base Rate
2011 HONDA ACCORD CROSSTOUR 2WD EX
36 Month – Residual 54% of MSRP – .00185 Base Rate
2011 HONDA ACCORD CROSSTOUR 4WD EX-L
36 Month – Residual 52% of MSRP – .00185 Base Rate
2011 HONDA CR-V 4WD LX AT
36 Month – Residual 60% of MSRP – .00095 Base Rate
2011 HONDA CR-Z HATCHBACK AT
36 Month – Residual 61% of MSRP – .00185 Base Rate
2011 HONDA ELEMENT 4WD LX AT
36 Month – Residual 59% of MSRP – .00185 Base Rate
2011 HONDA FIT HATCHBACK AT
36 Month – Residual 58% of MSRP – .00185 Base Rate
2011 HONDA ODYSSEY LX AT
36 Month – Residual 58% of MSRP – .00155 Base Rate
2011 HONDA PILOT 4WD LX
36 Month – Residual 53% of MSRP – .00061 Base Rate
2011 HONDA RIDGELINE CREW CAB RT
36 Month – Residual 55% of MSRP – .00185 Base Rate