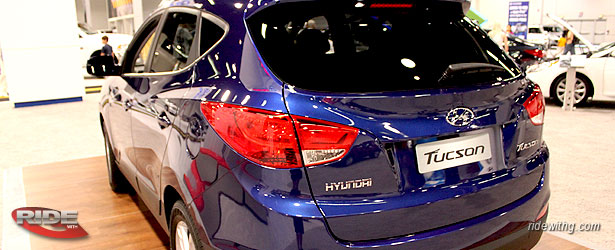 Sonata lease rates are decent this month. There's lease cash (loyalty) available as well on a nicely equipped Sonata SE Turbo (like mine) which is a bonus. The sale prices aren't as low as back in the first half of the year, but they are still attractive because of the lease cash. Is this an awesome lease? No. But it's not half bad.
If you aren't an existing Hyundai customer, your payments will probably jump about $15-$20 bucks more per month. Still within the "GOOD DEAL" range.
Some of you may be wondering why I don't talk about the Elantra's promising lease numbers. That's because you probably won't see much in terms of discounts on the 2012 model right now. Unless you are able to pry $500 bucks or more out of the dealership's hands, my guess is that deal won't be as good as it could be. Of course, I'm not seeing the Civic being a great deal right now either, so you be the judge.


Here is a sample calculation based on TrueCar's Southern California sale price and do not include local taxes. Please note that your dealer calculations may vary due to local fees/taxes.
2012 Sonata Turbo SE (w/Nav)
MSRP – $28,340
Sale Price – $26,287 ($500 loyalty lease cash)
Monthly – $317+ tax
RWG Rating – 89.2
For Dealer Quotes, Click Here.


2012 Genesis Sedan R-Spec
36-month | 15k miles | residual 56% | .00219 base money factor
2012 Sonata Turbo SE
36-month | 15k miles | residual 59% | .00120 base money factor
2012 Sonata Limited
36-month | 15k miles | residual 54% | .00120 base money factor
2012 Sonata Limited Turbo
36-month | 15k miles | residual 56% | .00120 base money factor
2012 Elantra GLS Auto
36-month | 15k miles | residual 65% | .00150 base money factor
2011 Elantra GLS Auto
36-month | 15k miles | residual 59% | .00047 base money factor
2012 Elantra Limited
36-month | 15k miles | residual 63% | .00150 base money factor