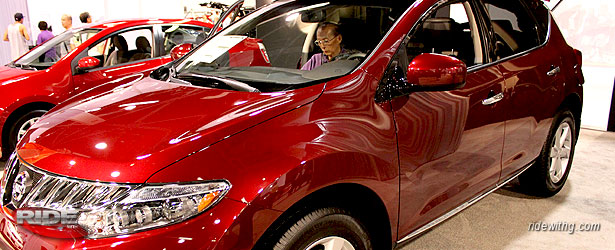 Residuals dropped across the board on all 2011 models and some 2012 models. Money factors dropped to keep payments lower. Basically your standard MF adjustment to compensate for lost value. Nissans lease pretty well in general, so check them out. I anticipate the Maxima and the Altima to be solid leases this month. If you are looking for the Z, don't bother. They rarely (if ever) have anyease support. Same goes for the GT-R.


Here is a sample calculation based on TrueCar's Southern California sale price and do not include local taxes. Please note that your dealer calculations may vary due to local fees/taxes.
2011 NISSAN MAXIMA S
MSRP – $32,510
Sale Price – $28,041 ($3000 rebate not applied)
Monthly – $310+ tax
RWG Rating – 100.0
For Dealer Quotes, Click Here.



2011 NISSAN MAXIMA S
36 Month – Residual 54% of MSRP – .00042 Base Rate
2011 NISSAN CUBE 5DR WAGON S CVT
36 Month – Residual 47% of MSRP – .00230 Base Rate
2011 NISSAN JUKE 2WD S AT
36 Month – Residual 44% of MSRP – .00230 Base Rate
2011 NISSAN MURANO AWD S
36 Month – Residual 49% of MSRP – .00005 Base Rate
2011 NISSAN ROGUE AWD S
36 Month – Residual 55% of MSRP – .00122 Base Rate
2012 NISSAN ALTIMA SEDAN S CVT
36 Month – Residual 58% of MSRP – .00047 Base Rate
2012 NISSAN ALTIMA COUPE S CVT
36 Month – Residual 58% of MSRP – .00141 Base Rate
2012 NISSAN LEAF 5DR HATCHBACK SV
36 Month – Residual 45% of MSRP – .00195 Base Rate
2012 NISSAN SENTRA 2.0SR CVT
36 Month – Residual 63% of MSRP – .00181 Base Rate
2012 NISSAN VERSA 4DR SEDAN S AT
36 Month – Residual 58% of MSRP – .00230 Base Rate