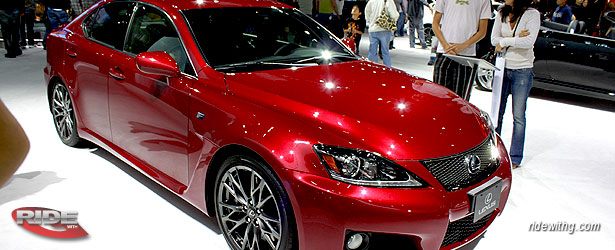 Lexus lease numbers still don't look great, because esiduals have tanked and the MF has only dropped slightly. However, since we are nearing the end of the 2011 model year, you should expect sizable discounts. Take the IS250 for example, TrueCar indicates that So.Cal. prices are about 11% off MSRP. That's VERY good because the residual is still good an the MF is reasonable.
If you are in the military, you should qualify for the $750 incentive that's available through March 31st, 2012. Yes, that's next year.


Here is a sample calculation based on TrueCar's Southern California sale price and do not include local taxes. Please note that your dealer calculations may vary due to local fees/taxes.
2011 Lexus IS250 AT Sedan
MSRP – $35,340
Sale Price – $31,311
Monthly – $379+ tax
RWG Rating – 92.0
For Dealer Quotes, Click Here.



2011 LEXUS ES350
36 Month – Residual 53% of MSRP – .00115 Base Rate
2011 LEXUS GS350 AWD
36 Month – Residual 50% of MSRP – .00095 Base Rate
2011 LEXUS GS460
36 Month – Residual 48% of MSRP – .00190 Base Rate
2011 LEXUS GX460
36 Month – Residual 50% of MSRP – .00190 Base Rate
2011 LEXUS HS250H
36 Month – Residual 51% of MSRP – .00190 Base Rate
2011 LEXUS IS250 AT SDN
36 Month – Residual 56% of MSRP – .00115 Base Rate
2011 LEXUS IS250 AWD AT SDN
36 Month – Residual 56% of MSRP – .00115 Base Rate
2011 LEXUS IS250 AT CONV
36 Month – Residual 57% of MSRP – .00190 Base Rate
2011 LEXUS IS350 AWD AT SEDAN
36 Month – Residual 53% of MSRP – .00115 Base Rate
2011 LEXUS IS350 CONV
36 Month – Residual 54% of MSRP – .00190 Base Rate
2011 LEXUS IS-F
36 Month – Residual 52% of MSRP – .00190 Base Rate
2011 LEXUS LS460
36 Month – Residual 50% of MSRP – .00190 Base Rate
2011 LEXUS LS460 AWD
36 Month – Residual 50% of MSRP – .00190 Base Rate
2011 LEXUS LX570
36 Month – Residual 49% of MSRP – .00190 Base Rate
2011 LEXUS RX350 AWD
36 Month – Residual 54% of MSRP – .00110 Base Rate
2011 LEXUS RX450H AWD
36 Month – Residual 53% of MSRP – .00190 Base Rate