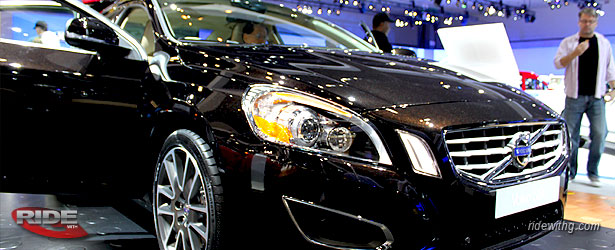 There is loyalty cash to be had on all Volvos right now. Remaining 2011 S60 and S80s have some extra cash incentives as well. The 2012 C70 probably has the best lease rates of them all at the moment, but it is a more expensive lease than the 2011. I think Volvo leases have improved a lot over the past year. Definitely better than what I've seen coming out of Audi lately. I would love to see the day where I can debate whether a G37 or a S60 is the better deal.
Lease rates was made available by the good folks at North Point Volvo. If you are in or near the Alpharetta, GA area and looking for a Volvo, please give them a call.


Here is a sample calculation based on TrueCar's Southern California sale price and do not include local taxes. Please note that your dealer calculations may vary due to local fees/taxes.
2011 C70 T-5
MSRP – $41,825
Sale Price – $39,018
Monthly – $496+ tax
RWG Rating – 85.7
For Dealer Quotes, CLICK HERE.


2012 C30 T-5
36-month | 15k miles | residual 59% | .00178 base money factor
48-month | 15k miles | residual 47% | .00176 base money factor
2012 C30 T-5 Premier Plus
36-month | 15k miles | residual 57% | .00178 base money factor
48-month | 15k miles | residual 46% | .00176 base money factor
2012 C30 T-5 Platinum
36-month | 15k miles | residual 55% | .00178 base money factor
48-month | 15k miles | residual 44% | .00176 base money factor
2012 C30 T-5 R-Design
36-month | 15k miles | residual 57% | .00178 base money factor
48-month | 15k miles | residual 46% | .00176 base money factor
2012 C30 T-5 R-Design Premier Plus
36-month | 15k miles | residual 56% | .00178 base money factor
48-month | 15k miles | residual 45% | .00176 base money factor
2012 C30 T-5 R-Design Platinum
36-month | 15k miles | residual 56% | .00178 base money factor
48-month | 15k miles | residual 45% | .00176 base money factor
2012 C70 T-5
36-month | 15k miles | residual 55% | .00082 base money factor
48-month | 15k miles | residual 46% | .00113 base money factor
2012 C70 T-5 Premier Plus
36-month | 15k miles | residual 55% | .00082 base money factor
48-month | 15k miles | residual 46% | .00113 base money factor
2012 C70 T-5 Platinum
36-month | 15k miles | residual 53% | .00082 base money factor
48-month | 15k miles | residual 44% | .00113 base money factor
2012 S60 T-5
36-month | 15k miles | residual 59% | .00134 base money factor
48-month | 15k miles | residual 47% | .00151 base money factor
2012 S60 T-6
36-month | 15k miles | residual 55% | .00122 base money factor
48-month | 15k miles | residual 44% | .00151 base money factor
2012 S60 T-6 R-design
36-month | 15k miles | residual 53% | .00122 base money factor
48-month | 15k miles | residual 42% | .00151 base money factor
2012 S80 3.2
36-month | 15k miles | residual 51% | .00046 base money factor
48-month | 15k miles | residual 44% | .00085 base money factor
2012 S80 3.2 Premier Plus
36-month | 15k miles | residual 51% | .00046 base money factor
48-month | 15k miles | residual 43% | .00085 base money factor
2012 S80 3.2 Platinum
36-month | 15k miles | residual 50% | .00046 base money factor
48-month | 15k miles | residual 43% | .00085 base money factor
2012 S80 T-6 Premier Plus
36-month | 15k miles | residual 53% | .00083 base money factor
48-month | 15k miles | residual 46% | .00129 base money factor
2012 S80 T-6 Platinum
36-month | 15k miles | residual 52% | .00083 base money factor
48-month | 15k miles | residual 45% | .00129 base money factor
2012 XC-60 T-6 R-design
36-month | 15k miles | residual 51% | .00178 base money factor
48-month | 15k miles | residual 40% | .00176 base money factor
2012 XC-60 T-6 R-design Premier Plus
36-month | 15k miles | residual 50% | .00178 base money factor
48-month | 15k miles | residual 39% | .00176 base money factor
2012 XC-60 T-6 R-design Platinum
36-month | 15k miles | residual 49% | .00178 base money factor
48-month | 15k miles | residual 38% | .00176 base money factor
2012 XC-60 T-6
36-month | 15k miles | residual 54% | .00178 base money factor
48-month | 15k miles | residual 42% | .00176 base money factor
2012 XC-60 T-6 Premier Plus
36-month | 15k miles | residual 53% | .00178 base money factor
48-month | 15k miles | residual 42% | .00176 base money factor
2012 XC-60 T-6 Platinum
36-month | 15k miles | residual 51% | .00178 base money factor
48-month | 15k miles | residual 41% | .00176 base money factor
2012 XC-60 3.2 AWD
36-month | 15k miles | residual 54% | .00178 base money factor
48-month | 15k miles | residual 42% | .00176 base money factor
2012 XC-60 3.2 AWD Premier
36-month | 15k miles | residual 53% | .00178 base money factor
48-month | 15k miles | residual 42% | .00176 base money factor
2012 XC-60 3.2 AWD Premier Plus
36-month | 15k miles | residual 52% | .00178 base money factor
48-month | 15k miles | residual 41% | .00176 base money factor
2012 XC-60 3.2 AWD Platinum
36-month | 15k miles | residual 50% | .00178 base money factor
48-month | 15k miles | residual 40% | .00176 base money factor
2012 XC-60 3.2 FWD
36-month | 15k miles | residual 52% | .00178 base money factor
48-month | 15k miles | residual 41% | .00176 base money factor
2012 XC-60 3.2 FWD Premier
36-month | 15k miles | residual 51% | .00178 base money factor
48-month | 15k miles | residual 40% | .00176 base money factor
2012 XC-60 3.2 FWD Premier Plus
36-month | 15k miles | residual 50% | .00178 base money factor
48-month | 15k miles | residual 39% | .00176 base money factor
2012 XC-60 3.2 FWD Platinum
36-month | 15k miles | residual 49% | .00178 base money factor
48-month | 15k miles | residual 38% | .00176 base money factor
2012 XC-70 3.2 AWD
36-month | 15k miles | residual 58% | .00178 base money factor
48-month | 15k miles | residual 47% | .00176 base money factor
2012 XC-70 3.2 AWD Premier
36-month | 15k miles | residual 57% | .00178 base money factor
48-month | 15k miles | residual 46% | .00176 base money factor
2012 XC-70 3.2 AWD Premier Plus
36-month | 15k miles | residual 56% | .00178 base money factor
48-month | 15k miles | residual 45% | .00176 base money factor
2012 XC-70 3.2 AWD Platinum
36-month | 15k miles | residual 55% | .00178 base money factor
48-month | 15k miles | residual 44% | .00176 base money factor
2012 XC-70 3.2 FWD
36-month | 15k miles | residual 57% | .00178 base money factor
48-month | 15k miles | residual 46% | .00176 base money factor
2012 XC-70 3.2 FWD Premier
36-month | 15k miles | residual 56% | .00178 base money factor
48-month | 15k miles | residual 46% | .00176 base money factor
2012 XC-70 3.2 FWD Premier Plus
36-month | 15k miles | residual 55% | .00178 base money factor
48-month | 15k miles | residual 44% | .00176 base money factor
2012 XC-70 3.2 FWD Platinum
36-month | 15k miles | residual 53% | .00178 base money factor
48-month | 15k miles | residual 43% | .00176 base money factor
2012 XC-70 T-6
36-month | 15k miles | residual 58% | .00178 base money factor
48-month | 15k miles | residual 47% | .00176 base money factor
2012 XC-70 T-6 Premier Plus
36-month | 15k miles | residual 57% | .00178 base money factor
48-month | 15k miles | residual 46% | .00176 base money factor
2012 XC-70 T-6 Platinum
36-month | 15k miles | residual 56% | .00178 base money factor
48-month | 15k miles | residual 45% | .00176 base money factor
2012 XC-90 3.2 AWD
36-month | 15k miles | residual 56% | .00178 base money factor
48-month | 15k miles | residual 44% | .00176 base money factor
2012 XC-90 3.2 AWD Premier Plus
36-month | 15k miles | residual 55% | .00178 base money factor
48-month | 15k miles | residual 44% | .00176 base money factor
2012 XC-90 3.2 AWD Platinum
36-month | 15k miles | residual 53% | .00178 base money factor
48-month | 15k miles | residual 43% | .00176 base money factor
2012 XC-90 3.2 FWD
36-month | 15k miles | residual 54% | .00178 base money factor
48-month | 15k miles | residual 43% | .00176 base money factor
2012 XC-90 3.2 FWD Premier Plus
36-month | 15k miles | residual 53% | .00178base money factor
48-month | 15k miles | residual 43% | .00176 base money factor
2012 XC-90 3.2 FWD Platinum
36-month | 15k miles | residual 51% | .00178 base money factor
48-month | 15k miles | residual 42% | .00176 base money factor
2012 XC-90 3.2 AWD R-Design
36-month | 15k miles | residual 54% | .00178 base money factor
48-month | 15k miles | residual 43% | .00176 base money factor
2012 XC-90 3.2 AWD R-Design Premier Plus
36-month | 15k miles | residual 53% | .00178 base money factor
48-month | 15k miles | residual 43% | .00176 base money factor
2012 XC-90 3.2 AWD R-Design Platinum
36-month | 15k miles | residual 51% | .00178 base money factor
48-month | 15k miles | residual 42% | .00176 base money factor
2012 XC-90 3.2 FWD R-Design
36-month | 15k miles | residual 53% | .00178 base money factor
48-month | 15k miles | residual 42% | .00176 base money factor
2012 XC-90 3.2 FWD R-Design Premium Plus
36-month | 15k miles | residual 52% | .00178 base money factor
48-month | 15k miles | residual 42% | .00176 base money factor
2012 XC-90 3.2 FWD R-Design Platinum
36-month | 15k miles | residual 51% | .00178 base money factor
48-month | 15k miles | residual 41% | .00176 base money factor