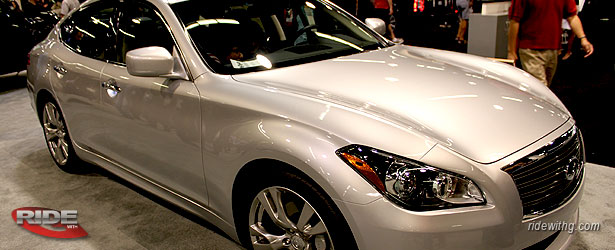 If you can get a 2011 G37 sedan right now, you can probably lease it for real cheap. I would probably recommend that over the 2012 at the point. Availability is probably going to be an issue, but I certainly would recommend inquiring about any last remaining 2011 before looking into the 2012s.
On a personal note, I really love the M35h. But fully loaded, it's freakishly expensive (about $780 a month BEFORE tax). Yickes!


Here is a sample calculation based on TrueCar's Southern California sale price and do not include local taxes. Please note that your dealer calculations may vary due to local fees/taxes.
2011 INFINITI G37 JOURNEY SEDAN
MSRP – $36695
Sale Price – $31945
Monthly – $311+ tax
RWG Rating – 109.3
You can support my website by getting FREE Dealer quotes via Yahoo Autos or by visiting


2011 INFINITI G37 COUPE IPL AT
36 Month – Residual 59% of MSRP – .00128 Base Rate
2011 INFINITI G37 COUPE JOURNEY
36 Month – Residual 62% of MSRP – .00128 Base Rate
2011 INFINITI G37 COUPE X AWD
36 Month – Residual 63% of MSRP – .00137 Base Rate
2011 INFINITI G37 COUPE SPORT MANUAL
36 Month – Residual 62% of MSRP – .00128 Base Rate
2011 INFINITI G25 SEDAN JOURNEY
36 Month – Residual 60% of MSRP – .00065 Base Rate
2011 INFINITI G25 SEDAN X AWD
36 Month – Residual 62% of MSRP – .00092 Base Rate
2011 INFINITI G37 SEDAN JOURNEY
36 Month – Residual 59% of MSRP – .00064 Base Rate
2011 INFINITI G37 SEDAN X AWD
36 Month – Residual 61% of MSRP – .00091 Base Rate
2011 INFINITI G37 SEDAN SPORT MANUAL
36 Month – Residual 58% of MSRP – .00064 Base Rate
2011 INFINITI EX35 AWD JOURNEY
36 Month – Residual 54% of MSRP – .00127 Base Rate
2011 INFINITI FX35 AWD
36 Month – Residual 55% of MSRP – .00130 Base Rate
2011 INFINITI FX50 AWD
36 Month – Residual 52% of MSRP – .00141 Base Rate
2011 INFINITI G37 CONVERTIBLE BASE
36 Month – Residual 59% of MSRP – .00160 Base Rate
2011 INFINITI G37 CONVERTIBLE SPORT 6MT
36 Month – Residual 60% of MSRP – .00160 Base Rate
2012 INFINITI G37 COUPE IPL AT
36 Month – Residual 57% of MSRP – .00141 Base Rate
2012 INFINITI G37 COUPE JOURNEY
36 Month – Residual 61% of MSRP – .00141 Base Rate
2012 INFINITI G37 COUPE X AWD
36 Month – Residual 62% of MSRP – .00148 Base Rate
2012 INFINITI G37 COUPE SPORT MANUAL
36 Month – Residual 61% of MSRP – .00141 Base Rate
2012 INFINITI G25 SEDAN JOURNEY
36 Month – Residual 61% of MSRP – .00106 Base Rate
2012 INFINITI G25 SEDAN X AWD
36 Month – Residual 62% of MSRP – .00113 Base Rate
2012 INFINITI G37 SEDAN JOURNEY
36 Month – Residual 61% of MSRP – .00134 Base Rate
2012 INFINITI G37 SEDAN X AWD
36 Month – Residual 61% of MSRP – .00124 Base Rate
2012 INFINITI G37 SEDAN SPORT MANUAL
36 Month – Residual 60% of MSRP – .00134 Base Rate
2012 INFINITI M37 SEDAN X AWD
36 Month – Residual 60% of MSRP – .00153 Base Rate
2012 INFINITI M56 SEDAN X AWD
36 Month – Residual 54% of MSRP – .00161 Base Rate
2012 INFINITI M35H SEDAN HYBRID
36 Month – Residual 59% of MSRP – .00164 Base Rate
2012 INFINITI QX56 4WD
36 Month – Residual 54% of MSRP – .00200 Base Rate