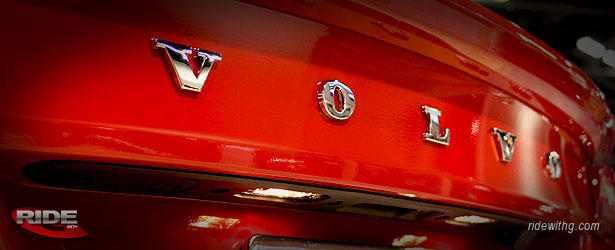 No change this much. Numbers look slightly better because I noticed a $100 increase in the MSRP. Not sure if I overlooked that last month or if there was an actual price increase. Nevertheless, higher MSRP and same sale price as last month equals lower monthly payment. By now, I pretty much expect everyone to know why this happens. If you don't know, you should refer to the lease formula for details. The S60 T5 is one wicked lease right now. I like it ALOT! Highly recommend if you want to stick with an European brand but are turned off by the high payments of the BMWs, Audis and MBs.
Financing rates aren't half bad either 0.9% for 48 and 1.9% for 60. Not too shabby and actually lower than the MF.
Costco is not currently offering any cash cards like they usually do during the holidays (They are currently doing it for Chevy & GMC, see here). That doesn't mean this won't change down the road, so keep an eye out on their auto website.
Lease rates was made available by the good folks at North Point Volvo. If you are in or near the Alpharetta, GA area and looking for a Volvo, please give them a call.


Here is a sample calculation based on TrueCar's Southern California sale price and do not include local taxes. Please note that your dealer calculations may vary due to local fees/taxes.
2012 S60 T-5
MSRP – $33925
Sale Price – $30192 ($1000 loyalty applied)
Monthly – $343+ tax
RWG Rating – 95.7
2012 S60 T-5
MSRP – $33925
Sale Price – $31192 (no loyalty cash)
Monthly – $373+ tax
RWG Rating – 90.3
You can support my website by getting FREE Dealer quotes via Yahoo Autos or by visiting North Point Volvo in you are in the Alpharetta, GA area.


2012 C30 T-5
36-month | 15k miles | residual 59% | .00178 base money factor
48-month | 15k miles | residual 47% | .00176 base money factor
2012 C30 T-5 Premier Plus
36-month | 15k miles | residual 57% | .00178 base money factor
48-month | 15k miles | residual 46% | .00176 base money factor
2012 C30 T-5 Platinum
36-month | 15k miles | residual 55% | .00178 base money factor
48-month | 15k miles | residual 44% | .00176 base money factor
2012 C30 T-5 R-Design
36-month | 15k miles | residual 57% | .00178 base money factor
48-month | 15k miles | residual 46% | .00176 base money factor
2012 C30 T-5 R-Design Premier Plus
36-month | 15k miles | residual 56% | .00178 base money factor
48-month | 15k miles | residual 45% | .00176 base money factor
2012 C30 T-5 R-Design Platinum
36-month | 15k miles | residual 56% | .00178 base money factor
48-month | 15k miles | residual 45% | .00176 base money factor
2012 C70 T-5
36-month | 15k miles | residual 55% | .00082 base money factor
48-month | 15k miles | residual 46% | .00113 base money factor
2012 C70 T-5 Premier Plus
36-month | 15k miles | residual 55% | .00082 base money factor
48-month | 15k miles | residual 46% | .00113 base money factor
2012 C70 T-5 Platinum
36-month | 15k miles | residual 53% | .00082 base money factor
48-month | 15k miles | residual 44% | .00113 base money factor
2012 S60 T-5
36-month | 15k miles | residual 59% | .00122 base money factor
48-month | 15k miles | residual 47% | .00130 base money factor
2012 S60 T-6
36-month | 15k miles | residual 55% | .00122 base money factor
48-month | 15k miles | residual 44% | .00130 base money factor
2012 S60 T-6 R-design
36-month | 15k miles | residual 53% | .00122 base money factor
48-month | 15k miles | residual 42% | .00130 base money factor
2012 S80 3.2
36-month | 15k miles | residual 51% | .00046 base money factor
48-month | 15k miles | residual 44% | .00085 base money factor
2012 S80 3.2 Premier Plus
36-month | 15k miles | residual 51% | .00046 base money factor
48-month | 15k miles | residual 43% | .00085 base money factor
2012 S80 3.2 Platinum
36-month | 15k miles | residual 50% | .00046 base money factor
48-month | 15k miles | residual 43% | .00085 base money factor
2012 S80 T-6 Premier Plus
36-month | 15k miles | residual 53% | .00083 base money factor
48-month | 15k miles | residual 46% | .00129 base money factor
2012 S80 T-6 Platinum
36-month | 15k miles | residual 52% | .00083 base money factor
48-month | 15k miles | residual 45% | .00129 base money factor
2012 XC-60 T-6 R-design
36-month | 15k miles | residual 51% | .00178 base money factor
48-month | 15k miles | residual 40% | .00176 base money factor
2012 XC-60 T-6 R-design Premier Plus
36-month | 15k miles | residual 50% | .00178 base money factor
48-month | 15k miles | residual 39% | .00176 base money factor
2012 XC-60 T-6 R-design Platinum
36-month | 15k miles | residual 49% | .00178 base money factor
48-month | 15k miles | residual 38% | .00176 base money factor
2012 XC-60 T-6
36-month | 15k miles | residual 54% | .00178 base money factor
48-month | 15k miles | residual 42% | .00176 base money factor
2012 XC-60 T-6 Premier Plus
36-month | 15k miles | residual 53% | .00178 base money factor
48-month | 15k miles | residual 42% | .00176 base money factor
2012 XC-60 T-6 Platinum
36-month | 15k miles | residual 51% | .00178 base money factor
48-month | 15k miles | residual 41% | .00176 base money factor
2012 XC-60 3.2 AWD
36-month | 15k miles | residual 54% | .00178 base money factor
48-month | 15k miles | residual 42% | .00176 base money factor
2012 XC-60 3.2 AWD Premier
36-month | 15k miles | residual 53% | .00178 base money factor
48-month | 15k miles | residual 42% | .00176 base money factor
2012 XC-60 3.2 AWD Premier Plus
36-month | 15k miles | residual 52% | .00178 base money factor
48-month | 15k miles | residual 41% | .00176 base money factor
2012 XC-60 3.2 AWD Platinum
36-month | 15k miles | residual 50% | .00178 base money factor
48-month | 15k miles | residual 40% | .00176 base money factor
2012 XC-60 3.2 FWD
36-month | 15k miles | residual 52% | .00178 base money factor
48-month | 15k miles | residual 41% | .00176 base money factor
2012 XC-60 3.2 FWD Premier
36-month | 15k miles | residual 51% | .00178 base money factor
48-month | 15k miles | residual 40% | .00176 base money factor
2012 XC-60 3.2 FWD Premier Plus
36-month | 15k miles | residual 50% | .00178 base money factor
48-month | 15k miles | residual 39% | .00176 base money factor
2012 XC-60 3.2 FWD Platinum
36-month | 15k miles | residual 49% | .00178 base money factor
48-month | 15k miles | residual 38% | .00176 base money factor
2012 XC-70 3.2 AWD
36-month | 15k miles | residual 58% | .00178 base money factor
48-month | 15k miles | residual 47% | .00176 base money factor
2012 XC-70 3.2 AWD Premier
36-month | 15k miles | residual 57% | .00178 base money factor
48-month | 15k miles | residual 46% | .00176 base money factor
2012 XC-70 3.2 AWD Premier Plus
36-month | 15k miles | residual 56% | .00178 base money factor
48-month | 15k miles | residual 45% | .00176 base money factor
2012 XC-70 3.2 AWD Platinum
36-month | 15k miles | residual 55% | .00178 base money factor
48-month | 15k miles | residual 44% | .00176 base money factor
2012 XC-70 3.2 FWD
36-month | 15k miles | residual 57% | .00178 base money factor
48-month | 15k miles | residual 46% | .00176 base money factor
2012 XC-70 3.2 FWD Premier
36-month | 15k miles | residual 56% | .00178 base money factor
48-month | 15k miles | residual 46% | .00176 base money factor
2012 XC-70 3.2 FWD Premier Plus
36-month | 15k miles | residual 55% | .00178 base money factor
48-month | 15k miles | residual 44% | .00176 base money factor
2012 XC-70 3.2 FWD Platinum
36-month | 15k miles | residual 53% | .00178 base money factor
48-month | 15k miles | residual 43% | .00176 base money factor
2012 XC-70 T-6
36-month | 15k miles | residual 58% | .000178 base money factor
48-month | 15k miles | residual 47% | .00176 base money factor
2012 XC-70 T-6 Premier Plus
36-month | 15k miles | residual 57% | .000178 base money factor
48-month | 15k miles | residual 46% | .00176 base money factor
2012 XC-70 T-6 Platinum
36-month | 15k miles | residual 56% | .000178 base money factor
48-month | 15k miles | residual 45% | .00176 base money factor
2012 XC-90 3.2 AWD
36-month | 15k miles | residual 55% | .00178 base money factor
48-month | 15k miles | residual 44% | .00176 base money factor
2012 XC-90 3.2 AWD Premier Plus
36-month | 15k miles | residual 54% | .00178 base money factor
48-month | 15k miles | residual 44% | .00176 base money factor
2012 XC-90 3.2 AWD Platinum
36-month | 15k miles | residual 52% | .00178 base money factor
48-month | 15k miles | residual 43% | .00176 base money factor
2012 XC-90 3.2 FWD
36-month | 15k miles | residual 53% | .00178 base money factor
48-month | 15k miles | residual 43% | .00176 base money factor
2012 XC-90 3.2 FWD Premier Plus
36-month | 15k miles | residual 52% | .00178 base money factor
48-month | 15k miles | residual 43% | .00176 base money factor
2012 XC-90 3.2 FWD Platinum
36-month | 15k miles | residual 50% | .00178 base money factor
48-month | 15k miles | residual 42% | .00176 base money factor
2012 XC-90 3.2 AWD R-Design
36-month | 15k miles | residual 53% | .00178 base money factor
48-month | 15k miles | residual 43% | .00176 base money factor
2012 XC-90 3.2 AWD R-Design Premier Plus
36-month | 15k miles | residual 52% | .00178 base money factor
48-month | 15k miles | residual 43% | .00176 base money factor
2012 XC-90 3.2 AWD R-Design Platinum
36-month | 15k miles | residual 50% | .00178 base money factor
48-month | 15k miles | residual 42% | .00176 base money factor
2012 XC-90 3.2 FWD R-Design
36-month | 15k miles | residual 51% | .00178 base money factor
48-month | 15k miles | residual 42% | .00176 base money factor
2012 XC-90 3.2 FWD R-Design Premium Plus
36-month | 15k miles | residual 50% | .00178 base money factor
48-month | 15k miles | residual 42% | .00176 base money factor
2012 XC-90 3.2 FWD R-Design Platinum
36-month | 15k miles | residual 49% | .00178 base money factor
48-month | 15k miles | residual 41% | .00176 base money factor