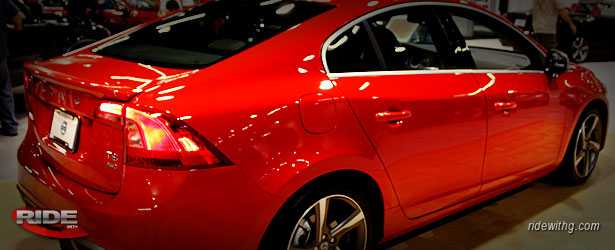 There has been a drop in residual values ranging from 1% to 2% for most models in the line up. Luckily, Volvo has adjusted the Money Factor to keep the lease from tanking. I actually prefer having a lower residual and lower money factor because it gives you the option of buying-out your lease at a more reasonable price should you love your car. If you are curious about the Lease-To-Buy scenario I just described, check out this LINK.
Moving onto a sample Volvo lease, the S60 is still an attractive lease, specially for returning customers. Below you will see a more "REAL WORLD" estimate based on a well-equipped S60 T5 with Sunroof. The lease is still good, but not as enticing as last month. TrueCar indicates about 8% off MSRP in the SoCal region excluding the $1000 loyalty cash is still available, which bumps the discount to about 10%. Without the loyalty cash, the lease drops to a 88.8 RWG rating which is still within an acceptable range, but not as ideal. Given a choice, I would recommend BUYING the car because you can get a lower interest rate of 0.9% for 48 months OR 1.9% for 72 months, both which are much lower than the 2.38% the MF converts to.
Lease rates was made available by the good folks at North Point Volvo. If you are in or near the Alpharetta, GA area and looking for a Volvo, please give them a call.


Here is a sample calculation based on TrueCar's Southern California sale price and do not include local taxes. Please note that your dealer calculations may vary due to local fees/taxes.
2012 S60 T-5
MSRP – $40,225
Sale Price – $36,114 ($1000 loyalty applied)
Monthly – $425+ tax
RWG Rating – 93.0
Support my site by getting your "no obligation" quotes from:
TrueCar.com
Yahoo! Autos
For folks in Georgia, contact North Point Volvo in Alpharetta.


2012 C30 T-5
36-month | 15k miles | residual 57% | .00143 base money factor
48-month | 15k miles | residual 46% | .00170 base money factor
2012 C30 T-5 Premier Plus
36-month | 15k miles | residual 56% | .00143 base money factor
48-month | 15k miles | residual 46% | .00170 base money factor
2012 C30 T-5 Platinum
36-month | 15k miles | residual 55% | .00143 base money factor
48-month | 15k miles | residual 45% | .00170 base money factor
2012 C30 T-5 R-Design
36-month | 15k miles | residual 55% | .00143 base money factor
48-month | 15k miles | residual 46% | .00170 base money factor
2012 C30 T-5 R-Design Premier Plus
36-month | 15k miles | residual 54% | .00143 base money factor
48-month | 15k miles | residual 45% | .00170 base money factor
2012 C30 T-5 R-Design Platinum
36-month | 15k miles | residual 53% | .00143 base money factor
48-month | 15k miles | residual 44% | .00170 base money factor
2012 C70 T-5
36-month | 15k miles | residual 53% | .00045 base money factor
48-month | 15k miles | residual 45% | .00104 base money factor
2012 C70 T-5 Premier Plus
36-month | 15k miles | residual 52% | .00045 base money factor
48-month | 15k miles | residual 44% | .00104 base money factor
2012 C70 T-5 Platinum
36-month | 15k miles | residual 51% | .00045 base money factor
48-month | 15k miles | residual 43% | .00104 base money factor
2012 S60 T-5
36-month | 15k miles | residual 57% | .00099 base money factor
48-month | 15k miles | residual 46% | .00144 base money factor
2012 S60 T-6
36-month | 15k miles | residual 54% | .00099 base money factor
48-month | 15k miles | residual 43% | .00144 base money factor
2012 S60 T-6 R-design
36-month | 15k miles | residual 52% | .00099 base money factor
48-month | 15k miles | residual 41% | .00144 base money factor
2012 S80 3.2
36-month | 15k miles | residual 50% | .00009 base money factor
48-month | 15k miles | residual 42% | .00114 base money factor
2012 S80 3.2 Premier Plus
36-month | 15k miles | residual 49% | .00009 base money factor
48-month | 15k miles | residual 41% | .00114 base money factor
2012 S80 3.2 Platinum
36-month | 15k miles | residual 48% | .00009 base money factor
48-month | 15k miles | residual 41% | .00114 base money factor
2012 S80 T-6 Premier Plus
36-month | 15k miles | residual 50% | .00046 base money factor
48-month | 15k miles | residual 43% | .00121 base money factor
2012 S80 T-6 Platinum
36-month | 15k miles | residual 49% | .00046 base money factor
48-month | 15k miles | residual 42% | .00121 base money factor
2012 XC-60 T-6 R-design
36-month | 15k miles | residual 49% | .00122 base money factor
48-month | 15k miles | residual 39% | .00148 base money factor
2012 XC-60 T-6 R-design Premier Plus
36-month | 15k miles | residual 48% | .00122 base money factor
48-month | 15k miles | residual 38% | .00148 base money factor
2012 XC-60 T-6 R-design Platinum
36-month | 15k miles | residual 47% | .00122 base money factor
48-month | 15k miles | residual 37% | .00148 base money factor
2012 XC-60 T-6
36-month | 15k miles | residual 51% | .00122 base money factor
48-month | 15k miles | residual 40% | .00148 base money factor
2012 XC-60 T-6 Premier Plus
36-month | 15k miles | residual 50% | .00122 base money factor
48-month | 15k miles | residual 39% | .00148 base money factor
2012 XC-60 T-6 Platinum
36-month | 15k miles | residual 48% | .00122 base money factor
48-month | 15k miles | residual 38% | .00148 base money factor
2012 XC-60 3.2 AWD
36-month | 15k miles | residual 50% | .00122 base money factor
48-month | 15k miles | residual 39% | .00148 base money factor
2012 XC-60 3.2 AWD Premier
36-month | 15k miles | residual 50% | .00122 base money factor
48-month | 15k miles | residual 39% | .00148 base money factor
2012 XC-60 3.2 AWD Premier Plus
36-month | 15k miles | residual 49% | .00122 base money factor
48-month | 15k miles | residual 38% | .00148 base money factor
2012 XC-60 3.2 AWD Platinum
36-month | 15k miles | residual 48% | .00122 base money factor
48-month | 15k miles | residual 37% | .00148 base money factor
2012 XC-60 3.2 FWD
36-month | 15k miles | residual 48% | .00122 base money factor
48-month | 15k miles | residual 37% | .00148 base money factor
2012 XC-60 3.2 FWD Premier
36-month | 15k miles | residual 48% | .00122 base money factor
48-month | 15k miles | residual 37% | .00148 base money factor
2012 XC-60 3.2 FWD Premier Plus
36-month | 15k miles | residual 47% | .00122 base money factor
48-month | 15k miles | residual 37% | .00148 base money factor
2012 XC-60 3.2 FWD Platinum
36-month | 15k miles | residual 47% | .00122 base money factor
48-month | 15k miles | residual 36% | .00148 base money factor
2012 XC-70 3.2 AWD
36-month | 15k miles | residual 53% | .000143 base money factor
48-month | 15k miles | residual 43% | .00170 base money factor
2012 XC-70 3.2 AWD Premier
36-month | 15k miles | residual 53% | .000143 base money factor
48-month | 15k miles | residual 43% | .00170 base money factor
2012 XC-70 3.2 AWD Premier Plus
36-month | 15k miles | residual 52% | .000143 base money factor
48-month | 15k miles | residual 42% | .00170 base money factor
2012 XC-70 3.2 AWD Platinum
36-month | 15k miles | residual 51% | .000143 base money factor
48-month | 15k miles | residual 42% | .00170 base money factor
2012 XC-70 3.2 FWD
36-month | 15k miles | residual 52% | .000143 base money factor
48-month | 15k miles | residual 42% | .00170 base money factor
2012 XC-70 3.2 FWD Premier
36-month | 15k miles | residual 52% | .000143 base money factor
48-month | 15k miles | residual 42% | .00170 base money factor
2012 XC-70 3.2 FWD Premier Plus
36-month | 15k miles | residual 51% | .000143 base money factor
48-month | 15k miles | residual 41% | .00170 base money factor
2012 XC-70 3.2 FWD Platinum
36-month | 15k miles | residual 50% | .000143 base money factor
48-month | 15k miles | residual 41% | .00170 base money factor
2012 XC-70 T-6
36-month | 15k miles | residual 53% | .000143 base money factor
48-month | 15k miles | residual 43% | .00170 base money factor
2012 XC-70 T-6 Premier Plus
36-month | 15k miles | residual 53% | .000143 base money factor
48-month | 15k miles | residual 43% | .00170 base money factor
2012 XC-70 T-6 Platinum
36-month | 15k miles | residual 52% | .000143 base money factor
48-month | 15k miles | residual 42% | .00170 base money factor
2012 XC-90 3.2 AWD
36-month | 15k miles | residual 53% | .00127 base money factor
48-month | 15k miles | residual 43% | .00150 base money factor
2012 XC-90 3.2 AWD Premier Plus
36-month | 15k miles | residual 52% | .00127 base money factor
48-month | 15k miles | residual 42% | .00150 base money factor
2012 XC-90 3.2 AWD Platinum
36-month | 15k miles | residual 51% | .00127 base money factor
48-month | 15k miles | residual 42% | .00150 base money factor
2012 XC-90 3.2 FWD
36-month | 15k miles | residual 51% | .00127 base money factor
48-month | 15k miles | residual 42% | .00150 base money factor
2012 XC-90 3.2 FWD Premier Plus
36-month | 15k miles | residual 50% | .00127 base money factor
48-month | 15k miles | residual 41% | .00150 base money factor
2012 XC-90 3.2 FWD Platinum
36-month | 15k miles | residual 49% | .00127 base money factor
48-month | 15k miles | residual 40% | .00150 base money factor
2012 XC-90 3.2 AWD R-Design
36-month | 15k miles | residual 52% | .00127 base money factor
48-month | 15k miles | residual 43% | .00150 base money factor
2012 XC-90 3.2 AWD R-Design Premier Plus
36-month | 15k miles | residual 51% | .00127 base money factor
48-month | 15k miles | residual 42% | .00150 base money factor
2012 XC-90 3.2 AWD R-Design Platinum
36-month | 15k miles | residual 50% | .00127 base money factor
48-month | 15k miles | residual 42% | .00150 base money factor
2012 XC-90 3.2 FWD R-Design
36-month | 15k miles | residual 51% | .00127 base money factor
48-month | 15k miles | residual 41% | .00150 base money factor
2012 XC-90 3.2 FWD R-Design Premium Plus
36-month | 15k miles | residual 50% | .00127 base money factor
48-month | 15k miles | residual 41% | .00150 base money factor
2012 XC-90 3.2 FWD R-Design Platinum
36-month | 15k miles | residual 49% | .00127 base money factor
48-month | 15k miles | residual 41% | .00150 base money factor