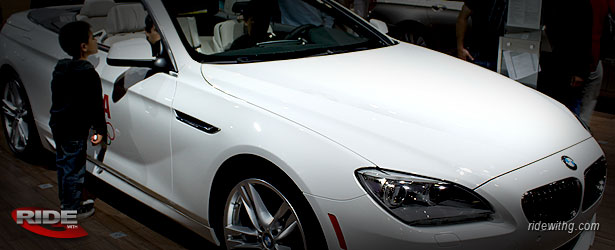 Happy New Year Everyone! I've been on vacation until last Tuesday and returned to work with a mountain load of stuff to do. So if you left me some time sensitive comments, I'm really sorry I didn't get a chance to answer them. Things should be back to normal now that the Holidays are over. Thanks for your understanding.
The have been some lease rates changes throughout the BMW lineup, specially on remaining 2011 3-series. Residual have taken a huge plunge and the money factors have gone up a bit. This expected since they are no longer "new". Roll over to last month's numbers and you will see what I mean. 2012 numbers still look alright since the residuals remain strong, the MF needs some work. I recommend "multiple security deposits" for those of you who are allowed to do so (instead of straight cap cost reduction). This should "buy" down the interest rate and save you some bucks. As for the sale price, don't expect a lot of breaks because the 3-series is newly redesigned. Like all things new; you gotta pay, to play.
There aren't any market statistics on the 2012 3-series yet, so my sample calculation this month will be based on the 2011 328ix which has a pretty decent 33-month lease going on right now.
Remember to check out Edmunds.com's Incentives page to see if any rebates may be available.


Here is a sample calculation based on TrueCar's Southern California sale price and do not include local taxes. Please note that your dealer calculations may vary due to local fees/taxes.
2011 BMW 328ix Sedan
MSRP – $40,425
Sale Price – $37,360
Monthly – $465+ tax
RWG Rating – 88.1
Support my site by getting your "no obligation" quotes from:
Edmunds.com
CarsDirect.com


2011 BMW 328i Sedan
36 Month – Residual 53% of MSRP – .00185 Base Rate
2011 BMW 328xi Sedan
36 Month – Residual 58% of MSRP – .00185 Base Rate
33 Month – Residual 64% of MSRP – .00185 Base Rate
2011 BMW 335i Sedan
36 Month – Residual 53% of MSRP – .00195 Base Rate
2011 BMW 335xi Sedan
36 Month – Residual 55% of MSRP – .00195 Base Rate
33 Month – Residual 61% of MSRP – .00195 Base Rate
2011 BMW 335d Diesel Sedan
36 Month – Residual 53% of MSRP – .00195 Base Rate
2011 BMW M3 Sedan
36 Month – Residual 49% of MSRP – .00195 Base Rate
2012 BMW 128i Coupe
36 Month – Residual 61% of MSRP – .00195 Base Rate
2012 BMW 128i Convertible
36 Month – Residual 62% of MSRP – .00195 Base Rate
2012 BMW 135i Coupe
36 Month – Residual 62% of MSRP – .00195 Base Rate
2012 BMW 135i Convertible
36 Month – Residual 62% of MSRP – .00195 Base Rate
2012 BMW 328i Coupe
36 Month – Residual 61% of MSRP – .00195 Base Rate
2012 BMW 328xi Coupe
36 Month – Residual 62% of MSRP – .00195 Base Rate
2012 BMW 328i Wagon
36 Month – Residual 61% of MSRP – .00180 Base Rate
2012 BMW 328xi Wagon
36 Month – Residual 60% of MSRP – .00190 Base Rate
2012 BMW 328i Convertible
36 Month – Residual 63% of MSRP – .00195 Base Rate
2012 BMW 335i Coupe
36 Month – Residual 61% of MSRP – .00195 Base Rate
2012 BMW 335is Coupe
36 Month – Residual 60% of MSRP – .00195 Base Rate
2012 BMW 335xi Coupe
36 Month – Residual 61% of MSRP – .00195 Base Rate
2012 BMW 335i Convertible
36 Month – Residual 62% of MSRP – .00195 Base Rate
2012 BMW 335is Convertible
36 Month – Residual 62% of MSRP – .00195 Base Rate
2012 BMW M3 Coupe
36 Month – Residual 59% of MSRP – .00195 Base Rate
2012 BMW M3 Convertible
36 Month – Residual 60% of MSRP – .00195 Base Rate
2012 BMW 528i Sedan
36 Month – Residual 58% of MSRP – .00190 Base Rate
2012 BMW 528i xDrive Sedan
36 Month – Residual 59% of MSRP – .00190 Base Rate
2012 BMW 535i Sedan
36 Month – Residual 56% of MSRP – .00185 Base Rate
2012 BMW 535i xDrive Sedan
36 Month – Residual 56% of MSRP – .00185 Base Rate
2012 BMW 550i Sedan
36 Month – Residual 56% of MSRP – .00190 Base Rate
2012 BMW 550i xDrive Sedan
36 Month – Residual 56% of MSRP – .00190 Base Rate
2012 BMW 550i GT xDrive Sedan
36 Month – Residual 60% of MSRP – .00195 Base Rate
2012 BMW 650i Coupe
36 Month – Residual 62% of MSRP – .00195 Base Rate
2012 BMW 650i Convertible
36 Month – Residual 62% of MSRP – .00195 Base Rate
2012 BMW 740i Sedan
36 Month – Residual 63% of MSRP – .00195 Base Rate
2012 BMW 740Li Sedan
36 Month – Residual 63% of MSRP – .00195 Base Rate
2012 BMW 750i Sedan
36 Month – Residual 62% of MSRP – .00195 Base Rate
2012 BMW 750i xDrive Sedan
36 Month – Residual 62% of MSRP – .00195 Base Rate
2012 BMW 750li Sedan
36 Month – Residual 62% of MSRP – .00195 Base Rate
2012 BMW 750li xDrive Sedan
36 Month – Residual 62% of MSRP – .00195 Base Rate
2012 BMW X3 xDrive28i SUV
36 Month – Residual 55% of MSRP – .00195 Base Rate
2012 BMW X3 xDrive35i SUV
36 Month – Residual 55% of MSRP – .00195 Base Rate
2012 BMW X5 xDrive35i Premium SUV
36 Month – Residual 59% of MSRP – .00195 Base Rate
2012 BMW X5 xDrive35d Diesel SUV
36 Month – Residual 56% of MSRP – .00195 Base Rate
2012 BMW X5 xDrive35i Sport Activity SUV
36 Month – Residual 58% of MSRP – .00195 Base Rate
2012 BMW X5 xDrive50i SUV
36 Month – Residual 61% of MSRP – .00195 Base Rate
2012 BMW X5 M SUV
36 Month – Residual 54% of MSRP – .00195 Base Rate
2012 BMW X6 xDrive35i Crossover
36 Month – Residual 60% of MSRP – .00195 Base Rate
2012 BMW X6 xDrive50i Crossover
36 Month – Residual 61% of MSRP – .00195 Base Rate
2012 BMW X6 M Crossover
36 Month – Residual 53% of MSRP – .00195 Base Rate
2012 BMW Z4 sDrive28i
36 Month – Residual 65% of MSRP – .00195 Base Rate
2012 BMW Z4 sDrive35i
36 Month – Residual 65% of MSRP – .00195 Base Rate
2012 BMW Z4 sDrive35is
36 Month – Residual 65% of MSRP – .00195 Base Rate