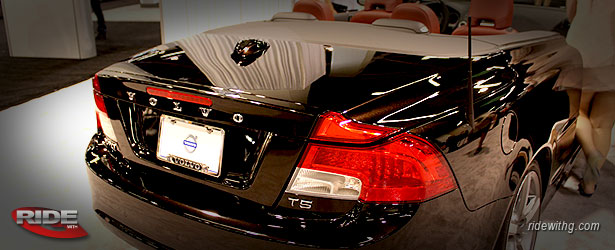 I know this is late, but I just got these numbers a couple days ago, plus I've been slammed with work at the office and at home. Better late than never I say. I think that these numbers should remain useful through the month of February anyway, so you technically have more than a month to use them. As always, any changes will be posted. Oh, before I forget, notice the 2013 lease rates for the XC90! Nice and early!
I honestly think that Volvo has done a good job crawling back into the leasing landscape. Their rates are very competitive and their discounts are decent. I'm seeing about 4% to 5% off MSRP in the SoCal region for S60s via TrueCar. Not a huge discount, but $1000 loyalty cash is available. Please note that the financing rates are quite competitive as well should you choose to buy instead. Last month's RWG rating on the S60 T5 was about 93.0. This month, we're looking at around 90.2. Yes, the deal isn't as good as during the Holiday season, but January leases rarely are. However, this rating is still within the "GOOD LEASE" range.
Lease rates was made available by the good folks at North Point Volvo. If you are in or near the Alpharetta, GA area and looking for a Volvo, please give them a call.


Here is a sample calculation based on TrueCar's Southern California sale price and do not include local taxes. Please note that your dealer calculations may vary due to local fees/taxes.
2012 S60 T-5
MSRP – $34,075
Sale Price – $31,623 ($1000 loyalty applied)
Monthly – $375+ tax
RWG Rating – 90.2
Support my site by getting your "no obligation" quotes from:
TrueCar
Edmunds.com
CarsDirect.com
For folks in Georgia, contact North Point Volvo in Alpharetta.

2012
2012 C30 T-5
36-month | 15k miles | residual 56% | .00133 base money factor
48-month | 15k miles | residual 45% | .00160 base money factor
2012 C30 T-5 Premier Plus
36-month | 15k miles | residual 55% | .00133 base money factor
48-month | 15k miles | residual 45% | .00160 base money factor
2012 C30 T-5 Platinum
36-month | 15k miles | residual 54% | .00133 base money factor
48-month | 15k miles | residual 44% | .00160 base money factor
2012 C30 T-5 R-Design
36-month | 15k miles | residual 54% | .00133 base money factor
48-month | 15k miles | residual 45% | .00160 base money factor
2012 C30 T-5 R-Design Premier Plus
36-month | 15k miles | residual 53% | .00133 base money factor
48-month | 15k miles | residual 44% | .00160 base money factor
2012 C30 T-5 R-Design Platinum
36-month | 15k miles | residual 52% | .00133 base money factor
48-month | 15k miles | residual 43% | .00160 base money factor
2012 C70 T-5
36-month | 15k miles | residual 52% | .00035 base money factor
48-month | 15k miles | residual 44% | .00082 base money factor
2012 C70 T-5 Premier Plus
36-month | 15k miles | residual 51% | .00035 base money factor
48-month | 15k miles | residual 43% | .00082 base money factor
2012 C70 T-5 Platinum
36-month | 15k miles | residual 50% | .00035 base money factor
48-month | 15k miles | residual 42% | .00082 base money factor
2012 S60 T-5
36-month | 15k miles | residual 55% | .00035 base money factor
48-month | 15k miles | residual 44% | .00082 base money factor
2012 S60 T-6
36-month | 15k miles | residual 52% | .00021 base money factor
48-month | 15k miles | residual 41% | .00066 base money factor
2012 S60 T-6 R-design
36-month | 15k miles | residual 50% | .00021 base money factor
48-month | 15k miles | residual 40% | .00066 base money factor
2012 S80 3.2
36-month | 15k miles | residual 49% | .00002 base money factor
48-month | 15k miles | residual 41% | .00066 base money factor
2012 S80 3.2 Premier Plus
36-month | 15k miles | residual 48% | .00002 base money factor
48-month | 15k miles | residual 41% | .00066 base money factor
2012 S80 3.2 Platinum
36-month | 15k miles | residual 47% | .00002 base money factor
48-month | 15k miles | residual 40% | .00066 base money factor
2012 S80 T-6 Premier Plus
36-month | 15k miles | residual 49% | .00021 base money factor
48-month | 15k miles | residual 41% | .00066 base money factor
2012 S80 T-6 Platinum
36-month | 15k miles | residual 48% | .00021 base money factor
48-month | 15k miles | residual 42% | .00121 base money factor
2012 XC-60 T-6 R-design
36-month | 15k miles | residual 48% | .00112 base money factor
48-month | 15k miles | residual 39% | .00138 base money factor
2012 XC-60 T-6 R-design Premier Plus
36-month | 15k miles | residual 48% | .00112 base money factor
48-month | 15k miles | residual 38% | .00138 base money factor
2012 XC-60 T-6 R-design Platinum
36-month | 15k miles | residual 47% | .00112 base money factor
48-month | 15k miles | residual 37% | .00138 base money factor
2012 XC-60 T-6
36-month | 15k miles | residual 50% | .00112 base money factor
48-month | 15k miles | residual 40% | .00138 base money factor
2012 XC-60 T-6 Premier Plus
36-month | 15k miles | residual 49% | .00112 base money factor
48-month | 15k miles | residual 39% | .00138 base money factor
2012 XC-60 T-6 Platinum
36-month | 15k miles | residual 48% | .00112 base money factor
48-month | 15k miles | residual 38% | .00138 base money factor
2012 XC-60 3.2 AWD
36-month | 15k miles | residual 50% | .00112 base money factor
48-month | 15k miles | residual 39% | .00138 base money factor
2012 XC-60 3.2 AWD Premier
36-month | 15k miles | residual 49% | .00112 base money factor
48-month | 15k miles | residual 38% | .00138 base money factor
2012 XC-60 3.2 AWD Premier Plus
36-month | 15k miles | residual 48% | .00112 base money factor
48-month | 15k miles | residual 38% | .00138 base money factor
2012 XC-60 3.2 AWD Platinum
36-month | 15k miles | residual 47% | .00112 base money factor
48-month | 15k miles | residual 37% | .00138 base money factor
2012 XC-60 3.2 FWD
36-month | 15k miles | residual 47% | .00112 base money factor
48-month | 15k miles | residual 37% | .00138 base money factor
2012 XC-60 3.2 FWD Premier
36-month | 15k miles | residual 47% | .00112 base money factor
48-month | 15k miles | residual 37% | .00138 base money factor
2012 XC-60 3.2 FWD Premier Plus
36-month | 15k miles | residual 46% | .00112 base money factor
48-month | 15k miles | residual 36% | .00138 base money factor
2012 XC-60 3.2 FWD Platinum
36-month | 15k miles | residual 45% | .00112 base money factor
48-month | 15k miles | residual 35% | .00138 base money factor
2012 XC-70 3.2 AWD
36-month | 15k miles | residual 52% | .00133 base money factor
48-month | 15k miles | residual 42% | .00160 base money factor
2012 XC-70 3.2 AWD Premier
36-month | 15k miles | residual 52% | .00133 base money factor
48-month | 15k miles | residual 42% | .00160 base money factor
2012 XC-70 3.2 AWD Premier Plus
36-month | 15k miles | residual 51% | .00133 base money factor
48-month | 15k miles | residual 41% | .00160 base money factor
2012 XC-70 3.2 AWD Platinum
36-month | 15k miles | residual 51% | .00133 base money factor
48-month | 15k miles | residual 42% | .00160 base money factor
2012 XC-70 3.2 FWD
36-month | 15k miles | residual 51% | .00133 base money factor
48-month | 15k miles | residual 42% | .00160 base money factor
2012 XC-70 3.2 FWD Premier
36-month | 15k miles | residual 51% | .00133 base money factor
48-month | 15k miles | residual 42% | .00160 base money factor
2012 XC-70 3.2 FWD Premier Plus
36-month | 15k miles | residual 50% | .00133 base money factor
48-month | 15k miles | residual 41% | .00160 base money factor
2012 XC-70 3.2 FWD Platinum
36-month | 15k miles | residual 49% | .00133 base money factor
48-month | 15k miles | residual 40% | .00160 base money factor
2012 XC-70 T-6
36-month | 15k miles | residual 53% | .00133 base money factor
48-month | 15k miles | residual 43% | .00160 base money factor
2012 XC-70 T-6 Premier Plus
36-month | 15k miles | residual 53% | .00133 base money factor
48-month | 15k miles | residual 43% | .00160 base money factor
2012 XC-70 T-6 Platinum
36-month | 15k miles | residual 52% | .00133 base money factor
48-month | 15k miles | residual 42% | .00160 base money factor
2012 XC-90 3.2 AWD
36-month | 15k miles | residual 53% | .00127 base money factor
48-month | 15k miles | residual 43% | .00150 base money factor
2012 XC-90 3.2 AWD Premier Plus
36-month | 15k miles | residual 52% | .00127 base money factor
48-month | 15k miles | residual 42% | .00150 base money factor
2012 XC-90 3.2 AWD Platinum
36-month | 15k miles | residual 51% | .00127 base money factor
48-month | 15k miles | residual 42% | .00150 base money factor
2012 XC-90 3.2 FWD
36-month | 15k miles | residual 51% | .00127 base money factor
48-month | 15k miles | residual 42% | .00150 base money factor
2012 XC-90 3.2 FWD Premier Plus
36-month | 15k miles | residual 50% | .00127 base money factor
48-month | 15k miles | residual 41% | .00150 base money factor
2012 XC-90 3.2 FWD Platinum
36-month | 15k miles | residual 49% | .00127 base money factor
48-month | 15k miles | residual 40% | .00150 base money factor
2012 XC-90 3.2 AWD R-Design
36-month | 15k miles | residual 52% | .00127 base money factor
48-month | 15k miles | residual 43% | .00150 base money factor
2012 XC-90 3.2 AWD R-Design Premier Plus
36-month | 15k miles | residual 51% | .00127 base money factor
48-month | 15k miles | residual 42% | .00150 base money factor
2012 XC-90 3.2 AWD R-Design Platinum
36-month | 15k miles | residual 50% | .00127 base money factor
48-month | 15k miles | residual 42% | .00150 base money factor
2012 XC-90 3.2 FWD R-Design
36-month | 15k miles | residual 51% | .00127 base money factor
48-month | 15k miles | residual 41% | .00150 base money factor
2012 XC-90 3.2 FWD R-Design Premium Plus
36-month | 15k miles | residual 50% | .00127 base money factor
48-month | 15k miles | residual 41% | .00150 base money factor
2012 XC-90 3.2 FWD R-Design Platinum
36-month | 15k miles | residual 49% | .00127 base money factor
48-month | 15k miles | residual 41% | .00150 base money factor
2013
2013 XC-90 3.2 AWD
36-month | 15k miles | residual 57% | .00178 base money factor
48-month | 15k miles | residual 47% | .00175 base money factor
2013 XC-90 3.2 AWD Premier Plus
36-month | 15k miles | residual 56% | .00178 base money factor
48-month | 15k miles | residual 46% | .00175 base money factor
2013 XC-90 3.2 AWD Platinum
36-month | 15k miles | residual 55% | .00178 base money factor
48-month | 15k miles | residual 45% | .00175 base money factor
2013 XC-90 3.2 FWD
36-month | 15k miles | residual 55% | .00178 base money factor
48-month | 15k miles | residual 46% | .00175 base money factor
2013 XC-90 3.2 FWD Premier Plus
36-month | 15k miles | residual 54% | .00178 base money factor
48-month | 15k miles | residual 45% | .00175 base money factor
2013 XC-90 3.2 FWD Platinum
36-month | 15k miles | residual 54% | .00178 base money factor
48-month | 15k miles | residual 44% | .00175 base money factor
2013 XC-90 3.2 AWD R-Design
36-month | 15k miles | residual 58% | .00178 base money factor
48-month | 15k miles | residual 48% | .00175 base money factor
2013 XC-90 3.2 AWD R-Design Premier Plus
36-month | 15k miles | residual 57% | .00178 base money factor
48-month | 15k miles | residual 47% | .00175 base money factor
2013 XC-90 3.2 AWD R-Design Platinum
36-month | 15k miles | residual 56% | .00178 base money factor
48-month | 15k miles | residual 46% | .00175 base money factor
2013 XC-90 3.2 FWD R-Design
36-month | 15k miles | residual 57% | .00178 base money factor
48-month | 15k miles | residual 47% | .00175 base money factor
2013 XC-90 3.2 FWD R-Design Premium Plus
36-month | 15k miles | residual 55% | .00178 base money factor
48-month | 15k miles | residual 46% | .00175 base money factor
2013 XC-90 3.2 FWD R-Design Platinum
36-month | 15k miles | residual 55% | .00178 base money factor
48-month | 15k miles | residual 45% | .00175 base money factor