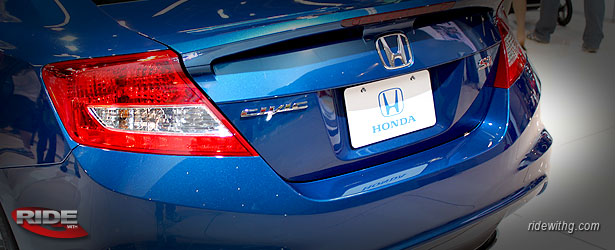 Honda numbers got a little worse this month. Residuals did drop on most models, but MF were also lowered to compensate. Some models did get a MF bump though (Pilot and CrossTour, to name a couple), but they are still fairly decent leases for vehicles in their respective class. I expect lease rates to remain the same through the end of February, so if you don't like what you are seeing, hold out to see what March numbers will look like.
Last month's Pilot EX-L 4WD lease came in at a 92.4 RWG rating. This month it comes in at 88.1, which is not as good due to MF bump and slightly higher average sale price.


Here is a sample calculation based on TrueCar's Southern California sale price and do not include local taxes. Please note that your dealer calculations may vary due to local fees/taxes.
2012 HONDA PILOT 4WD EX-L
MSRP – $36,980
Sale Price – $34,031
Monthly – $421+ tax
RWG Rating – 88.1
Support my site by getting your "no obligation" quotes from:
Edmunds.com
CarsDirect.com


2012 HONDA ACCORD COUPE EX-L V6
36 Month – Residual 51% of MSRP – .00033 Base Rate
2012 HONDA ACCORD SEDAN EX-L V6
36 Month – Residual 51% of MSRP – .00033 Base Rate
2012 HONDA ACCORD SEDAN EX AT
36 Month – Residual 56% of MSRP – .00033 Base Rate
2012 HONDA CIVIC COUPE EX AT
36 Month – Residual 58% of MSRP – .00081 Base Rate
2012 HONDA CIVIC SEDAN EX AT
36 Month – Residual 60% of MSRP – .00081 Base Rate
2012 HONDA CROSSTOUR 2WD EX-L
36 Month – Residual 54% of MSRP – .00087 Base Rate
2012 HONDA CROSSTOUR 4WD EX-L
36 Month – Residual 54% of MSRP – .00087 Base Rate
2012 HONDA FIT SPORT HATCHBACK AT
36 Month – Residual 60% of MSRP – .00185 Base Rate
2012 HONDA ODYSSEY EX-L AT
36 Month – Residual 57% of MSRP – .00138 Base Rate
2012 HONDA PILOT 4WD EX-L
36 Month – Residual 55% of MSRP – .00075 Base Rate
2012 HONDA CR-V 4WD EX-L AT
36 Month – Residual 62% of MSRP – .00185 Base Rate
2012 HONDA CR-Z EX AT
36 Month – Residual 62% of MSRP – .00185 Base Rate
2012 HONDA RIDGELINE RTL
36 Month – Residual 55% of MSRP – .00185 Base Rate