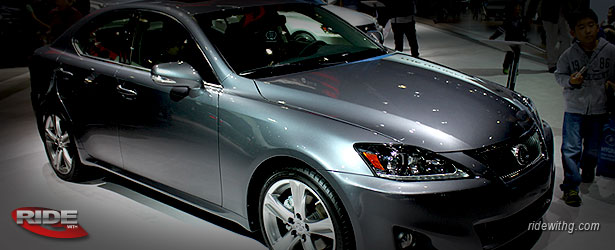 Lease rates during the Holidays were a lot better than this month. No surprise there. January has never been the best time to lease cars. Buying is not bad because special financing usually carries over from the Holiday Season. It's even better when you can find an unsold 2011 models since discounts are even more significant.
On a brighter note, the convertibles do sport a pretty good residual and decent money factor. TrueCar reports about 10% discount off MSRP in the SoCal market, so it might be worth a look. Check out the calculation below to get an idea where your payments would start.


Here is a sample calculation based on TrueCar's Southern California sale price and do not include local taxes. Please note that your dealer calculations may vary due to local fees/taxes.
2012 LEXUS IS250 AT CONV
MSRP – $42065
Sale Price – $38065
Monthly – $451+ tax
RWG Rating – 91.9
Support my site by getting your "no obligation" quotes from:
Edmunds.com
CarsDirect.com


2012 LEXUS CT200H HYBRID PREMIUM
36 Month – Residual 59% of MSRP – .00160 Base Rate
2012 LEXUS ES350
36 Month – Residual 56% of MSRP – .00150 Base Rate
2012 LEXUS GX460
36 Month – Residual 53% of MSRP – .00190 Base Rate
2012 LEXUS HS250H
36 Month – Residual 54% of MSRP – .00190 Base Rate
2012 LEXUS IS250 AT SDN
36 Month – Residual 59% of MSRP – .00190 Base Rate
2012 LEXUS IS250 AWD AT SDN
36 Month – Residual 59% of MSRP – .00190 Base Rate
2012 LEXUS IS250 AT CONV
36 Month – Residual 60% of MSRP – .00150 Base Rate
2012 LEXUS IS350 AWD AT SEDAN
36 Month – Residual 56% of MSRP – .00190 Base Rate
2012 LEXUS IS350 CONV
36 Month – Residual 57% of MSRP – .00150 Base Rate
2012 LEXUS IS-F
36 Month – Residual 55% of MSRP – .00190 Base Rate
2012 LEXUS LS460 AWD
36 Month – Residual 53% of MSRP – .00190 Base Rate
2012 LEXUS RX350 AWD
36 Month – Residual 57% of MSRP – .00130 Base Rate
2012 LEXUS RX450H AWD
36 Month – Residual 56% of MSRP – .00160 Base Rate