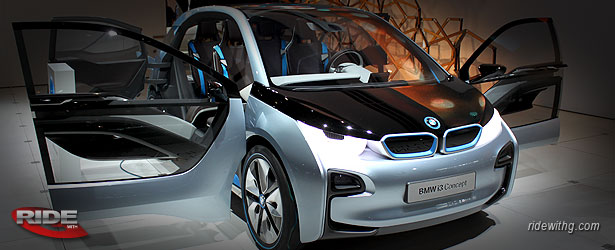 BMW lease rates remain the same. January sales numbers seemed to have inched up significantly. Take the 2011 BMW 328ix for example…We were looking at a sale price of about 7.5% off MSRP. Now it's more like 6% (according to TrueCar). 2012 3-Series sale price were about 5% of MSRP on the same model. Discounts may very depending on trim and your region. Now that we have more 2012 data lets take at look at the sample calculation below.
I don't have any special recommendations for BMWs this month, but I would suggest checking out remaining 2011 models before taking the plunge on the 2012s.
Remember to check out Edmunds.com's Incentives page to see if any rebates may be available.


Here is a sample calculation based on TrueCar's Southern California sale price and do not include local taxes. Please note that your dealer calculations may vary due to local fees/taxes.
2012 BMW 328ix Sedan
MSRP – $41,295
Sale Price – $39,415
Monthly – $510+ tax
RWG Rating – 83.3


2011 BMW 328i Sedan
36 Month – Residual 53% of MSRP – .00185 Base Rate
2011 BMW 328xi Sedan
36 Month – Residual 58% of MSRP – .00185 Base Rate
33 Month – Residual 64% of MSRP – .00185 Base Rate
2011 BMW 335i Sedan
36 Month – Residual 53% of MSRP – .00195 Base Rate
2011 BMW 335xi Sedan
36 Month – Residual 55% of MSRP – .00195 Base Rate
33 Month – Residual 61% of MSRP – .00195 Base Rate
2011 BMW 335d Diesel Sedan
36 Month – Residual 53% of MSRP – .00195 Base Rate
2012 BMW 128i Coupe
36 Month – Residual 61% of MSRP – .00195 Base Rate
2012 BMW 128i Convertible
36 Month – Residual 62% of MSRP – .00195 Base Rate
2012 BMW 135i Coupe
36 Month – Residual 62% of MSRP – .00195 Base Rate
2012 BMW 135i Convertible
36 Month – Residual 62% of MSRP – .00195 Base Rate
2012 BMW 328i Coupe
36 Month – Residual 61% of MSRP – .00195 Base Rate
2012 BMW 328xi Coupe
36 Month – Residual 62% of MSRP – .00195 Base Rate
2012 BMW 328i Wagon
36 Month – Residual 61% of MSRP – .00180 Base Rate
2012 BMW 328xi Wagon
36 Month – Residual 60% of MSRP – .00190 Base Rate
2012 BMW 328i Convertible
36 Month – Residual 63% of MSRP – .00195 Base Rate
2012 BMW 335i Coupe
36 Month – Residual 61% of MSRP – .00195 Base Rate
2012 BMW 335is Coupe
36 Month – Residual 60% of MSRP – .00195 Base Rate
2012 BMW 335xi Coupe
36 Month – Residual 61% of MSRP – .00195 Base Rate
2012 BMW 335i Convertible
36 Month – Residual 62% of MSRP – .00195 Base Rate
2012 BMW 335is Convertible
36 Month – Residual 62% of MSRP – .00195 Base Rate
2012 BMW 328i Sedan – ALL LINES
36 Month – Residual 62% of MSRP – .00195 Base Rate
2012 BMW 335i Sedan – ALL LINES
36 Month – Residual 62% of MSRP – .00195 Base Rate
2012 BMW M3 Coupe
36 Month – Residual 59% of MSRP – .00195 Base Rate
2012 BMW M3 Convertible
36 Month – Residual 60% of MSRP – .00195 Base Rate
2012 BMW 528i Sedan
36 Month – Residual 58% of MSRP – .00190 Base Rate
2012 BMW 528i xDrive Sedan
36 Month – Residual 59% of MSRP – .00190 Base Rate
2012 BMW 535i Sedan
36 Month – Residual 56% of MSRP – .00185 Base Rate
2012 BMW 535i xDrive Sedan
36 Month – Residual 56% of MSRP – .00185 Base Rate
2012 BMW 550i Sedan
36 Month – Residual 56% of MSRP – .00190 Base Rate
2012 BMW 550i xDrive Sedan
36 Month – Residual 56% of MSRP – .00190 Base Rate
2012 BMW 550i GT xDrive Sedan
36 Month – Residual 60% of MSRP – .00195 Base Rate
2012 BMW 650i Coupe
36 Month – Residual 62% of MSRP – .00195 Base Rate
2012 BMW 650i Convertible
36 Month – Residual 62% of MSRP – .00195 Base Rate
2012 BMW 740i Sedan
36 Month – Residual 63% of MSRP – .00195 Base Rate
2012 BMW 740Li Sedan
36 Month – Residual 63% of MSRP – .00195 Base Rate
2012 BMW 750i Sedan
36 Month – Residual 62% of MSRP – .00195 Base Rate
2012 BMW 750i xDrive Sedan
36 Month – Residual 62% of MSRP – .00195 Base Rate
2012 BMW 750li Sedan
36 Month – Residual 62% of MSRP – .00195 Base Rate
2012 BMW 750li xDrive Sedan
36 Month – Residual 62% of MSRP – .00195 Base Rate
2012 BMW X3 xDrive28i SUV
36 Month – Residual 55% of MSRP – .00195 Base Rate
2012 BMW X3 xDrive35i SUV
36 Month – Residual 55% of MSRP – .00195 Base Rate
2012 BMW X5 xDrive35i Premium SUV
36 Month – Residual 59% of MSRP – .00195 Base Rate
2012 BMW X5 xDrive35d Diesel SUV
36 Month – Residual 56% of MSRP – .00195 Base Rate
2012 BMW X5 xDrive35i Sport Activity SUV
36 Month – Residual 58% of MSRP – .00195 Base Rate
2012 BMW X5 xDrive50i SUV
36 Month – Residual 61% of MSRP – .00195 Base Rate
2012 BMW X5 M SUV
36 Month – Residual 54% of MSRP – .00195 Base Rate
2012 BMW X6 xDrive35i Crossover
36 Month – Residual 60% of MSRP – .00195 Base Rate
2012 BMW X6 xDrive50i Crossover
36 Month – Residual 61% of MSRP – .00195 Base Rate
2012 BMW X6 M Crossover
36 Month – Residual 53% of MSRP – .00195 Base Rate
2012 BMW Z4 sDrive28i
36 Month – Residual 65% of MSRP – .00195 Base Rate
2012 BMW Z4 sDrive35i
36 Month – Residual 65% of MSRP – .00195 Base Rate
2012 BMW Z4 sDrive35is
36 Month – Residual 65% of MSRP – .00195 Base Rate