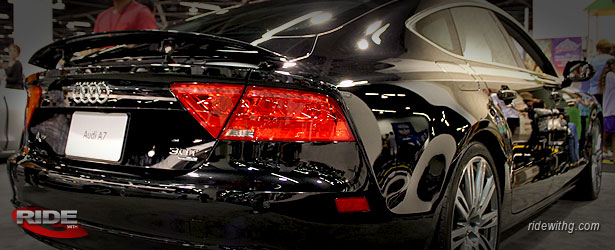 There is no change to Audi numbers this month. If you haven't noticed the pattern, it seems lease rates change every other month in most cases. There have been a few times where numbers either changed monthly or bi-monthly, but it's been monthly every other month. Expect lease rates to change in March.
I don't have any recommendations for Audi's this month because they just don't look very attractive. Without any incentives, you are looking at anywhere from 0% off MSRP to about 3%, depending on the model. If you factor in the lukewarm lease numbers, you pretty much get a below average lease. Alternatively, there are decent 60-month financing rates available for select models, such as 1.9% for the A3.


Here is a sample calculation based on TrueCar's Southern California sale price and do not include local taxes. Please note that your dealer calculations may vary due to local fees/taxes.
2012 AUDI A3 2.0T QUATTRO PREMIUM AT
MSRP – $31,725
Sale Price – $29,802 ($1000 loyalty cash applied)
Monthly – $411+ tax
RWG Rating – 80.7


2012 AUDI A3 2.0T QUATTRO PREMIUM AT
36 Month – Residual 54% of MSRP – .00126 Base Rate
2012 AUDI A4 2.0T QUATTRO PREMIUM AT
36 Month – Residual 54% of MSRP – .00098 Base Rate
2012 AUDI A5 2.0T COUPE QUATTRO PREMIUM AT
36 Month – Residual 54% of MSRP – .00140 Base Rate
2012 AUDI A5 2.0T CONVERTIBLE QUATTRO PREMIUM AT
36 Month – Residual 53% of MSRP – .00120 Base Rate
2012 AUDI A6 3.0L QUATTRO PREMIUM
36 Month – Residual 49% of MSRP – .00089 Base Rate
2012 AUDI A6 3.0L QUATTRO PREMIUM PLUS
36 Month – Residual 49% of MSRP – .00089 Base Rate
2012 AUDI A7 PREMIUM PLUS
36 Month – Residual 51% of MSRP – .00161 Base Rate
2012 AUDI A8 SEDAN
36 Month – Residual 45% of MSRP – .00077 Base Rate
2012 AUDI Q5 2.0L PREMIUM
36 Month – Residual 51% of MSRP – .00155 Base Rate
2012 AUDI Q7 3.0L PREMIUM
36 Month – Residual 52% of MSRP – .00155 Base Rate
2012 AUDI Q7 3.0L TDI PREMIUM
36 Month – Residual 54% of MSRP – .00154 Base Rate
2012 AUDI S4 PREMIUM PLUS AT
36 Month – Residual 56% of MSRP – .00080 Base Rate
2012 AUDI S5 COUPE PREMIUM PLUS AT
36 Month – Residual 57% of MSRP – .00117 Base Rate
2012 AUDI S5 CONVERTIBLE PREMIUM PLUS AT
36 Month – Residual 56% of MSRP – .00122 Base Rate
2012 AUDI TT 2.0T QUATTRO PREMIUM PLUS
36 Month – Residual 51% of MSRP – .00053 Base Rate