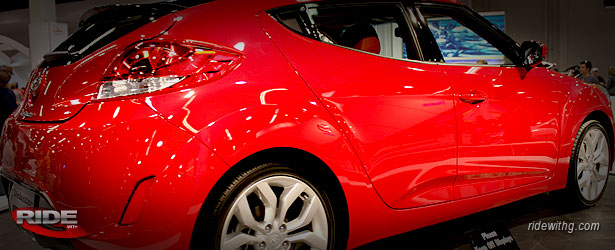 The only car qualifying as a "deal" right now is the Sonata 2.0T SE. There is a lot of cash available right now, but not a lot of discounts off MSRP w/o using manufacturer incentives. The one thing I recommend is that you be careful when you lease a Hyundai. The payments are VERY attractive since they are generally $200-$300 per month for most cars, but they are also fairly inexpensive cars, so you don't want to end up overpaying.
For example, leasing a Genesis Coupe for $300 a month +tax and inceptions isn't all that bad, but the car's MSRP is only $24k. So keep that in mind. Same goes for the other low priced models such as the Elantra, Accent and Veloster.


Here is a sample calculation based on TrueCar's Southern California sale price and do not include local taxes. Please note that your dealer calculations may vary due to local fees/taxes.
2012 Hyundai Sonata SE 2.0T
MSRP – $25,520
Sale Price – $22,274 ($1500 lease + $500 loyalty cash applied)
Monthly – $266+ tax
RWG Rating – 93.8


2012 HYUNDAI ELANTRA GLS AT
36 Month – Residual 61% of MSRP – .00190 Base Rate
2012 HYUNDAI ACCENT SEDAN GLS AT
36 Month – Residual 54% of MSRP – .00090 Base Rate
2012 HYUNDAI GENESIS 3.8L V6
36 Month – Residual 54% of MSRP – .00136 Base Rate
2012 HYUNDAI GENESIS COUPE 2.0T AT
36 Month – Residual 57% of MSRP – .00185 Base Rate
2012 HYUNDAI SANTA FE AWD GLS
36 Month – Residual 51% of MSRP – .00157 Base Rate
2012 HYUNDAI SONATA GLS AT
36 Month – Residual 56% of MSRP – .00140 Base Rate
2012 HYUNDAI SONATA SE 2.0T
36 Month – Residual 57% of MSRP – .00140 Base Rate
2012 HYUNDAI SONATA LIMITED 2.0T
36 Month – Residual 54% of MSRP – .00190 Base Rate
2012 HYUNDAI TUCSON AWD GLS
36 Month – Residual 55% of MSRP – .00187 Base Rate
2012 HYUNDAI VELOSTER COUPE AT
36 Month – Residual 55% of MSRP – .00129 Base Rate
2012 HYUNDAI VERACRUZ AWD GLS
36 Month – Residual 54% of MSRP – .00128 Base Rate