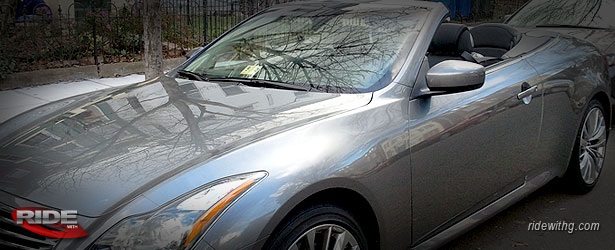 Name: Anonymous
Location: D.C.
What He's Got:
2011 Infiniti G37S Convertible
Premium, Navigation, Sport package, splash guards, illuminated kick plates
Storm Grey with Black Interior
What It Cost:
MSRP: 53,830
Sale Price: 46,122.79
Money Factor: .00060
Term: 36 months
Residual: 53%
Sales tax: 10% (Washington D.C.)
$873.09 due at signing (includes first months payment)
$586.75 a month
Anonymous' Comments
I will say when I picked out this car I did not want the Sport Package (the wheels and the paddle shifters etc.) but I gotta say the paddle-shifters are great as they basically turn the car into a full manual and really help make it a fun ride! I have a feeling I am going to pay for it when I have to buy tires in 10k miles and brakes in 15k but overall its a blast to drive. The navigation and sound system are great (I am a bit of gadget nut) and all the different features and settings are great to play around with. The car does suck down gas – after a week of driving mostly city I am averaging just under 15mpg but I guess thats the price of having such a powerful engine.
Anonymous' Deal Background
I used Truecar to help me pick a sale price of $46,100 (about 15% below invoice and only showing one car sold at that price nationwide). I traded in a 2001 Nissan Altima with 113k miles on it to reduce the cap cost down a bit (Carmax said it was worth $1200, dealer gave me $2500 for it). I probably left $500-$750 on the table now that I look at it/think about it a bit more – dealer said he would get the sale price down to the Truecar quoted $46,100 with the Altima trade-in but I didn't realize the Truecar quote included $895 of acquisition/doc fees so I should've factored that in when the dealer added ~$1300 in TTL/Dealer fees (DC has an expensive parking/license fee on new cars) on top of an initial agreed upon sale price of ~$47200 and then deducted the $2500 Altima to get to the final sale price of $46,122.
They did throw in the 15k and 30k service's plus free oil changes for life and that helped smooth the deal along – they don't get many people looking to buy new convertibles but in last years model (2011) in the middle of winter so that helped motivate them a bit. Anyways, overall love the car and feel like I would've paid more for it so based on that feel like I got a decent deal.
Had to be forceful to get my 36 month lease – they were really pushing the 39 month lease but I figured that turning the car in during another December in three years will set me up to get the best deal possible should I want to turn this in and get something else from Infiniti.
Had about 3 dealers quote me bogus money-factors and residuals (wasn't expecting that and a little insulted that they thought I wouldn't double check). A couple flat out wouldn't deal with me when I showed them the Truecar price I wanted to get which was kind of funny – one Sales Manager quoted, "this site is really unfair as they create unrealistic prices for us dealers to make a good enough profit."
My Take: Congrats on the new ride. I think the 15% off MSRP is fantastic. The convertible's MF and residual were very good in December, so I think you got a very good deal. Regarding TrueCar, I've been noticing a trend lately and many dealer have voiced their displeasure with how TrueCar is "revolutionizing" the business. Nevertheless, I think it's good for consumers, but I'm not sure their model is sustainable because they depending on dealerships to honor that price. If more and more dealers balk at their "suggested low prices", they may end up like Carsdirect (good prices, but not great). I've already noticed an uptick on sale price on TrueCar. This could very well be the market dictating the price change OR dealers putting pressure on TrueCar.