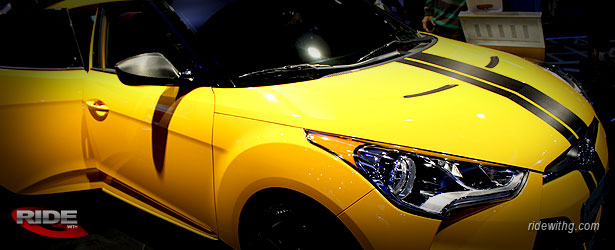 Hyundai residuals have dropped about 1% for most models (the Santa Fe drops by 3%, probably because a newly redesign model is just around the corner) but the MF carries over from last month unchanged. A reduction in residual without MF adjustment usually means your payments will jump compared to last month. Expect about $6-$7 change per month. Nothing outrageous, but worth noting.
Looking at the Sonata 2.0T SE calculation below, you will see how the lease payments are up slightly compared to last month. That's not to say that you should expect that payment. On the contrary, these calculations are based on last month's sales data, so I would encourage your to push for a bigger discount (before the rebates). Overall, I think Hyundai has entrenched themselves in the leasing world and not only do they have attractive lease programs, but they also have a good crop of highly sought-after cars too.


Here is a sample calculation based on TrueCar's Southern California sale price and do not include local taxes. Please note that your dealer calculations may vary due to local fees/taxes.
2012 Hyundai Sonata SE 2.0T
MSRP – $25,520
Sale Price – $22,274 ($1500 lease + $500 loyalty cash applied)
Monthly – $273+ tax
RWG Rating – 92.1


2012 HYUNDAI ELANTRA GLS AT
36 Month – Residual 60% of MSRP – .00190 Base Rate
2012 HYUNDAI ACCENT SEDAN GLS AT
36 Month – Residual 53% of MSRP – .00090 Base Rate
2012 HYUNDAI GENESIS 3.8L V6
36 Month – Residual 53% of MSRP – .00136 Base Rate
2012 HYUNDAI GENESIS COUPE 2.0T AT
36 Month – Residual 56% of MSRP – .00185 Base Rate
2012 HYUNDAI SANTA FE AWD GLS
36 Month – Residual 48% of MSRP – .00157 Base Rate
2012 HYUNDAI SONATA GLS AT
36 Month – Residual 55% of MSRP – .00140 Base Rate
2012 HYUNDAI SONATA SE 2.0T
36 Month – Residual 56% of MSRP – .00140 Base Rate
2012 HYUNDAI SONATA LIMITED 2.0T
36 Month – Residual 53% of MSRP – .00190 Base Rate
2012 HYUNDAI TUCSON AWD GLS
36 Month – Residual 54% of MSRP – .00187 Base Rate
2012 HYUNDAI VELOSTER COUPE AT
36 Month – Residual 54% of MSRP – .00129 Base Rate
2012 HYUNDAI VERACRUZ AWD GLS
36 Month – Residual 53% of MSRP – .00128 Base Rate